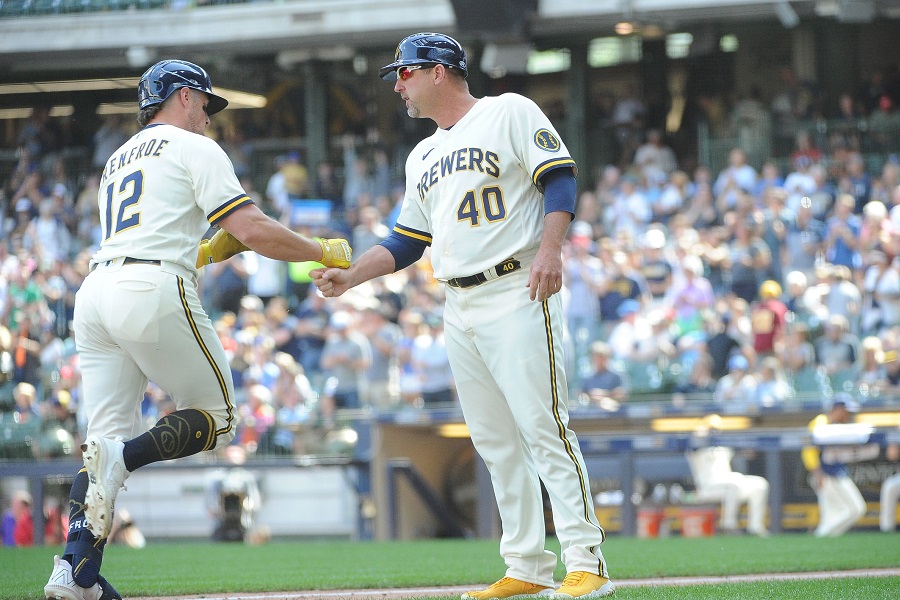 Image courtesy of © Michael McLoone-USA TODAY Sports
The Twins are full of talent in the outfield but are a bit left-handed heavy. It's also begun to feel like long-time Twin Max Kepler's time is running out in Minnesota. Effectively swapping him out for a right-handed platoon option seems like a relatively small move that could pay off big time for a Twins roster which is fighting for a return to relevance.
Hunter Renfroe has never been a big name in his seven seasons but has been nothing less than a solid player for some time now. In 2022 he had a career season, slashing .255/.315/.492 in Milwaukee. Having already bounced between four teams in his seven years, could yet another trade help return the Twins to the promised land?
Complementing the Corners
Between Kepler, Alex Kirilloff, Trevor Larnach, Nick Gordon and Matt Wallner, the Twins outfield is overly left-handed, and we've seen teams abuse that late in games the last few seasons. Only Byron Buxton and the recently re-signed Kyle Garlick balance things out, and recently neither has been reliable in terms of their availability.
Renfroe would not only be a welcome addition in terms of production (.258/.350/.492 vs LHP in 2022), but in terms of reliability. The aforementioned Buxton and Garlick combined to play just 158 games in 2022. Renfroe played in 125 even being used in somewhat of a platoon role in Milwaukee. While Garlick in particular fills the "lefty masher" role, he's been an easy out in his career against right-handed pitching and has been healthy enough to play in just 102 games for the Twins the last two seasons.
Renfroe on the other hand was 20% above league average against same-handed pitching in 2022 while still filling the same role Garlick does, with an injury history that suggests he'd be more available on a day-to-day basis moving forward. While Garlick and the Twins recently agreed on a contract for 2023, the amount is miniscule, and if they could swing a trade Renfroe, being an upgrade over Garlick is an easy argument to make.
The Twins would be well positioned with a lefty masher who's capable against righties and can fill in at either corner to complement their many left-handed options. It seems like a win-win.
Change is Coming
Though nothing is definitive at this time, there's been some talk of Kepler's time in Minnesota coming to an end. Filling his spot with someone like Renfroe makes too much sense. Nearing 30 years of age, we know what Max Kepler is. While capable of providing gold glove caliber defense, it's safe to say this value is outweighed by his extremely limited offensive profile. Long understood to be an incapable hitter against left-handed pitching, Kepler has recently failed to post even league average offense against righties.
Too often, his at-bat results in pulling a ball either straight into the ground to second or first base, or popping out to shallow right field. He has failed to adjust his approach at all, and is no longer even a league average hitter. Yet he'll continue to start day after day due to his defense.
A pivot to Renfroe adds so many dimensions to a Twins' lineup in need of a breath of fresh air. In addition to Renfroe's superior bat, he was also worth six Defensive Runs Saved in left field and two in right field. A slight defensive downgrade is possible, but that step down will be far outweighed by the need Renfroe would fill in the Twins lineup. 
In terms of financial cost, the trade off also is not that restrictive. After making a bit under $8m in 2022, Renfroe will likely be due $10ish million in 2023. Assuming the Twins can find a home for Kepler's $8.5m salary, it won't cost them much. It's also possible they could get creative and include a player such as Gio Urshela in a trade to the third base needy Brewers in a deal for Renfroe, which would unload even more money.
With the Twins having high free agent aspirations at positions such as shortstop, the trade market may be the place to look for offensive help. With Teoscar Hernandez recently being traded for a 28-year-old reliever and a minor leaguer, a Renfroe trade continues to look more and more affordable. The Twins should be looking to shake up the outfield with a more diverse set of players. Renfroe may just be the answer. Do you agree?