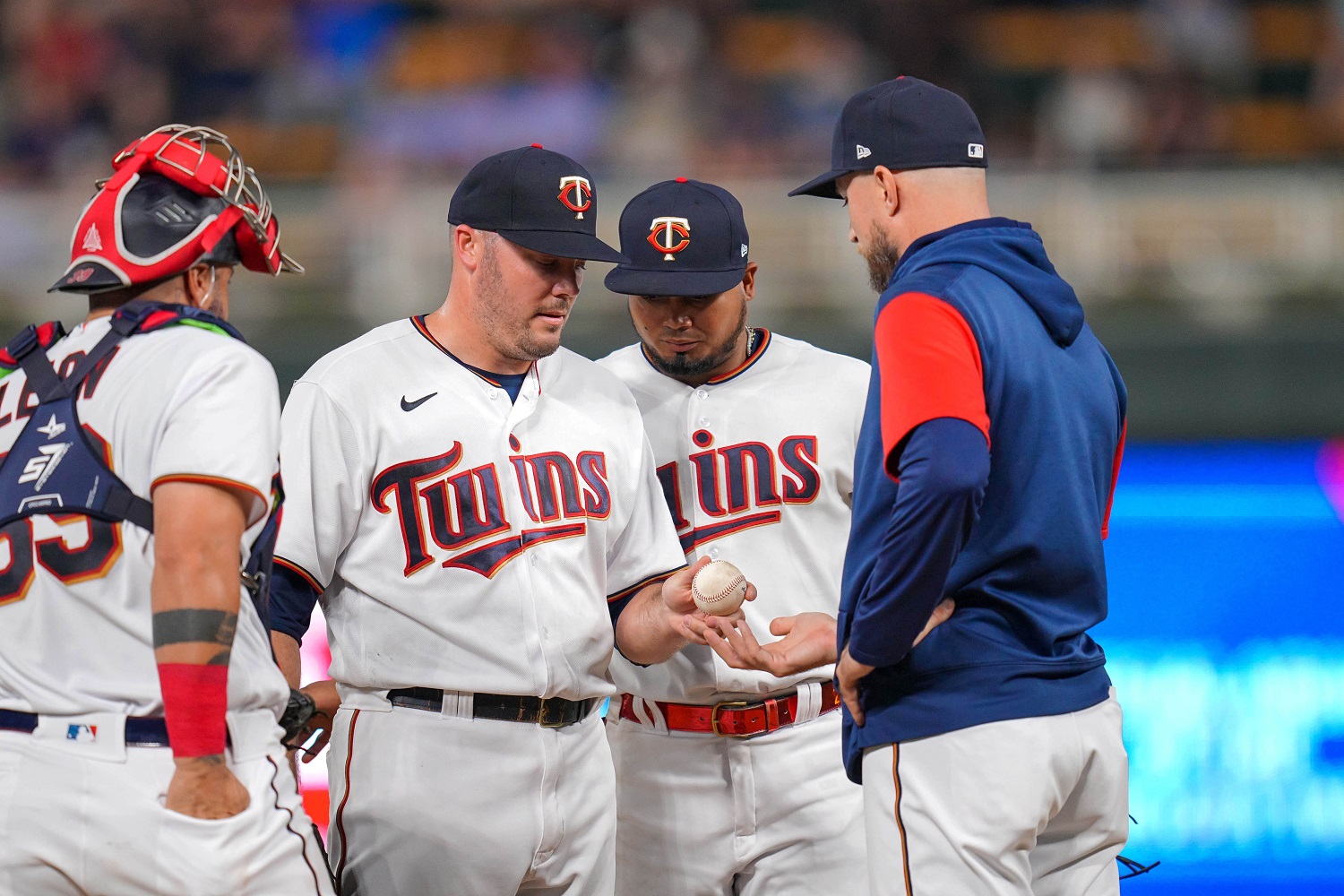 Image courtesy of © Brad Rempel-USA TODAY Sports
The Monty Hall problem is a brain teaser loosely based on a segment of the gameshow "Let's Make a Deal." On the show, there is a game in which a contestant must choose one of three doors that has a prize behind it. After picking a door, the host will open one of the doors that does not contain the prize. The contestant is then asked if they would like to stick with their original door, or switch to the other remaining door. 
Instinctually, the contestant thinks that this is a 50/50 proposition, but the reality is that when they picked the first door, they had a 33% chance of picking the prize. That doesn't change simply by virtue of a door being eliminated. Switching doors, by contrast, results in a 66% chance of picking the prize, because there is now more information (an eliminated door) available to the contestant.
I was thinking of the Monty Hall problem because I was thinking about the Royals (For whatever reason). I was thinking about how they have played Ryan O'Hearn, a lumbering first baseman with a 83 career OPS+, in each of the past five seasons. They've also given Brad Keller five shots to prove himself. Heck, they've played Adalberto Mondesi in seven. 
At some point, some team was likely interested in all three of those guys given that the Royals have not contended since 2016, and at the peak of their value, they each could have netted multiple prospects who would project as regulars. 
Instead, all three have disintegrated in value. Like a door being removed from consideration, we now know that O'Hearn doesn't come close to hitting enough to make up for his place on the bottom of the defensive spectrum. We know now that Mondesi is injury prone, and even if he wasn't he doesn't control the strike zone well enough to be a franchise shortstop. Keller is hittable and also gives up a ton of walks (bad combo).
It was too late to trade any of these guys years ago. Case in point: Mondesi was traded this offseason, and all the Royals received in return was fungible left-handed reliever, Josh Taylor. The Royals made plenty of bad decisions following their World Series run, but being too precious about their prospects is a big reason they are undergoing a rebuild of their failed rebuild from four years ago. It's just difficult to build a competitive team on a budget when you fall in love with every hot twenty-game stretch you see.
If that all seems pretty foolish, it is, although the analytic counterpoint isn't perfect, either. The knowledge that flipping a well-known player with two to three years of team control is the correct probability play can also have a negative impact on a clubhouse full of human beings. 
Smart teams can either spend money on free agents to supplement their value trades, or get their players to buy into why they conduct so many trades. The Tampa Bay Rays, for instance, aren't just successful because they understand the basics of the Monty Hall problem, but because they place such a focus on getting their players to buy into their philosophy. 
Ryan Thompson, the Rays reliever who made minor headlines detailing the arbitration process in depth from the player's perspective, is a good example. He lost his arbitration case, but in his extensive Twitter thread, he didn't opine the experience because the Rays were cutthroat or penny-pinching, he was mad at the arbitrators for not knowing ball and letting the Rays fill their small brains with ideas about how a player should get paid based on the timing of when he gets injured. Through it all, Thompson espoused respect for what the Rays were doing and why they were doing it, praising their communication and transparency in a later MLBtraderumors chat.
Where do the Twins fall in this regard? In terms of trading Luis Arraez at peak value while signing Carlos Correa, who didn't cost any prospect capital and is highly skilled at getting his teammates to buy into analytics, they've done well since the new year.
In the recent past, however, they could have traded Jorge Polanco after his 2021 season where he was healthy, hit 33 home runs and played a solid second base. He also would have come with an extremely team-friendly contract. Starting in 2022, he would have been owed thirteen million over two years, with a vesting option for 2024 based on plate appearances and a team option for 2025. Polanco also is a switch hitter who can fake it at shortstop in an emergency.
Everyone loves Polo, and its hard to find anyone on the Twins I would more like to be at-bat in a clutch situation, but the value he carried going into 2022 was immense. The Dodgers could have inquired knowing they had Gavin Lux to step in at short and were going to lose Corey Seager. The Red Sox would have likely preferred paying Polanco 36M over four years at most, as opposed to paying Trevor Story 140M over six. The price tag could have been, depending on market factors, multiple top 50 global prospects based on Polanco's age, bat, and contract. Or, he could have commanded a younger prospect in addition to short-term, impact pitching help,
And now it looks like Polanco's knees still hurt. That window of excellent trade value could be gone forever, regardless of any 2023 bounce-back. In terms of capital for future trades, the Twins have only five players; Jorge López, Pablo López, Kyle Farmer, Jorge Alcala and Caleb Thielbar, with between two and three years of team control, the usual sweet spot for maximizing trade value. The first three of that group were just acquired via trade, and Alcala is trying to prove he is healthy following elbow surgery. 
That would leave Thielbar as the best trade candidate on the roster. He's 36 and had the best hard-hit rate of any reliever in baseball last year. Given his age, he could also fall off a cliff at any moment. Getting value before that happens is what separates the good teams from the Royals, Rockies and the 2011 Twins. Switch the doors.