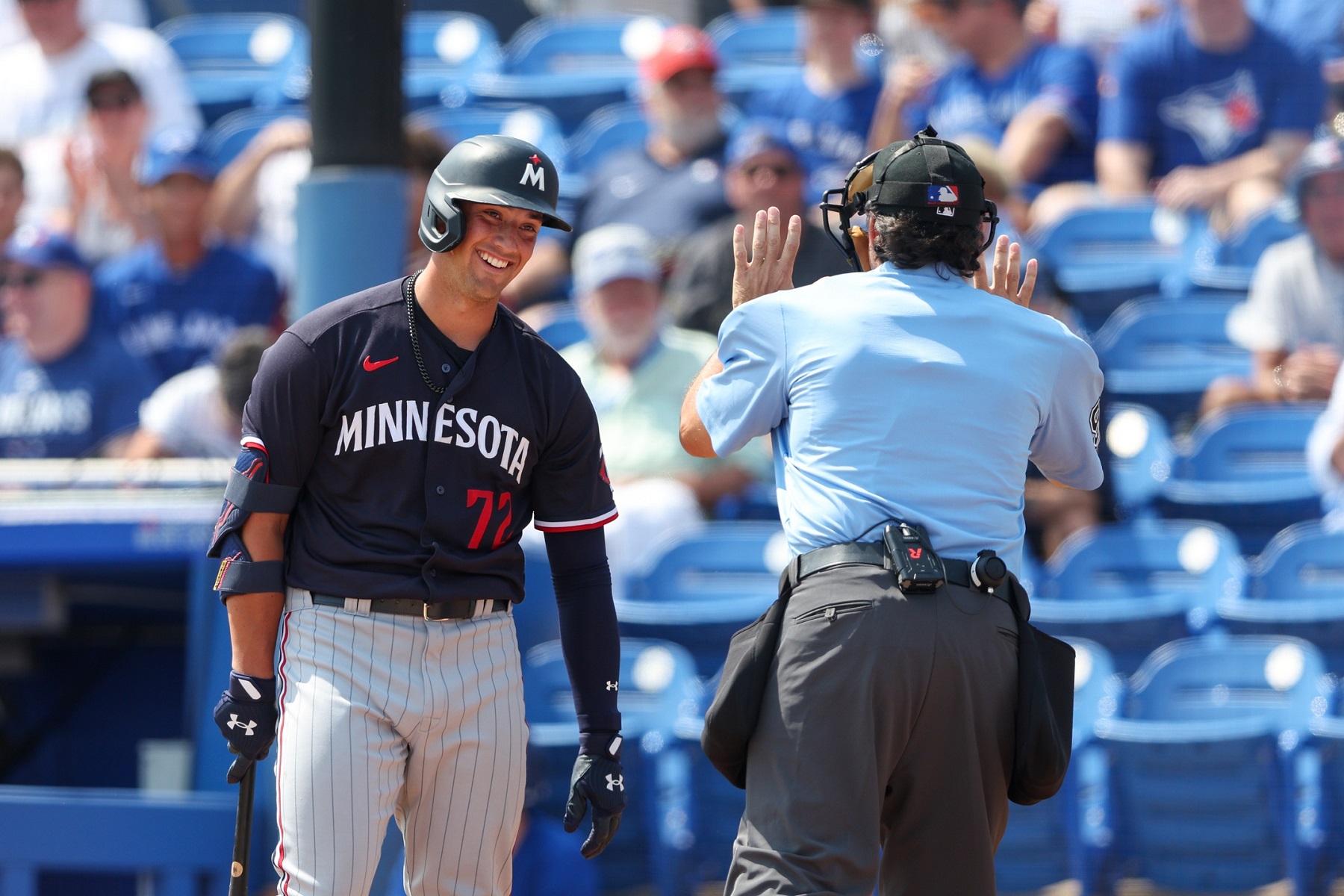 Image courtesy of Nathan Ray Seebeck-USA TODAY Sports
As baseball fans are familiar with by now, 2023 will mark the first year MLB uses a pitch clock in the major leagues- 15 seconds with the bases empty and 20 seconds with runners on base. 
So far, MLB has shown a great willingness to listen to feedback on the pitch clock and make tweaks and adaptations to improve it. In advance of Opening Day, MLB has already implemented a few minor changes, such as allowing more time for the pitcher to return to the mound after being involved in a defensive play (like covering first base or home plate) and giving the catcher additional time to put on his gear after running the bases or making the final out of the inning on offense. 
MLB commissioner Rob Manfred told the Associated Press that MLB is listening to feedback from players and is willing to make further changes to the pitch clock if needed. 
"We have another set of issues that we want to see some regular season games before we make a decision on them," Manfred said. "I've met with six teams' players already. Our feet are not in stone on this. On the one hand, and we are prepared to make adjustments based on input. On the other hand, we want to give it a chance to see exactly how it plays out after a period of adjustment in some regular-season games before we make any really significant alteration."
Last year, I wrote a piece evaluating the pros and cons of a pitch clock, but it's a done deal now, and evaluating whether they should or should not use a pitch clock at all is no longer relevant. The pitch clock has shaved twenty-five minutes off games (regular season games in 2022 lasted an average of 3 hours and five minutes), pitch timer violations have gradually declined this spring, and the pitch clock has been acclaimed by many, including the Twins broadcaster Dick Bremer. (One can imagine why the pitch clock might make a broadcaster's job easier; they have to fill 25 fewer minutes of on-air time). 
However, there is still discussion to be had regarding when and how exactly MLB uses the pitch clock. The excitement and drama of the WBC games earlier this month, especially in the aforementioned USA vs. Japan final, illustrate why the pitch clock does not belong in postseason games. Anyone who watched a WBC game, even during the first round of pool play, can attest to their playoff-like feel. Due to the high stakes of each playoff game, like the high stakes of playing a game representing your country, players should be able to take their time during at-bats.
There is an entire extra layer of strategy involved, and playoff games are often much louder than regular-season games. Therefore, it would be better to let those games play out naturally. In the WBC championship, it was incredible to let the game breathe and hear the crowd cheer as the camera zoomed in on Shohei Ohtani on the mound. Fans noted that Ohtani would have had a pitch clock violation perhaps every pitch during Mike Trout's at-bat. The MLB postseason features high-stakes at-bats like this too, and as cliché as it sounds, the playoffs are where history is made. People will be re-watching this clip of Ohtani vs. Trout for decades. Why rush along moments like this?
Scott Boras, agent to Carlos Correa and many other MLB players, agrees and said in The Athletic that based on player feedback he's received, MLB should not use the pitch clock in October.
"In the postseason, there clearly should be no pitch clock," Boras said. "It's the moment, the big moment. They need to reflect, they need more time, it's a different scenario than the regular season, and we do not want their performances rushed."
"We understand why they would probably (use a clock) during the season, for the efficiency of the game and what they believe to be a fan-positive move for the shortening of games — understood. But in the postseason, we don't want these men in a completely different emotional environment, where the settings mean so much more, where all their work and effort, all their goals are achieved. And at this level, we want them to have the appropriate time, both pitchers and position players, to evaluate and move forward in the most prepared and directed way."
Boras is in the business of representing his MLB clients during contract negotiations, and he doesn't want potentially career-altering moments to be rushed because those could feasibly impact a future contract. During regular season games, I agree with Boras that it is beneficial to move the games along. Will it attract new fans to the game? No, but it might help keep some fans a little more engaged by packing the same amount of action into a shorter amount of time. But in the postseason, fans in the stands pay hundreds or even thousands of dollars for playoff tickets; their number one priority probably isn't to get out of the stadium as fast as possible. Fans who truly love baseball and the playoffs will watch the games regardless if they are 2 hours 40 minutes or 3 hours and 30 minutes. People who don't care about baseball will have probably tuned out already and won't still be watching baseball in October anyway; NHL, NBA, NFL, and college football will have started. 
And who is to say, after an entire season of using a pitch clock, the players wouldn't be so used to keeping the game moving that they would do so anyway without a pitch clock? I find it unlikely that if MLB took away the clock for the postseason, these games would immediately balloon back up to the average pace of the past, around 3.5 hours, especially considering many players who have been in the minor leagues the last couple of years have previous experience playing with a pitch clock. 
If MLB decided to distinguish between pitch clock usage in the regular season and the postseason, it would not be uncharted territory rules-wise: MLB already does this with its runner on second "ghost runner" rule, which it does not use in October. The reasoning here is clear: MLB doesn't want a high-stakes postseason game decided by a sacrifice fly to the outfield, which allows a runner no pitcher allowed to get on base to score. So why would MLB want a postseason game to be decided from rushed decision-making, or worse, on a pitch clock violation, like happened to the Braves in spring training? Braves hitter Cal Conley was not ready to go in time with a full count in the ninth, and the umpire called a strikeout to end the game.
"I don't think this (rule) was intended for a game to end like that," Braves manager Brian Snitker said after the game. 
If MLB does not want to eliminate the use of a pitch clock in the postseason altogether, perhaps they could consider adding a few seconds onto the clock as well.
I have also seen suggestions that the pitch clock should not be used late in regular season games, such as after the 7th inning, or there should be no pitch clock in the 9th inning. However, this brings about an issue: it would make it unfair to have pitchers competing under different conditions; it would make it harder to compare oranges to oranges or Griffin Jax to Jorge López. Pace issues are most prevalent at the end of games anyway, so if we are concerned about the length of games, not having a pitch clock during the potentially-longest innings of the game defeats MLB's stated goal of shortening games. Inconsistent pitch clock usage in a game could be confusing for pitchers & batters and fans too; I think it should either be used in the full game or not at all. 
I am encouraged at MLB's willingness to listen to player feedback on the pitch clock and to adjust the rules as needed. Time will tell if this feedback leads to further tweaks on the pitch clock's usage, or if players become so used to it that it's a nonissue for the playoffs anyway, 
As I watched the WBC championship at a bar, the tension and nerves in the room came to a head during that dramatic, historic ninth inning. I leaned over to one of my friends and asked, "Aren't you glad there isn't a pitch clock right now?"