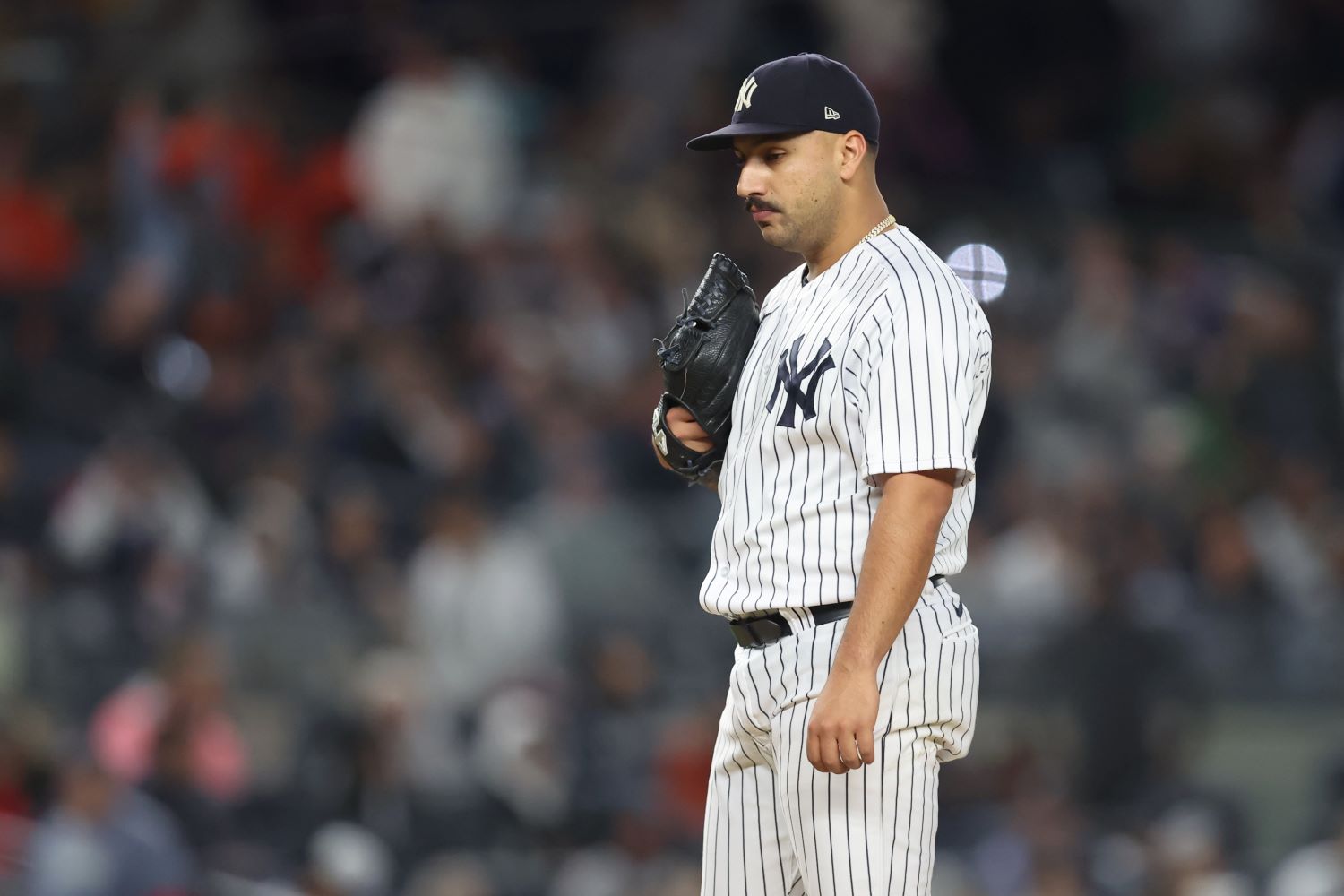 Image courtesy of Brad Penner - USA Today Sports
With Carlos Correa in the fold, the discourse of Twins fandom has turned to possible rotation upgrades. There has been rumored interest in Pablo López and the Marlins as a possible trade partner. Fair enough. López, however, doesn't really check the cost-benefit box for the Twins. Coming off a career-best season, he accumulated 2.8 fWAR in 2022. A free agent in 2025, he doesn't clear the Sonny Gray (2.4 fWAR in 2022) echelon of starting pitching candidates with enough conviction. Pass, especially if it would take a package including Max Kepler or Luis Arraez and more to acquire him. 
I would assert the following guidelines in working toward a trade for starting pitching:
They have to be clearly better than Sonny Gray (3.5-4.5 fWAR ideally), OR

There has to be some projectability left. Edward Cabrera is a good example of the latter qualifier (25 K%, 24 years old, and not a free agent until 2029)
With those criteria in mind, here are a few 'less talked about' starting pitching trade candidates for the Twins to pursue. For each, I'll attempt to answer 'what's the appeal'? and 'what's the deal'? I leveraged 'Baseball Trade Values' to find approximate value equivalency for each trade. As with any hypothetical trade scenario, they're meant to outline potential cost, as opposed to specific names teams might target, because, what do I know? 
Zac Gallen
What's the Appeal?
The Diamondbacks would maximize Gallen's value by trading him now. In 2022, he accumulated 4.3 fWAR (14th in baseball) from 180 innings after accumulating 4.4 fWAR in his previous 270ish innings spread over three seasons. Gallen was misery for hitters last season, sporting a 26.9 K%, 6.6 BB%, and 111.7 stuff+. Gallen is under team control for three more seasons, so the cost would be breathtaking. The Diamondbacks aren't in a position to win a loaded NL West division and have some of the most elite prospect talent in baseball. Trading with the Twins allows them to continue to load up for 2024 and beyond.
What's the Deal?
The Twins acquire RHP Zac Gallen from the Diamondbacks for SS Brooks Lee, OF Emmanuel Rodriguez, and RHP David Festa
Verdict?
Too rich for me.
Nestor Cortes
What's the Appeal?
Cortes was one of the feel-good stories in baseball in 2022. After a promising 2021, he exploded last season, amassing 3.6 fWAR with a 26.6 K% and a stingy 6.2 BB%. Cortes isn't a free agent until 2026, so he would be expensive, but the Yankees and Twins are a good match to trade. The Yankees have Gerrit Cole, Carlos Rodón, Frankie Montas, Domingo Germán, and Luis Severino in the rotation mix, with more options close to the major-league level. Cortes might strike the balance between adding real quality to the rotation, at a price the Twins can stomach.
What's the Deal?
The Twins acquire LHP Nestor Cortes from the Yankees for OF Max Kepler, OF Matt Wallner, and RHP Josh Winder
Verdict?
I would accept this trade. The Twins have a huge dearth of left-handed corner outfielders. This trade gives the Yankees a defensively strong starting outfielder, an additional outfielder for the future who can also fill in at DH, and a powerful arm who hasn't yet clicked in Minnesota.
Brandon Woodruff
What's the Appeal?
Simply put, a dominant track record. Over the last four seasons, Woodruff has averaged 3.4 fWAR. While Woodruff isn't a free agent until 2025, we know that the Brewers are not opposed to cashing in on or maximizing value. In 2022, Woodruff struck out over 30% of batters faced while maintaining a 6.8 BB%. At his best, he's dominant and would immediately be the Twins best starting pitcher.
What's the Deal?
The Twins acquire RHP Brandon Woodruff for 3B José Miranda, and RHP Bailey Ober
Verdict?
This deal is more a reflection of cost than a possibility. We all know Assistant General Manager Carlos Correa would immediately veto a trade of José Miranda. This situation simply bumped Ober, (who has struggled to remain healthy) from the bottom of the Twins' rotation and substituted Woodruff at the top. This also sees Brooks Lee as the Twins' long-term third baseman, debuting in 2023, with Miranda as more of a first base or DH option.
Honorable Mentions
I put the topic of pitching trade candidates on twitter and, as usual, Twins Daily readership came through in style. Other candidates that I didn't include in-depth either as they had been recently written about, OR the trade fit wasn't as obvious. They are, however, worth mentioning: Tyler Glasnow, Dustin May, Tony Gonsolin, Logan Gilbert, Chris Sale, and Frankie Montas. The list goes on. It's worth widening the lens when considering Twins trade targets. Thinking back to the Rangers/Yankees double trade last season, it feels likely they pursue a similarly creative path to upgrade the high-end talent on the roster.
Ultimately, I'm in favor of the 3.5 fWAR threshold for starting pitching acquisitions. Given the prices, I think the Twins are unlikely to be, as it would involve parting with a close-to-the-majors prospect they see as part of their core, or MLB-level pieces they view as indispensable. Time will tell.
Who would you like the Twins to trade for? Who are you willing to part with and who is off limits? Join the discussion and leave your thoughts in the chat.