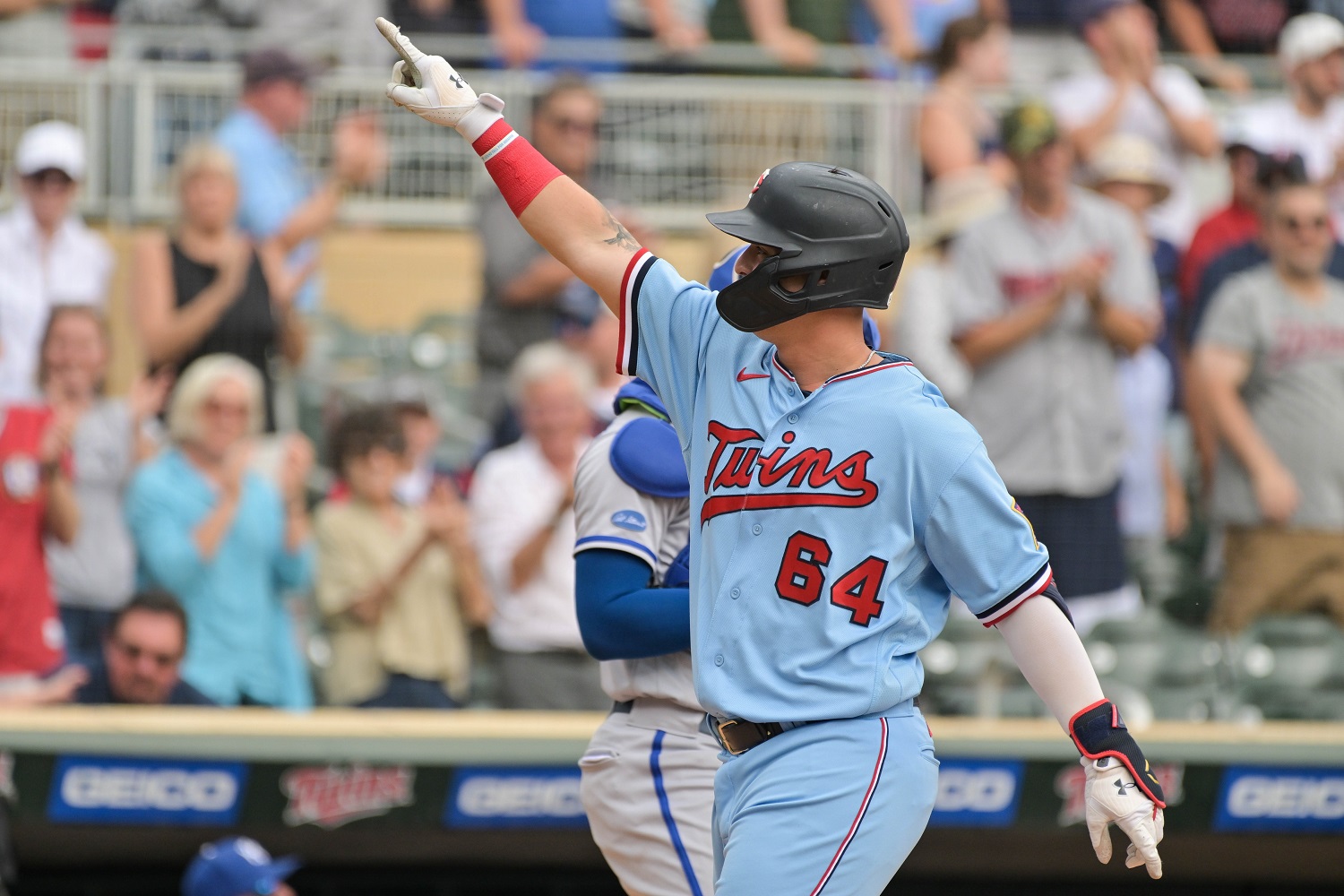 Image courtesy of © Jeffrey Becker-USA TODAY Sports
Adding a right-handed bat has been a talking point for the Minnesota Twins all off-season. They somewhat addressed it by trading for Michael A Taylor, who hits right-handed but doesn't hit left-handed pitching exceptionally. With five left-handed hitters currently on the 26-man and switch hitter Jorge Polanco being better from the left side, this might be an issue for the Twins. Fortunately, I think this weakness might be overstated. 
Of the five left-handed hitters projected to get significant playing time, only two have a clear need for a platoon partner - Nick Gordon (career 54 wRC+ vs. LHP) and Max Kepler (career 73 wRC+ vs. LHP). Of the remaining hitters, Joey Gallo was abysmal against left-handers last season (23 wRC+ in 2022) but has handled them well throughout his career (104 wRC+ vs. LHP).  Both Trevor Larnach and Alex Kirilloff have even splits between lefties and righties, albeit small samples. The Twins should see if either former top prospect can hit southpaws at the Major League level before condemning them to platoon roles. 
Given some big-time moves this off-season, it would be easy to forget the Twins' first acquisition, Kyle Farmer. Perhaps it was undersold as a skill, but Farmer is one of the best hitters in baseball against left-handed pitchers.
In 2022, per FanGraphs, among hitters with 150 plate appearances versus left-handers, Farmer ranked 13th with a 157 wRC+ (ahead of Trea Turner, whom Tony La Russa intentionally walked in a 1-2 count vs. a lefty), 7th with a .948 OPS, 7th in wOBA at .404, and 9th in batting average at .309. There is a very strong case that Kyle Farmer is one of the ten best hitters in all of baseball versus left-handed pitching. 
So what would a potential lefty-killing lineup look like for the Twins? I mentioned that Kyle Farmer might be a top 10 hitter against lefties, but they also have two other hitters on that list in Byron Buxton (159 wRC+ vs. LHP in 2022) and Carlos Correa (168 wRC+ vs. LHP in 2022). If he had enough plate appearances, Ryan Jeffers would also be on there (161wRC+ vs. LHP in 2022). Against a left-handed starter, a potential lineup could be:
Byron Buxton CF 159 wRC+ vs. LHP
Carlos Correa SS 168 wRC+ vs. LHP
Kyle Farmer 2B 157 wRC+ vs. LHP
Jose Miranda 3B 132 wRC+ vs. LHP
Alex Kirilloff 1B 99 wRC+ vs. LHP (career)
Ryan Jeffers DH 161 wRC+ vs. LHP
Joey Gallo RF 104 wRC+ vs. LHP
Christian Vazquez C 130 wRC+ vs. LHP
Trevor Larnach LF 108 wRC+ vs. LHP (career) 
The Twins' front office has also stated Farmer could see some time in the outfield. You could sub out either corner outfielder for Jorge Polanco (career 93 wRC+ vs. LHP), move Farmer to the outfield, and move Polanco to 2B. 
Michael A Taylor was also left off this lineup but figures to see most of his plate appearances against lefties. If the Twins wanted to DH Buxton or not have two catchers in the lineup, Taylor slides into CF. Taylor could also play in either corner outfield spot and spell any left-handed bats in the lineup. He would be a one-for-one swap in either LF or RF, but if Kirilloff needs a rest day, Gallo can cover 1B for that day.
If things start to fall apart, the Twins also have Kyle Garlick stashed in AAA, who's made a name for himself mashing lefties. The front office certainly thought that a right-handed bat would be useful, being mentioned with names like Yuli Gurriel, A.J. Pollock, and Andrew McCutchen . Still, I feel good about the current roster construction's ability to hit left-handed pitching and don't see this as something that needs to be addressed.