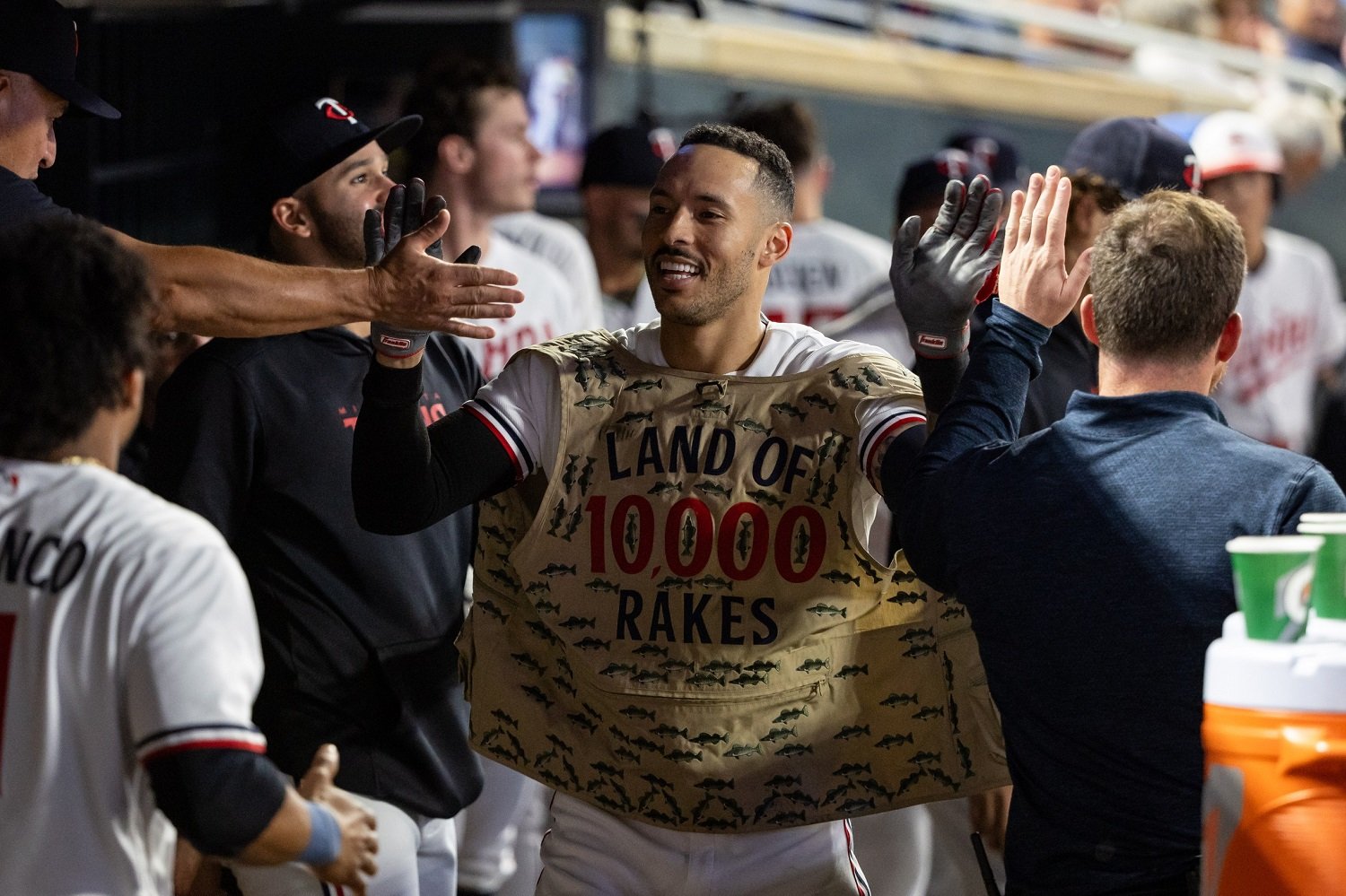 Image courtesy of Jesse Johnson-USA TODAY Sports
The Twins are inching closer to their third division title over the last five seasons, and the team will have a chance to clinch as soon as next week. The AL Central has been historically bad in 2023, but that might not stop the Twins from ending their 18-game playoff losing streak. Minnesota has strong starting pitching, an offense that has improved in the second half, and a strong backend of the bullpen. After the team clinches, items remain on the team's postseason checklist. 
1. Health
Player health is at the top of any team's checklist, especially near the conclusion of a 162-game season. The Twins have health questions surrounding multiple players in the season's final weeks. Byron Buxton was rehabbing, hoping to return to center field for the Twins. He suffered a setback, and it remains unclear if he will return. Michael A. Taylor has performed well for the Twins in place of Buxton, but he, too, is on the IL with a hamstring injury. Minnesota doesn't want to rush him back, but they also want to ensure he can handle the rigors of regular playing time. 
On the pitching side, other players are nearing a return. Jorge Alcala and Chris Paddack moved their rehab assignments to Double-A on Tuesday. Alcala has missed most of the last two seasons with arm injuries, so his path forward this year is unclear. Paddack is returning from Tommy John surgery, and Minnesota could use him in various roles for the stretch run. He seems unlikely to be stretched out to serve as a starter, but there is an opportunity to fit into the bullpen. Brock Stewart is a little behind Alcala and Paddack but should start a rehab assignment soon. 
Other players on the roster have been fighting through injuries that will need rest in the season's final weeks. Carlos Correa has battled plantar fasciitis for most of the season, and the Twins have tried to give him small breaks when there are opportunities. Edouard Julien has a leg injury and could benefit from a few days off his feet. There should be opportunities to rest players down the stretch so they can be closer to 100% when the playoffs begin. 
2. Experiment with Roles
Center field has been a question mark since Taylor went on the IL with the Twins using a combination of Willi Castro and Andrew Stevenson. Taylor has already hit a career-high 20 home runs and is one of the game's best outfield defenders. Minnesota needs to experiment with different options in center field if Buxton and Taylor aren't an option for October. Castro has provided value to the Twins with his versatility and base running this season, but there are potentially some better options if health doesn't interfere. 
The Twins are also experimenting with different roles in the bullpen. Louie Varland has shifted from starter to reliever with mixed results since being recalled by the Twins. Kody Funderburk has been one of the organization's best relief prospects over the last two seasons, but the team didn't call him up until late this season. There is also the possibility of the team needing to move some of the starters to a relief role for October. Kenta Maeda has playoff experience in a late-inning bullpen role, while Dallas Keuchel likely doesn't have a spot in the playoff rotation. Will either of these pitchers make relief appearances in the season's final weeks?
3. Line-Up Starting Pitching
Pablo Lopez and Sonny Gray have performed well recently, but neither has been a beacon of health throughout their professional careers. Lopez is nearing a career-high in innings after pitching 180 frames during the 2022 campaign. Gray has pitched over 140 innings for only the second time since 2018. Both pitchers will likely receive Cy Young votes this season, and the Twins need to find them extra days of rest before October. 
It's more likely for Joe Ryan to be the team's starter for Game 3 in the playoffs, but he's also returning from a recent groin injury. Before his IL trip, he tried to pitch through the injury, and his performance suffered. He's been significantly better in his handful of starts since returning from the IL, and the Twins hope this trend continues. Minnesota will want to ensure their top three starters are well-rested and lined up to pitch in the team's Wild Card series. 
Would you add any other items to the team's postseason checklist? Do you agree with the items on this checklist? Leave a COMMENT and start the discussion.