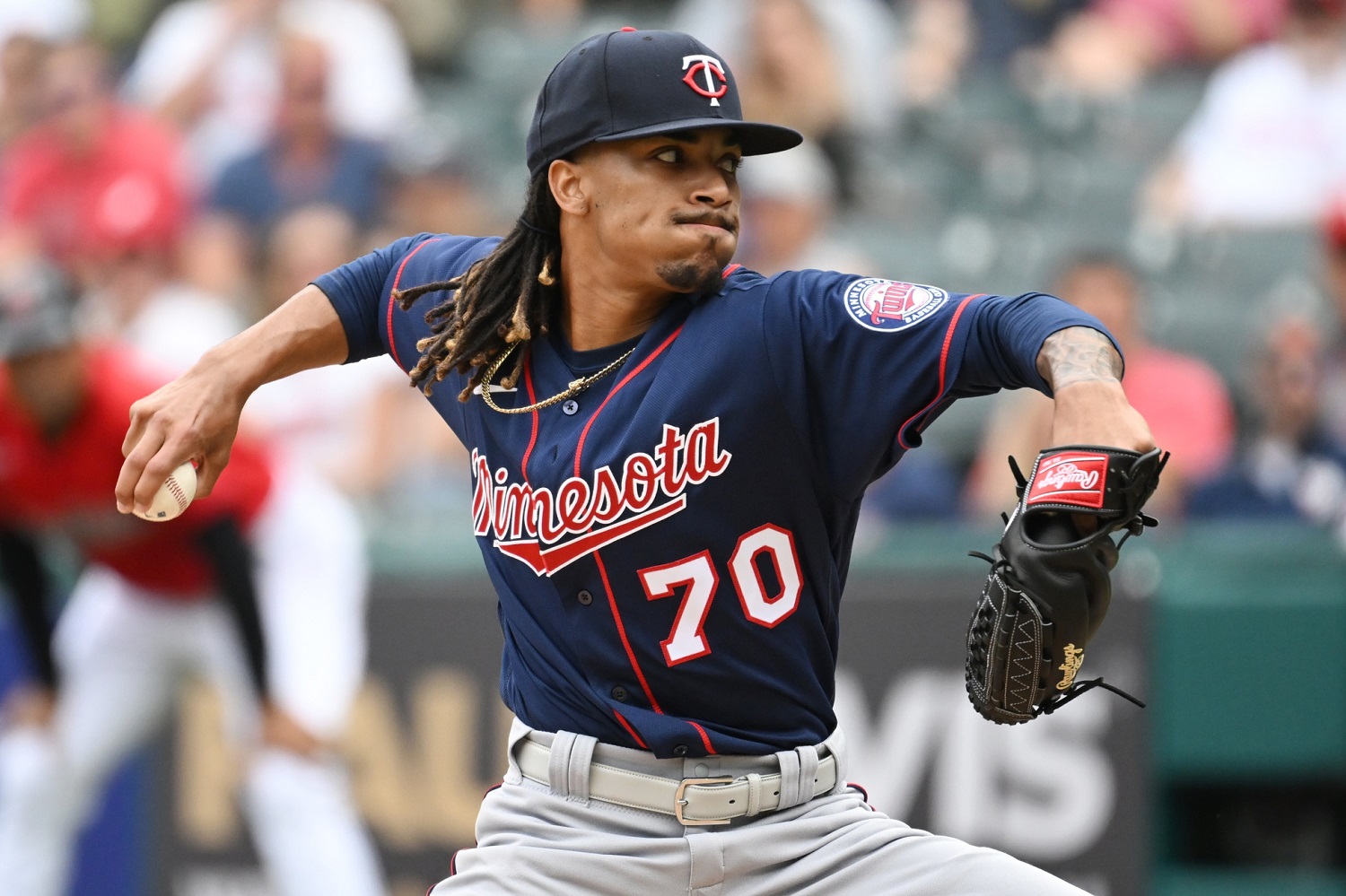 Image courtesy of Ken Blaze-USA TODAY Sports
Ronny Henriquez was acquired in the Mitch Garver deal and was seen as a middling starting pitching prospect. The ERA results weren't there, but at 21 years old, Henriquez posted a 25%+ K rate at every stop in the minors. His generous listing at 5'10 raised questions about his ability to stand up to a starter's workload, and those concerns escalated when he posted a near 6 ERA in AAA out of St. Paul's rotation in 14 starts. His strikeouts continued to impress however, and he was finally moved to a relief role toward the end of the season.
As the Twins faded out of contention, they finally began cycling in younger talent instead of pitchers such as Joe Smith and Tyler Thornburg. In the case of Henriquez, what we saw was very encouraging.
As we've seen with Twins pitchers who boast plus sliders, the Twins weren't shy about having Henriquez go back to the well on his best pitch. He threw his breaking ball nearly 50% of the time as his primary pitch, and in his short stint it proved to be lethal. Despite being by far his most used pitch, the slider induced a whiff rate of over 31%. Not only did it avoid being hit, it allowed a .136 batting average and .227 slugging % when hitters did make contact. His secondary pitch being the changeup only drew a 22.6% whiff rate, but it too allowed a sub .200 average and sub .300 slugging % against as well. Henriquez flashed two plus offerings to get both left and right handed hitters out consistently.
The issue with Henriquez was the fastball. His main concern in St. Paul was the long ball, and the culprit was front and center when he joined the Twins. In his admittedly limited action, his four seam allowed a .400 batting average and staggering 1.400 slugging percentage. Hitters teed off on the pitch, and it's not difficult to see why:
The good news on the rocky debut of his fastball is that the adjustment is obvious and likely easily fixed: Keep it out of the heart of the zone. The heat map at the top of the zone is fantastic. Adjusting the trend in the middle of the zone could raise his game to new levels in a bullpen role.
Henriquez shouldn't be an offspeed needy, fastball avoidant pitcher. The 55 scouting grade on his heater is easily justified, as the pitch has been noted to have tremendous ride and can often be pushed into the upper 90s when needed.
While the slider was the eye popping weapon he showed in his debut, it's possible the fastball could become just as big of a pitch moving forward despite how bad it looked through his first 11+ innings. Even pushing the pitch to average would make Henriquez a legitimate bullpen piece.
Despite being just 22 years old, it can be argued that Henriquez's days in the minors should be over. With his three-pitch mix one could argue Henriquez should still be working toward a future rotation spot. The issue is that Henriquez is currently on the 40-man roster and would likely be 7th on the starting pitching depth chart at best. He'd have to have a good bit of success in AAA before being entrusted in such a role with the big league club. Much like what's been argued with fellow top prospect Matt Canterino, it seems like a waste of time to slow cook prospects who appear to be able to help the club right now in pursuit of the very small chance that they can latch on as a starter.
It's not entirely clear what the Twins offseason plan is regarding the bullpen, but we can assume nothing big is coming. At most they'll likely sign a Joe Smith caliber pitcher to fill some innings and try to milk some value out of. They may make a waiver claim on a pitcher who does one thing well in pursuit of the next Matt Wisler. Instead we should be hoping for the Twins to turn to one of their young upside arms, a commodity that has been very difficult for this front office to come by.
Rather than spending a few million on another veteran reliever to spend the last year of their career in Minnesota, why not turn to the 22 year old with two plus offspeed pitches and a high 90s fastball? Henriquez could take a low leverage, possibly even multi inning role and get a chance to work his way up the depth chart. If he struggles he can be optioned for another arm as opposed to the yearly bounce back candidate signing that sticks on the roster far too long due to their veteran status.
Last year the Twins may have leaned too heavily on their internal pitching production. This year they have much more in place, and gambling on Henriquez in a minor role seems like a worthwhile bet. Ronny Henriquez should be in the Twins Opening Day bullpen