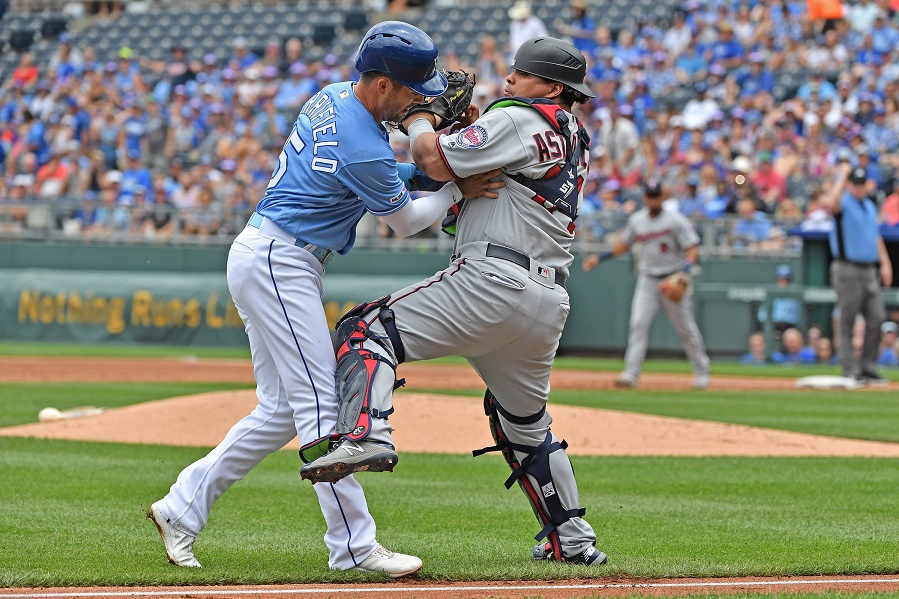 Image courtesy of Peter G. Aikin, USA Today
Berríos: 7.0 IP, 5 H, 2 ER, 3 BB, 3 K, 61.1% strikes (55 of 90 pitches)
Bullpen: 3.0 IP, 2 H, 1 ER, 2 BB, 4 K
Home Runs: Sanó (9), Cave (1), Cron (17)
Multi-Hit Games: Cron (3-for-5, HR, RBI), Cave (2-for-3, HR)
WPA of +0.1: Berríos .366, Cron .356, Cave .250, May .142
WPA of -0.1: Kepler -.113, Cruz -.121, Polanco -.155, Astudillo -.161, Rogers -.269
(chart via FanGraphs)
Coming into this game, the Twins were having some rather rocky previous few games. After having a winning record in all of its seven, ten-game splits so far in the season, Minnesota had more losses than wins in their current ten-game split, with a 2-3 record. They were able to avoid a three-game losing streak on Friday night, as they have done all year, though. They were able to get a second straight win even though they had to face an, at times, very difficult opposing starter in lefty Danny Duffy.
Even though Duffy isn't having a very good year, coming into this game with a 4.64 ERA, he had posted a 2.61 ERA in his last five starts against the Twins, striking out nine batters per nine innings. It was by no means an easy task. But, José Berríos also came into the game carrying great recent success against the Royals. In his last six starts against them, he's posted a 2.48 ERA, not once giving up more than three runs or pitching fewer than six innings.
Sanó slowly ending his slump
Miguel Sanó had a brutal series against the Boston Red Sox earlier in the week, going 0-for-13 with nine strikeouts. He then became the rally sparker late in Friday's game, hitting a clutch solo home run to tie the game in the eighth inning. That didn't change the fact that he finished the game in a 1-for-19 sequence. So he was determined to end that slump for good. He homered again on Saturday, in the second inning, to put the Twins ahead.
https://twitter.com/Twins/status/1142502957591740421
For the first time in the past ten games, the Twins recorded three home runs in a game. The last time they did so was on June 12th against the Mariners. Minnesota continues on the path to break the single-season home run record, as they are now on pace to hit 311 homers. Here's a look at how Jake Cave (his first of the year) and C.J. Cron went back-to-back in the eighth.
https://twitter.com/Twins/status/1142524336785514496
Berríos leaves and the Royals take advantage
Everything was going smoothly until the beginning of the eighth inning. Berríos had completed seven shutout innings with only 83 pitches. But he started suffering from a blister on his right ring finger and gave up a single and a walk to open the inning.
Both of those runners ended up scoring as Taylor Rogers couldn't strand them. Kansas City then tied the game in the inning, as Jorge Soler was hit by a pitch from Rogers and scored later. For the second time this week, the Twins were going to extra innings after Trevor May pitched a scoreless ninth.
Patiently, Minnesota was able to score a couple more runs to retake the lead in the tenth. After Luis Arráez and Cave reached on a single and a hit-by-pitch, Cron got his third hit of the day to earn his second RBI. It was followed by Eddie Rosario's double to add one more insurance run and give Blake Parker some breathing room to earn his tenth save of the year in the bottom of the inning.
Bullpen continues good stretch
Any compliments given to the Twins bullpen this year will sound weird. Although Minnesota relievers aren't having a very good year, they've had some brilliant stints, the current one included. Before this afternoon game, the Twins bullpen pitched 31 innings in the previous eight games, posting a 2.03 ERA. It also should be said that more than half of those innings - sixteen and two-thirds - were pitched against the current World Series champions.
Despite the fact that Rogers couldn't hold on to the advantage late in regulation and got his third blown save of the year, the Twins bullpen is now posting a 2.11 ERA in the past nine games. May earned his second win of the season.
Postgame With Baldelli
https://twitter.com/fsnorth/status/1142548859874189312
Bullpen Usage
Here's a quick look at the number of pitches thrown by the bullpen over the past five days: