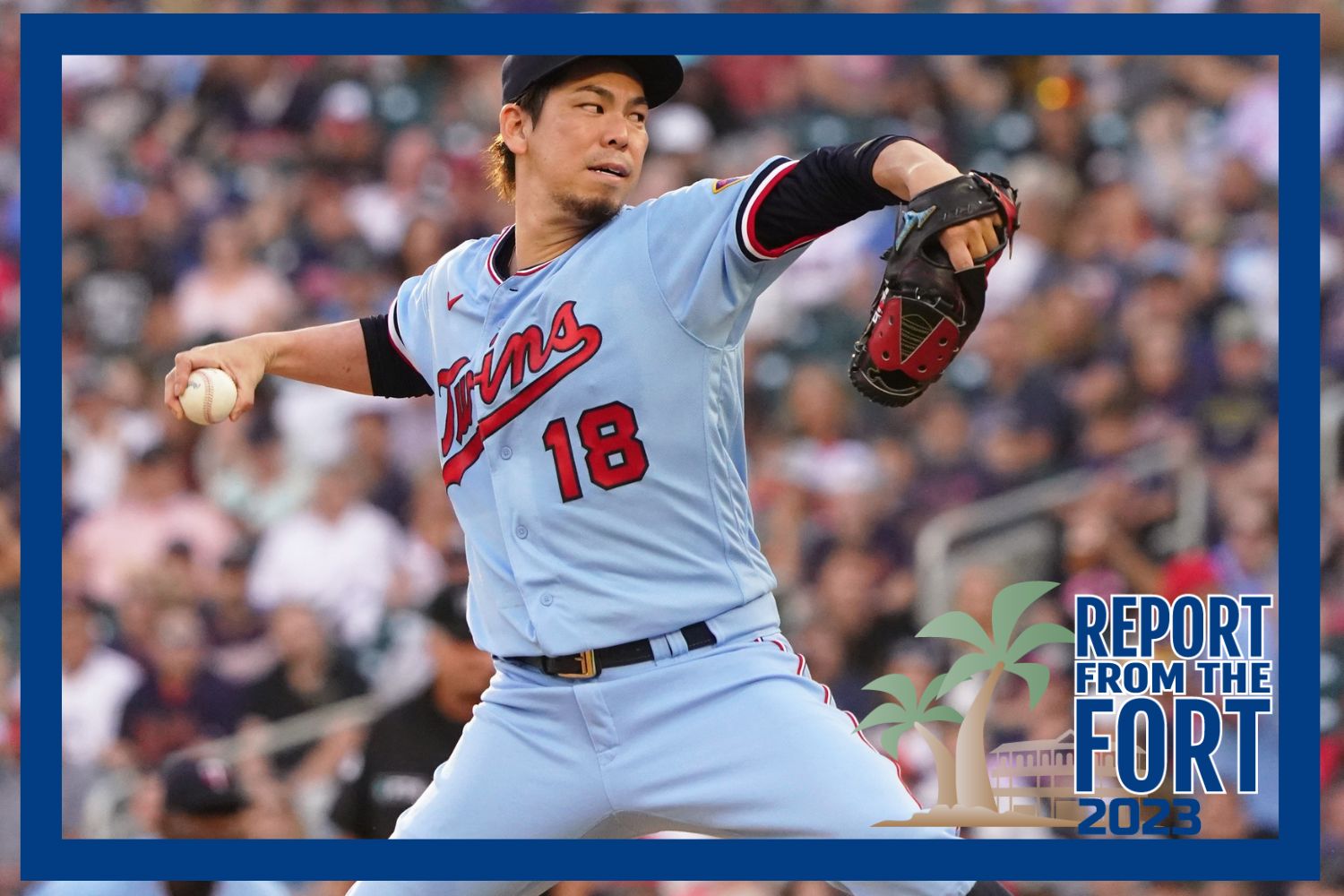 Image courtesy of Nick Wosika-USA TODAY Sports
The Twins faced an early split-squad set of games on Saturday afternoon to kick off the start of their 2023 Grapefruit League season. In the home game, Kenta Maeda returned to the mound after missing the 2022 season following Tommy John surgery and pitched a scoreless first inning.
Lineup
The Twins only had two anticipated regular position players in their home lineup: Joey Gallo led off and Max Kepler batted cleanup. However, they also had three other players practically guaranteed (health permitting, knock on wood) to make the 26-man roster: Ryan Jeffers at catcher, Kyle Farmer at shortstop and Michael A Taylor patrolled center field.
The lineup also included Twins' top prospects Edouard Julien (Twins Daily's #5 prospect) and Brooks Lee (Twins Daily's #1 prospect), who joined the lineup late when catcher Christian Vazquez was pulled from the lineup due to illness.
Maeda's Return
But the most anticipated Twins player was Maeda. Twins fans had hoped to see him last September, perhaps in a relief role. But as team injuries and the season jointly spun out of control, all parties decided to wait until this spring for his return.
Maeda was greeted rudely by Rays outfield prospect Josh Lowe with a double into the gap that went off of Joey Gallo's glove. The good news? It was on a 90.8 mph fastball by Maeda showing velocity already near to what he threw pre-surgery. Lowe was slo unable to advance from second base, as Maeda escaped the inning on two ground balls and a strikeout, throwing 13 pitches, ten for strikes. That was the end of his day, as planned.
"He was happy with his stuff", Twins manager Rocco Baldelli said after the game. "I was happy with his stuff. [Twins pitching coach] Pete [Maki] was happy with his stuff. So a very successful day and one we've been waiting a very long time for,"
The Shift Ban
Both regulars in the lineup for the Twins, Gallo and Kepler, could be positively impacted by MLB's limitation of "the shift" this year. In the first inning, we got a taste of what we might see. It's not totally clear the results would have been any different, but both plays likely were completed differently than they would have been.
The new limitation has two parts that could affect left-handed hitters. First, the shortstop can no longer play on the other side (the first base side) of second base. Second, second baseman can no longer play in short right field. He must remain on the infield dirt.
For left-handed pull-hitters, the theory is this could mean more ground balls scooting through the right side of the infield for hits. Alas, that was not the case for Kepler, whose ground ball was fielded by the second baseman to the right of the bag and neatly flipped to the shortstop for a double-play to end the inning. It likely would have been fielded by the shortstop last year, but the double play might not have been as automatic.
On the other hand, Gallo hit a soft line drive to right field over the first baseman's head for a single. It's not clear if that result would have been any different had the second baseman been deeper and on the grass – he would have had to range far to his left to get there – but it's possible. It certainly seem like it would have been fielded by him instead of by the right-fielder.
The next inning, we saw another impact of the new rule. Rays second baseman Vidal Brujan lined up too far over to the left side of the infield. It was called by the umpire, and as a result, the batter – Farmer – was awarded a ball. But with the umpires, players and coaches still working out the communication of the call, it was originally thought that a balk had been called, which would have scored Gallo from third base. After a discussion at home plate with the umpire, he returned to third base and was driven home on a sacrifice fly.
Facing Southpaws
We also got a taste of what we might see when the Twins face left-handed pitching this year. With the exception of Nick Gordon, the Twins entire "bench" is right-handed, and it sounds like Rocco intends to play matchups with them frequently, including in the starting lineup.
It certainly worked on Saturday. The bottom of the lineup featured two non-roster invitees signed as minor league free agents. Switch-hitter Willi Castro is a 25-year-old infielder from the Tigers organization who started at third base. Tyler White, a 32-year-old, who has spent the last couple years in Triple-A, started at first base.
But they looked like All-stars against Rays left-handed reliever Josh Fleming. Castro tripled to deep center and White homered. It blew the game open soon after it started, contributing to a 6-0 lead after just two innings.
The Other Game
Meanwhile, the Twins had another game going on in Sarasota vs the Orioles, with Louie Varland starting. Varland, Twins Daily's #9 prospect, threw two scoreless innings, but things turned sour in the second half of the game and the Twins fell 10-5. Mark Contreras and prospect Kala'i Rosario each homered for the Twins. Nick Gordon started the game with a triple and scored on a sacrifice fly off the bat of Austin Martin. It was interesting to note that the Twins had Gordon start at shortstop with Martin at second base. Martin (Twins Daily's #10 prospect) was hit by a pitch in his next plate appearance, but he must have been OK because he stole second base on the next pitch. Trevor Larnach and Matt Wallner (Twins Daily's #11 prospect) went a combined 0-for-5 with a walk and five strikeouts. Aaron Sabato walked three times, and one of the newest Twins prospects, Jose Salas (Twins Daily's #8 prospect) walked twice. Randy Dobnak gave up one run despite two hits and two walks in his two innings of work. 
For the Orioles, Terrin Vavra - the youngest son of former Twins hitting coach and bench coach Joe Vavra - went 2-for-3 with a ground-rule double and a long home run. Curtis Terry, who spent last spring with the Twins, hit a three-run homer off of Brock Stewart. One of Baltimore's top prospects, Heston Kjerstad hit two home runs. Chris Vallimont gave up one run over two innings. Sauk Rapids native Anthony Bemboom started behind the plate for the O's and went 0-for-2. 
Next Up
The team makes a long trek up to Clearwater to play the Phillies on Sunday. Joe Ryan will be starting for the Twins. The plan is for Jose Miranda to make the trip and hit third as the designated hitter. Edouard Julien and Brooks Lee should be in the lineup again, too.