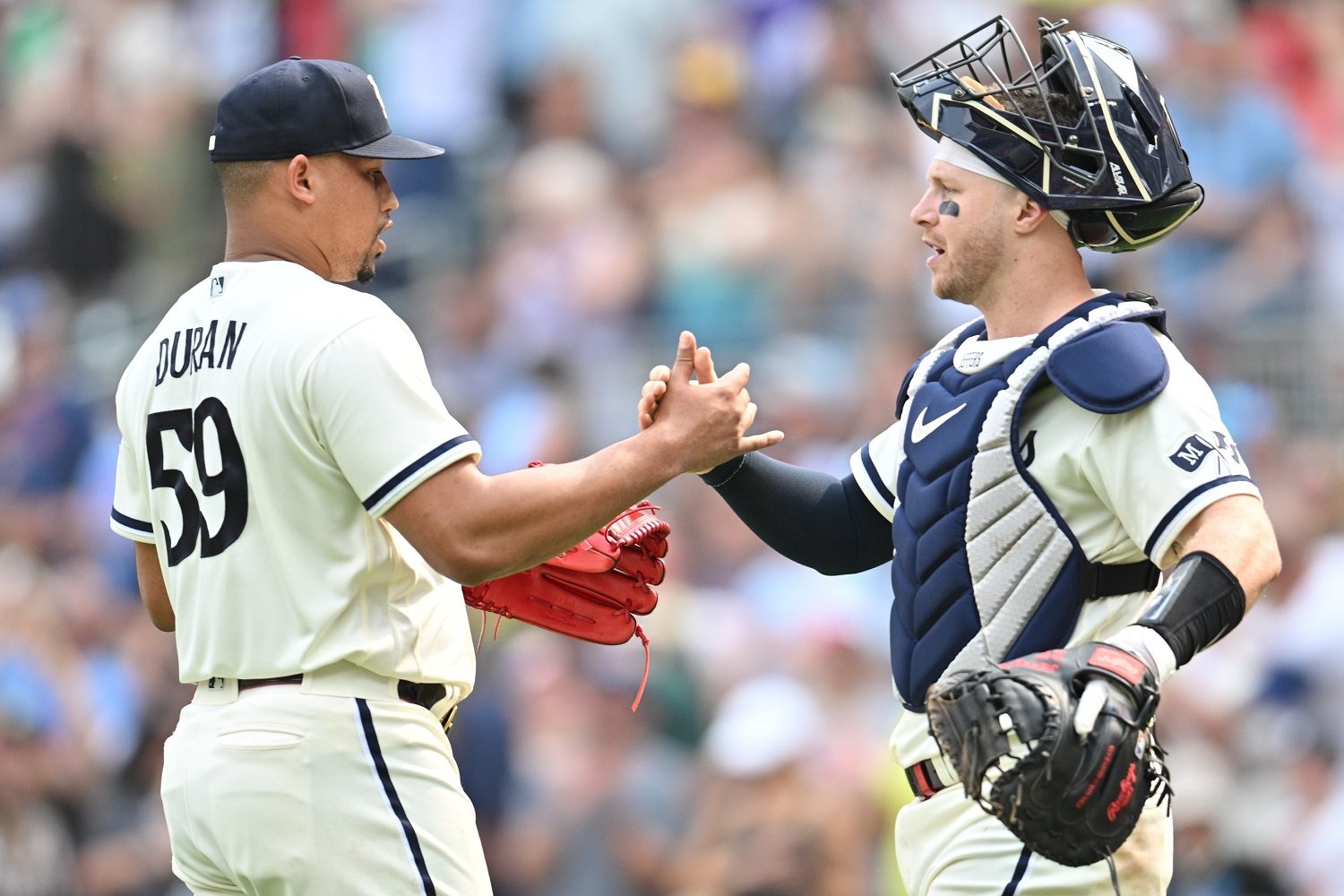 Image courtesy of Jeffrey Becker, USA TODAY Sports
For some reason, there is a small, yet vocal tangent of casual Twins fans that think the team shouldn't be confident in their second-year closer, Jhoan Duran. Despite a strong 2.49 ERA and excellent peripherals to back up his stellar performance, some think he's too shaky to have success in the postseason. 
Their criticism could speak more to their general apprehension to the Twins team in general after 18 straight losses in the playoffs, some coming at the hands of a lackluster relief corps. But that shouldn't be Duran's problem as his team nears their first playoff game, especially after the encouraging campaign he's had this season. Not only has the Twins' closer displayed some of the most dominant raw stuff of anyone in the league, but there's reason to believe he's one of the better arms that will be playing in October. 
Yes, Duran's fastball is his calling card. It's hard to not be known as the guy that touched 104 MPH earlier this season. His heater has averaged 101.4 MPH since breaking into the league at the beginning of last season, which is by far the highest among all relievers in that span according to Inside Edge. The next highest is Jordan Hicks of the Toronto Blue Jays, whose 99.8 MPH average velocity is nearly two whole ticks lower than that of Duran. 
The Twins' closer throws fireballs, and for the most part, is quite successful when doing so. Opponents have a whopping 35% miss rate on that offering, which is third-best among all pitchers in baseball this season. 
While that pitch is impressive, it's certainly not perfect. Half of the home runs that Duran has given up have come off of his fastball, and he's allowed a .380 slugging percentage off of it (which is still quite good, but the highest of each of his offerings). One of the only blemishes on his Baseball Savant page is his 40th percentile average exit velocity allowed, and much of that stems from the higher-velocity pitches going a long way when they do get hit. The other bruise to Duran's stat line is his 9.6% walk rate, which is a valid concern, but it's not the insurmountable anchor that the vocal minority seem to think it is. 
So maybe that's where the trepidation surrounding the hulking reliever comes from. Maybe Duran's harshest critics can't get past the idea that their relief ace could allow runners to reach base in a pivotal moment for his team in the postseason. This fear was festered by the performance of Twins' relievers of yesteryear, who couldn't live up to the moment when the stadium lights were shining brightest. 
But, again, that has nothing to do with Duran. In fact, he's performed stronger than almost anybody that the Twins could face in the first few rounds of the postseason. Just take a look at the class of relievers that are or could feasibly make the postseason in the American League (this includes surefire playoff teams such as the Baltimore Orioles and Tampa Bay Rays, as well as those still fighting for the last few spots on the bracket such as the Toronto Blue Jays, Houston Astros, Texas Rangers and Seattle Mariners).  
Of all the relief pitchers on those teams that could possibly be in the playoffs, Duran has the eighth-best ERA, and only two of the names listed above his have a better strikeout rate (Bryan Abreu and Felix Bautista, who is currently on the injured list and may not even make the playoff roster). Of the seven pitchers with a better ERA than Duran, four have a higher walk rate. 
This shows us that few have gotten better results in terms of allowing earned runs to score, and those that have can't seem to match his strikeout capability. If they can, they tend to struggle even more with Duran's main blemish, which is walking batters. 
So if some think that we should be concerned with Duran as the Twins head to the playoffs, the same could be said for nearly every other pitcher on contending teams. At that point, the issue becomes the fickle nature of a close ballgame in the late innings, and not the fire-breathing monster who has led the Twins' relief corps for the last two years. Could Duran give up a lead in a postseason game? Of course. Any pitcher can. But until that happens, fans should sit back and enjoy the ride - especially if it comes with the best entrance music and light show of anyone in the game. 
What do you think? Are you confident in Duran as he heads into postseason play? Is there anyone in the league that you would rather have closing out a playoff game? Let us know your thoughts in the comment section down below. And as always, keep it sweet.