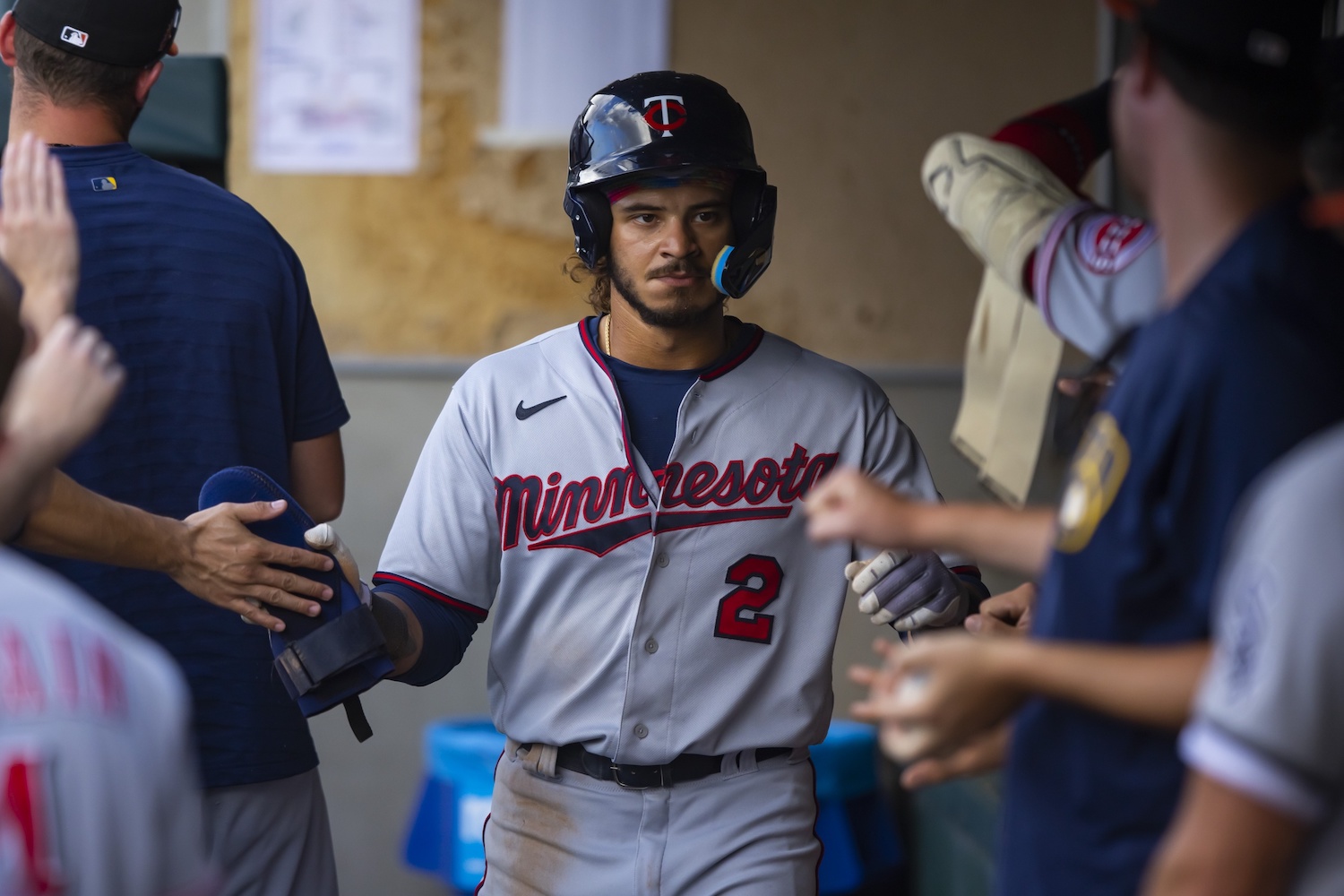 Image courtesy of Mark J. Rebilas-USA TODAY Sports
Austin Martin mysteriously disappeared from spring lineups for about a week before the Twins announced that he was shut down with the dreaded UCL sprain, an injury that often leads to Tommy John surgery in pitchers. The Twins have their own history of position players undergoing the surgery as well such as Miguel Sano and Alex Kirilloff. The severity is unknown at this time, but Martin will not return to action any time soon. How could this potentially devastating injury affect all parties involved?
Austin Martin
Martin is attempting to bounce back from his worst season as a professional, although his time in last year's Arizona Fall League brought some hope. Any time missed would be difficult, as he still has to prove he can perform against Double-A pitching in order to be considered as an MLB option in 2023. If he were to miss an entire season, it would likely drop him significantly in the organizational depth chart.
Martin dealt with injuries in 2022 as well which may have contributed to his below-league-average slash line in Double-A. Some call 2022 a "lost season" for Martin. If he were to have another in 2023, it may become difficult for the Twins to count on him being a legitimate future asset given his struggles to perform as well as his difficulties staying on the field. Other players who perform well will certainly pass him by, and it could create an uphill battle for him to establish himself on the Twins MLB roster.
Young Prospects
Martin missing significant time opens the door for other prospects. He had a legitimate shot to play himself onto the Twins this year with a bounce-back season. The Twins have enough players that could be expendable if a top prospect forces the issue. He had already been surpassed by Edouard Julien, and now many other young players will get an opportunity to capitalize.
All eyes likely fall on Brooks Lee who, like Martin, was drafted as a shortstop but may settle in at second or third base down the line. Lee had already made it to Double-A just three months after being drafted by the Twins, and he's likely to soak up Martin's playing time in Wichita to begin 2023. Thus far, Lee has shown the skills to take hold of whatever position the Twins settle on, and Martin will have no ability to stave him off if he's sidelined.
If Martin's injury turns out to be long-term, Royce Lewis could also beat him back to action. Lewis finds himself in the same boat as Lee and Martin. They may be looking for another position after the Twins gave Carlos Correa a six-year deal. If Martin were to play his way onto the big-league roster and establish himself at a position before Lewis returned this summer, it would've been hard to make a change. Instead, a long-term injury could lead to Lewis having a chance to establish himself first.
There's also the possibility of other infield prospects playing their way to Double-A in 2023 such as Jose Salas, Ben Ross, and Tanner Schobel. They would get every opportunity to cement themselves into whatever position they could, and if that position happened to be second or third base if Martin is still recovering, it would be their spot to lose.
The Twins
It would have been difficult to plan on Austin Martin making a significant impact on the 2023 Twins roster, but he was a part of their depth chart. With Jose Miranda having yet to prove himself as a passable defensive third baseman and Jorge Polanco's injuries at second base, it's likely the Twins utilize their minor-league infield depth at some point this season. While Julien is technically a second baseman, he has question marks defensively, and the Twins undoubtedly value a player's glove work highly. Martin had flashed an ability to be a plus defender away from shortstop.
With a good spring, the Twins could have seen added depth from Austin Martin, and if he performed well to start the season, they would have loved to bring him up with the right opportunity. Instead this likely leaves the recently-drafted Brooks Lee as the closest legitimate middle infield prospect to MLB action, and they're still likely to be careful with him. As a result, it means players such as Kyle Farmer and Donovan Solano will likely hang around for a good while regardless of their performance. 
Little is known of the extent of Martin's UCL injury while he's currently shut down. Some such injuries don't require surgical intervention and it's possible Martin is back on the field in a few weeks. Regardless, the best-case scenario is that an unfortunate injury will delay a very important season in the 2020 #5 overall pick's career. The worst-case scenario is that Martin could endure his second consecutive lost season having never surpassed Double-A.
In addition to his skillset raising significant red flags in 2022, injury has now become a legitimate concern as well. All the Twins and fans can do is wait to see how Martin's elbow recovers with time off for now. The severity of his injury and the amount of time lost could have consequences across the organization.