Twins Positioned for Deadline Creativity
---
With trade season approaching, the Twins find themselves in a unique position that could allow them to get creative.
Max Kepler has been pretty damn good for the Twins this season. He's one of the best defensive right fielders in the game and has posted a .243 / .341 / .400 (116wRC+). That's good for a 1.2 fWAR through 55 games.
Another guy who's been pretty good is top prospect Alex Kirilloff. What he's doing at AAA right now is fairly incredible. He looks ready for the next level, right? that .370 / .477 / .661 (1.139) line in 34 games makes it seem like it.
I'm sure we all are aware that the pitching could use some upgrades. I don't need or want to throw random stats and convince you otherwise. I'll skip that part.
It's my belief that the Twins can utilize their excess of solid RF's for an upgrade to the staff. Let me lay out the grand plan
Padres
San Diego's pitching this season has been outstanding. Yu Darvish and Joe Musgrove have been pitching like Cy Young candidates. Sean Manaea has been the perfect middle of the rotation innings eater. Mackenzie Gore has ended up looking like he's going to be the ace everyone thought he would be prior to his 2021 from hell. Nick Martinez might be the best bargain signing from the offseason. That's not even factoring in Mike Cleavinger who's just getting back into the grove of starting after missing 2021 with Tommy John or former Cy Young winner Blake Snell.
Looking from afar as a Twins fan, I'm not sure most of us could comprehend what that much pitching feels like. 
Unfortunately for the Pads, the bats haven't been as great. As a team, they have a slash of .237 / .313 / .365 (96wRC+ .. ew). That ranks them in the bottom of 1/3 of the league from an offensive perspective. It gets even worse when you look at how the lineup handles righties, .234 / .306 / .353 (90wRC+)
Compound that with the recent news of Fernando Tatis still not able to swing a bat, GM Aj Preller has to be on the hunt for some reinforcements at the plate.
Right Field has been their biggest achilles heal this season as they've compiled a total WAR of -0.3 and are hitting a .225 / .277 / .287 (63wRC+) from the position.
Internally top prospect, Robert Hassell is most likely still 2 years away from contributing as he is still at A+.... 23 year old popup prospect Esteury Ruiz, who was just promoted to AAA, has been on an incredible run hitting .363 / .489 / .656 (1.145 OPS). While they could count on him to be the savior in RF, they may believe him to be the savior in CF, as Trent Grisham and his .226 / .315 / .383 (698 OPS) over the last 200 games isn't cutting it. Maybe it's CJ Abrams? though they tried that earlier this season and it only lasted 20 games.
For a team that looks like it is "all - in" and has pitching staff that owns a sub 3.00 ERA on the season, banking on an unproven prospect when you have a 229 million dollar payroll probably isn't the most ideal situation. 
Lets take a look at how its shaken out this season ... 

Not exactly a group that gives you much confidence going forward.
SO, enter Max Kepler
Kepler would provide the Padres relief in a few different ways. Obviously the immediate production in RF vs what they currently have is a massive upgrade, both offensively and defensively. Secondly, Max's career slash vs RHP .242 / .331 / .468 (.799 OPS) gives them a proven veteran that can come in day one and elevate the lineup as a whole where they are the weakest.
But in my opinion Max Kepler's greatest asset to the Padres comes in the form of his contract. As previously mentioned, if he was traded by August 2nd, he is essentially on what is a 2 year 13 million dollar contract with a club option for 10 million in 2024. 
ZiPS, FanGraphs player projection model, anticipates Kepler will be worth about 2.5 WAR over the course of the next 3 seasons. Now its somewhat volatile but a win in 2022 is worth roughly 8.5 million. (read more if you are curious).
Max Kepler on his 2 year 13 million dollar contract (w / the club option for 10 million ) is making wellllll below what he would receive in free agency and the Padres would be hard pressed to find a proven veteran, offensively and defensively, that is both a better roster fit and under team control at a reasonable cost. (pls dont comment Juan Soto).
That's not to say the Padres could go trade for a rental like Andrew Benintendi, but does that really solve any of Aj Preller's problems?
Cause he could have some serious ones ..
Following the 2022 season, San Diego is set to lose 3 vital pieces of the starting rotation to free agency.
- Joe Musgrove (29) - 1.50 era / 72 ip / 72 k's / 2.1 fWAR
- Sean Manaea (30) - 3.85 era / 73 ip / 76 k's / 1.1 fWAR
- Mike Clevinger (31) - 3.18 era / 17 ip / 20 k's / 0.3 fWAR
There's a world where if those 3 starters continue performing at this level for the rest of the season, each could command an AAV of 20 mil - 25 mil + in free agency. The following season, Yu Darvish is set to become a free agent. That leaves them essentially with Mackenzie Gore as the lone controllable starter past the 2023 season.
This also doesn't account for their closer, Taylor Rogers, becoming a free agent after this season. But it only gets murkier for the Pads... Baseball Reference projects them to have a payroll around 147 Million in 2023 and that's before arbitration, which looks to be an additional 30 - 40 million. 
While I'm not a capolgist, ill do my best to break this down. They sit at around 229 million right now. It appears they seem to be intent on not going over the 230 million dollar luxury tax for the second consecutive year, as they would be penalized to a greater extent for being a repeat offender. (hence the Twins paying Rogers 6.7 million dollar salary to keep them below that threshold)
Put simply, if the Padres have any ambition to upgrade offensively at the deadline, while staying under the luxury tax, AND try to recoup some of Musgrove / Manaea / Clevinger / Rogers, AND THEN potentially get a RF in FA, they almost certainly have to move money around in a trade at this coming trade deadline.
Here's my proposal to how these two teams can help each other yet again with a trade.
The Blake Snell experience in San Diego definitely hasn't gone according to plan, Dennis Lin of The Athletic has reported a few times now that they have been open to a trade. Since Snell's arrival in 2021 they have received a 4.33 ERA over 153.2 IP in 32 starts.
That's not exactly what Preller and co had in mind when they gave up 2 top 75 prospects (+ more) for the 29 year old lefty who is owed 12 million this year and 16 million in 2023. look, It's not absolutely terrible, but it's not great.
With that said, there is hope for Blake.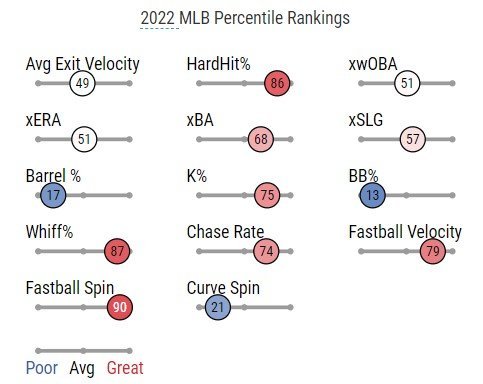 The underlying numbers show that he's definitely not cooked. The velo on his fastball hasn't diminished, he's sitting around a 96 mph avg. His xERA of 3.74 through 5 starts this year tells a different story than the 5.04 era on paper. It's not a super inspiring, slam dunk lock, and far from likely synch that he returns to his Cy Young form in 2018. But it's a glimmer of what might be the start of a turn around to be an at least slightly above average pitcher.
It also goes to stay Snell hasn't been a complete bust. From June 4th to Sept 7th of last season, Snell started 15 games and had a 3.44 ERA with 100k's across 81 IP.
Zips, Fangraphs projection model, believes he can produce a 2.0 fWAR next season. Again lets go back to using the logic a win is worth 8.5 million. Snell basically is owed a 2 year 24 million dollar contract if traded by August 2nd. You get Snell for 2 months the rest of this season (hopefully more with playoffs) and all of the 2023 season. So you hope that he can live up to the projected 2.0 FWAR and you'd be happy paying him 16 million next season.
Snell started 65 games from 2018 - 2020. In 337 IP he owned a 2.85 ERA and had a 11.5 SO/9.
While the past 2 years as haven't been good, It's my belief the risk on a 29 year old lefty with that kind of track record is worth the gamble for the Twins.
Now what would the entire deal look like? Max Kepler definitely has more value, as we dove into that earlier, so a 1 for 1 swap isn't going to cut it. 
By taking on Blake Snell, the Twins would be taking on what is basically 8 million the rest of the season and 16 million next season.
The Padres would be taking on Max Kepler's remaining 4 million this year, 8.5 million in 2023, and have the 10 million dollar option for 2024. It's my understanding that its AAV throughout the duration of the contract that counts against the the luxury tax, and club options are not counted until picked up. So the Padres would be really going from 16 million to 6 million next season, saving them 10 million against the tax.
The organization has been stacked with top prospects over the past few years, but through trades, the overall depth has taken a hit. Abrams and Hassell are off limits, just not happening. But, their #3 overall prospect per MLB pipeline is catching prospect Luis Campusano, who is most likely expendable at this point.
Campusano has been a consensus top 50 prospect for about 2 years now, but has seen little playing time with the major league club, playing in only 16 games over the last 3 years. I find it incredibly odd that he's been stashed at AAA for 2 seasons now and has a slash line of .303 / .388 / .486 (896 OPS) in 117 games. 
I've read numerous reports that the industry isn't quite as high on Campusano and his ability to stick at catcher long-term contrary to popular prospect ranking sites. When you look at the Padres and what they've gotten out of the position offensively the past few years, that's probably true. Plus they've stated a few times they would rather go with defense at the position (Nola + Alfaro).
With that said, the Twins have a good track record of developing catchers on the defensive side, just look at how Gary Sanchez has progressed. Combine that with how Jeffers has played the past few seasons and Sanchez being a free agent, a possible long term catching solution would be a great get.
He could help support the Twins in a few different ways this season. Obviously a few days mixed in playing catcher, DH is always an option, and he has gotten work at 1st base in the past.
But with the question mark about his ability to stick at catcher and playing first might be a challenge as he's only 5'10, I would want one more upside piece in the deal.
Michel Baez is who I would target. Only 26, the former top prospect underwent Tommy John surgery in 2021 and has been rehabbing in AA this season. Baez worked out of the bullpen in 2019, his lone season with the Padres. He was thought to be a staple in the bullpen after posting a 3.03 era in 29.2 IP with 28ks.
Baez has looked sharp this season in his rehab stints this year touting a 2.45 era in 18 IP with 23 k's. It feels like he's not going to be down in AA for much longer. This would be the perfect flier to help the Twins going forward the next few years.

The popular site -  https://www.baseballtradevalues.com/trade-simulator/ , has this deal about dead even between the Twins and Padres. While I believe Campusano is overvalued in their model based on the fact that it has him pegged as a sure fire catcher, I think it undervalues Snell slightly in terms of the potential he may still have, The Baez throw in seems to be perfectly valued for a guy coming off TJ and only has 23 MLB innings logged. Nothing more than a flier. 
At the end of the day, the Padres get an above average RF for the next 3 years at an extremely discounted rate and save 10 million on the books for the next 2 years. The Twins continue the movement in top prospects blossoming at the major league level, get another rotation piece with upside for the next 1.5 years, a great catching prospect, and a young controllable bullpen flier piece with proven success. 
Oh and Kirilloff comes in to hit .300 / .375 / .450 to replace Kepler.
Perfect world, right?
Thanks guys.