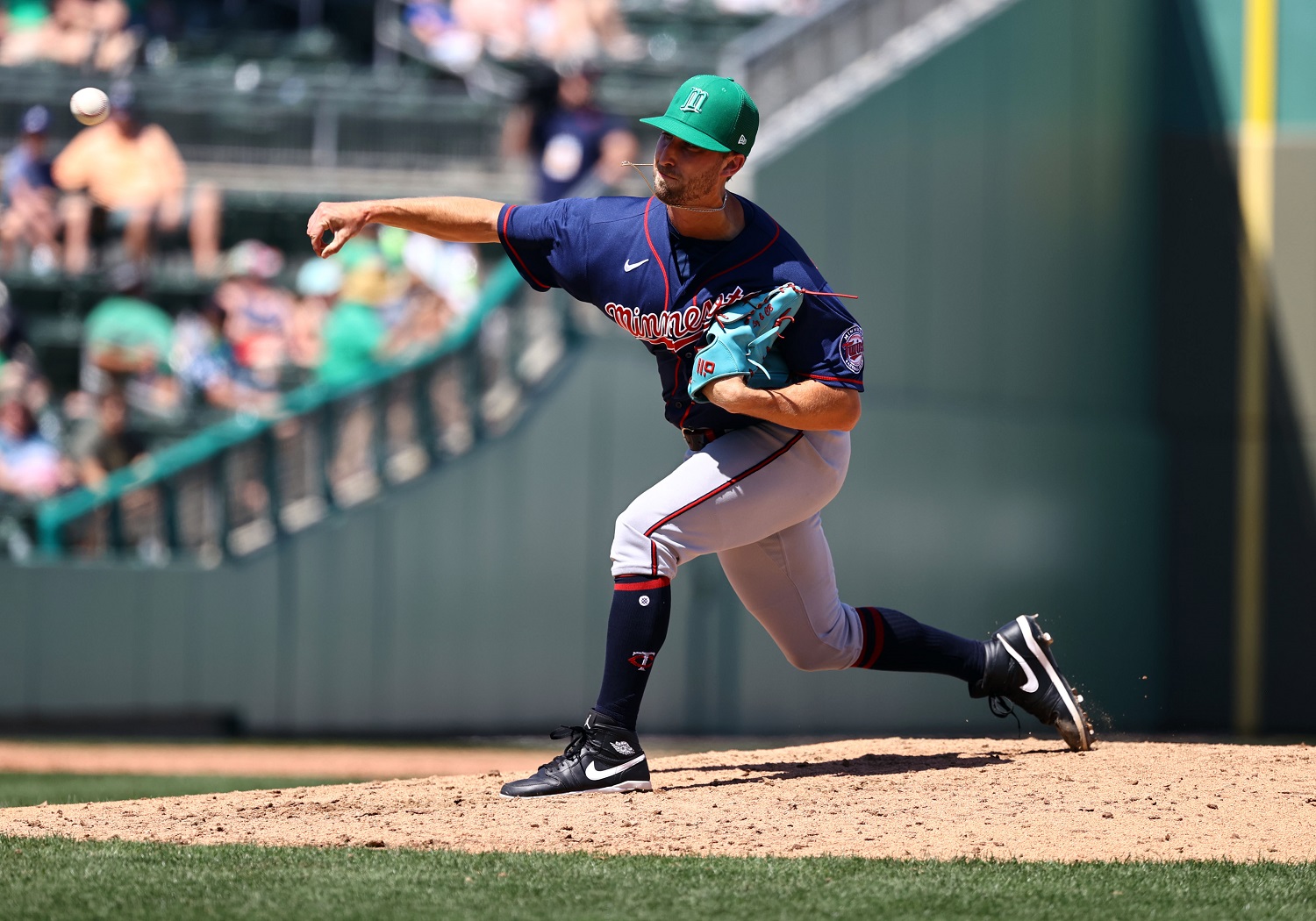 Image courtesy of © Kim Klement-USA TODAY Sports
Last season, Rocco Baldelli saw a significant number of players make their major-league debuts. We finally saw Royce Lewis play shortstop at Target Field, and Jose Miranda earned his way onto the roster after an incredible 2021. Simeon Woods Richardson closed out the season for the Twins, and hometown star Louie Varland took his turn as well.
Although the Twins are somewhat veteran-laden at several key spots, we'll still see plenty of prospects pop up along the way this season. Trying to pick one player per month, here are a few names we could see for the first time in 2023:
April - To Be Determined
Prior to being traded for Michael A. Taylor, there was reason to believe that Evan Sisk could find himself in this spot. Acquired from the St. Louis Cardinals for J.A. Happ, he's a high strikeout guy at Triple-A that hasn't been able to calm the walks. Maybe the Twins didn't see it happening and flipped him. If another prospect is going to debut this soon in 2023, it will likely be to replace an arm in the bullpen.
May - Austin Schulfer
Working as the Double-A Wichita closer for the first half of the year, Schulfer dominated. He then struggled across 32 2/3 innings at Triple-A St. Paul. Having moved fully to a bullpen role following the 2021 season, Schulfer looks the part of a quality major-league reliever. He should be called upon at some point this season when the bullpen could use a fresh arm. Starting strong for the Saints is a must in 2023.
June - Jordan Balazovic
Previously the best starting pitching prospect in the Twins system, things couldn't have gone worse for Balazovic in 2022. He got off to a late start due to a knee injury, and despite suggesting he was healthy, never got back on track. The walk and home run rates skyrocketed last year, but turning it back to his 2021 and earlier numbers, Balazovic could rekindle some of the same prospect allure that made him a consensus top 100 type coming into the year.
July - Brent Headrick
A 9th-round pick in 2019, Headrick was added to the 40-man roster this offseason. His 4.81 ERA at Double-A was a byproduct of the longball, but he has shown the ability to generate strikeouts as a starter. Another lefty, Minnesota could opt to push him into a bullpen role, but either way, he'll have ample opportunity to work his way toward Triple-A and beyond this season.
August - Brooks Lee
Taken with their most recent 1st round pick, Minnesota fans may see Lee as soon as this year. While it may look like he's blocked on the dirt, there is no reason that he couldn't play second base if Jorge Polanco is hurt or struggles. Lee looked incredibly advanced during his professional debut, and that justified promotions all the way up to Double-A.
September - Austin Martin
Once the key piece of a Jose Berrios trade, Martin's prospect shine has faded some. He didn't hit for power last season, and it led to a frustrating year at Double-A. His Arizona Fall League season went well, however, and returning to more of a pure hitter could be a good change. He may find a role in the outfield or move off of shortstop, but Martin figuring into Minnesota's plans behind Byron Buxton may make some sense late.
October - Matt Canterino
This is truly a wild card as Canterino is currently rehabbing from Tommy John surgery last summer. He has great strikeout stuff, and while his delivery is unconventional, it may work exceptionally well in the bullpen. The former Rice product may be well served to put his starting days behind him, and if the Twins are in a run for the postseason, Canterino could provide a big boost to the bullpen.
What prospects are you most excited for in 2023 and who not on this list do you think could debut?