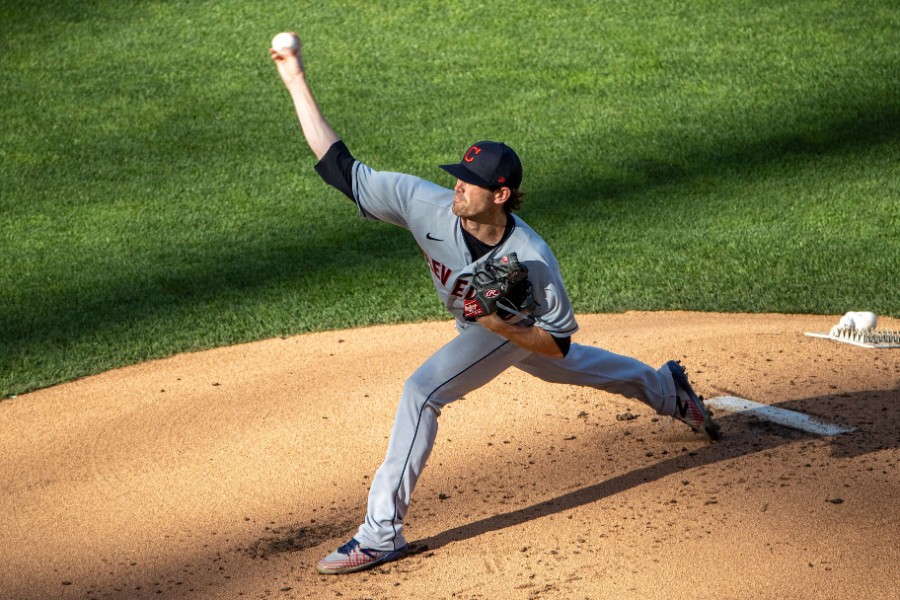 Image courtesy of © Jesse Johnson-USA TODAY Sports
Berrios: 5.0 IP, 3 H, 2 ER, 2 BB, 6 K
Home Runs: None
Bottom 3 WPA: Donaldson -.154, Polanco -.118, Sano -.110
Win Probability Chart (via FanGraphs):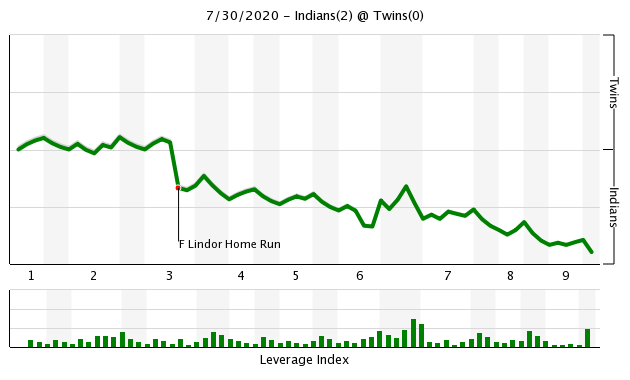 With Jose Berrios and Shane Bieber taking the hill, a low scoring affair could be expected, and that's exactly what we got. Berrios's stuff looked good early as he was maintaining his opening day velocity jump and getting plenty of swings and misses on his curve ball, but he ran into trouble in the third inning. After giving up a single to Jose Ramirez with two outs in a 1-2 count, Berrios got up on Francisco Lindor 0-2 but left a fastball over the plate that Lindor demolished for a 2-0 Cleveland lead. He came back to pitch scoreless forth and fifth innings but with his pitch count at 96 his day was done.
Meanwhile Bieber was absolutely filthy as Twins hitters looked helpless against him. He struck out 14 Kansas City Royals on opening day and didn't forget how to pitch in the last five days. Six of Minnesota's first 10 batters fanned against Bieber and his curve ball was absolutely unhittable. He went on to pitch eight scoreless innings and strikeout 13 Minnesota batters without issuing a single walk. That gives him 27 Ks through his first two starts which ties him with Karl Spooner for the all-time MLB record.
With Zack Littell taking over for Berrios in the 6th it looked like Cleveland would put more runs on the board. After a Franmil Reyes single with one out the speedy Bradley Zimmer hit a high chopper that Miguel Sano handled but threw over Littell's head at first, putting runners on second and third. Domingo Santana should have been called out on a 2-2 slider that clearly got the bottom of the strike zone but instead walked to load the bases. However, Sandy Leon ended the threat by hitting a comebacker to Littell for a home-to-first inning ending double play.
The Twins got a little something cooking off Bieber in the bottom of the inning as Byron Buxton and Max Kepler both singled to put runners on first and second with one out. However, Bieber would continue to do his thing as he struck Josh Donaldson out for the third time and then got Jorge Polanco to fly out to end the threat.
With Bieber finally done after eight magnificent innings and closer Brad Hand unavailable, rookie James Karinchak came in to earn his first MLB save. It might not get much easier for Twins bats tomorrow as they will face Bieber's ace-mate, Mike Clevinger.
Sano's inexperience at first shows
After making the aforementioned throwing error that he should have put in his pocket, Sano would make another awkward play in the bottom of the ninth. A Sandy Leon ground ball was cleanly fielded by Luis Arraez. The only problem was Miguel Sano also went after the ball and desperately raced back to first while Arraez's throw sailed over his head. Neither misplays ultimately led to runs being scored and hopefully have provided learning experiences for Sano.
Thoughts on the Fox Broadcast
While it's nice to see the Twins get some national attention and listen to AJ Pierzynski in the booth, there were some peculiarities in the broadcast. The camara work was all over the place. Multiple flyballs were lost by the camara crew but they even managed to lose a ground ball. I felt drunk. I felt even drunker when a foul ball was hit down the third base line and suddenly several fans momentarily appeared in the stands. I did a doubletake before realizing they were virtual fans. Definitely gave off a creepy vibe. Max Kepler even appeared headless as he ran in after catching the final out of the fifth inning and got too close to the wall, where the fans overlapped his noggin.
Bullpen Usage Spreadsheet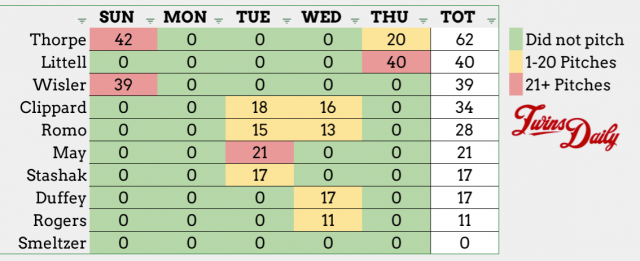 Postgame Pint
John Bonnes, Seth Stohs, Jeremy Nygaard and Ted Schwerzler react to a 2-0 loss and a historically good pitching performance by Shane Bieber. Watch below, or check out the audio-only podcast.
https://www.youtube.com/watch?v=yotwH_TKc2I&feature=youtu.be