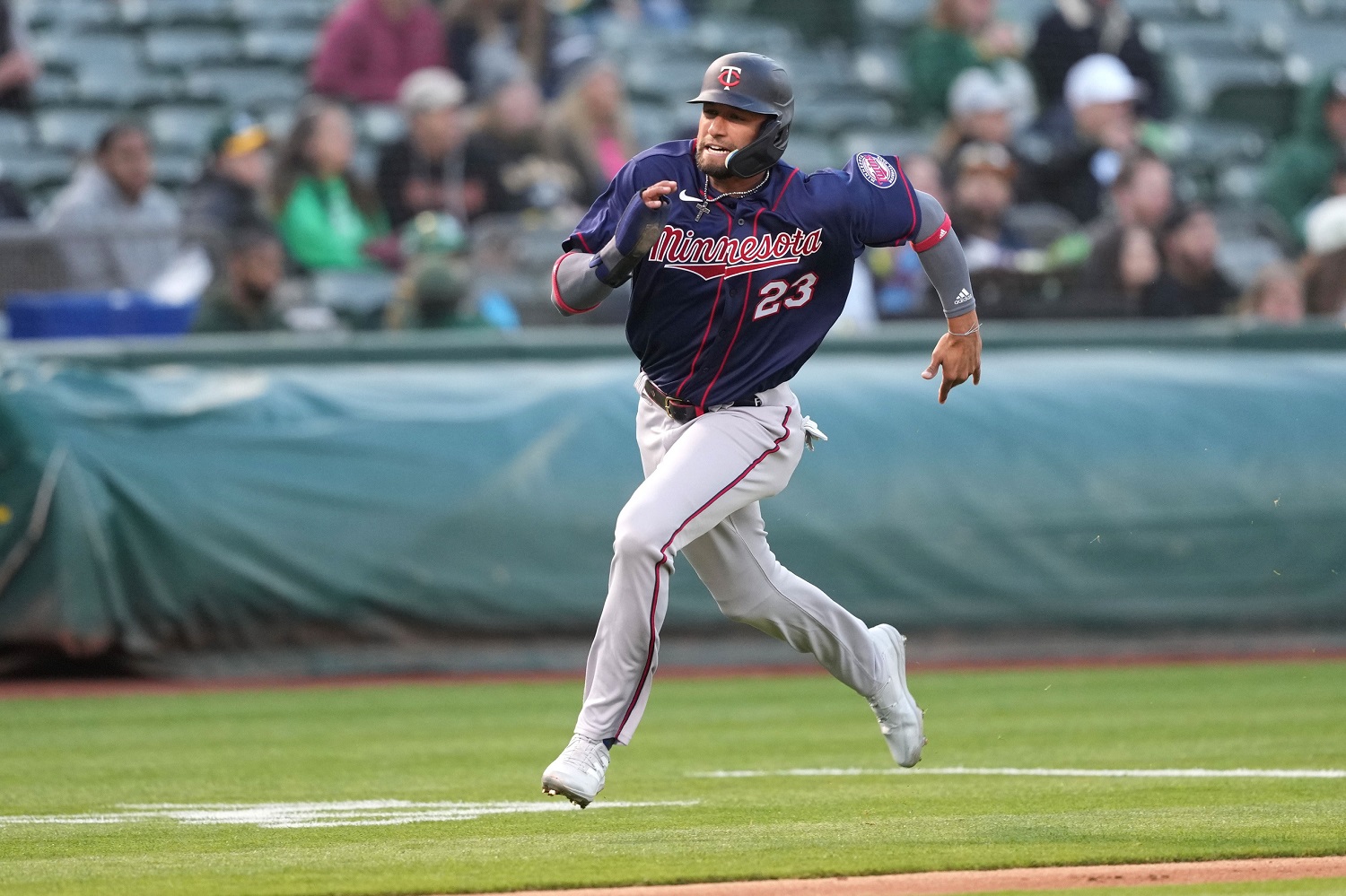 Image courtesy of Darren Yamashita-USA TODAY Sports
The Twins have been a poor base running team in recent years, which projects to stay the same in 2023. Last season, Minnesota ranked last in baseball with 38 stolen bases, and FanGraphs ranked the team second to last in BsR, an all-encompassing base running statistic. Some of Minnesota's best base running prospects could help the team's running game in 2023 and beyond.  
Scouts and front office personnel use a 20-80 scale to evaluate players' tools. This ranking system also projects how those tools will change as the player develops. Speed is one tool that tends to decline as players age, and that reflects in the projections. Below are the top five Twins prospects regarding current and future speed potential.
5. Yasser Mercedes, OF
Current Speed/Future Speed: 55/50
Mercedes quickly impacted the 2022 Dominican Summer League after signing with the Twins for $1.7 million out of the Dominican Republic. Born in Puerto Rico, he hit .355/.421/.555 (.975) with 13 doubles, three triples, and four home runs in 41 games. Even more impressively, he stole 30 bases in 35 attempts. He turned 18 in November, so he projects to become more physically mature. All his defensive innings came in center field last season, and the Twins hope he can stick at the position for the long term. Mercedes is a five-tool talent, and speed might be his worst tool when he reaches Target Field. 
4. Ben Ross, UTL
Current Speed/Future Speed: 60/55
The Twins took Ross with their fifth-round pick in last June's draft out of Notre Dame College (Ohio). Ross was a tremendous hitter in college as he batted .405/.471/.758 (1.229) and showed to be a baserunning threat. He played 22 of his 24 games at Low-A during his professional debut and went a perfect 6-for-6 in stolen base attempts. Since turning pro, the Twins have adjusted his swing, and he has added muscle to his frame. His speed can help him stick at shortstop, but he will likely move around the diamond to multiple defensive positions. He will likely begin 2023 in Fort Myers and is a prospect to watch during the 2023 campaign. 
3. Jose Salas, SS
Current Speed/Future Speed: 60/55
Salas was the top-ranked prospect acquired from the Marlins as part of the Luis Arraez-Pablo Lopez trade. In 2022, he went 33-for-34 in stolen base attempts between Low-A and High-A. He is a very athletic player that projects to add more weight to his body, which will likely take away from his speed before he reaches the big leagues. For now, he's considered a shortstop, but he might lose some quickness and shift to second base, third base, or the outfield. Salas was over three years younger than the average age of the competition in the Midwest League, so the Twins can have him start the 2023 season in Cedar Rapids. 
2. Will Holland, SS/OF 
Current Speed/Future Speed: 70/65 
The Twins selected Holland in the fifth round of the 2019 MLB Draft from Auburn University. His speed helps him on both sides of the ball, and that's one reason the Twins have used him at shortstop and in the outfield. Last season, he went 32-for-36 in stolen base attempts between High-A and Double-A. For a player with limited power, he doesn't make consistent contact (.227 BA in 2022), and he strikes out a lot (137 K in 116 G). His numbers did improve when he got to Double-A, so there is hope he can continue to develop at that level in 2023. 
1. Royce Lewis, SS/OF
Current Speed/Future Speed: 70/65
Evaluators have praised Lewis' speed since he was an amateur, but that was before two major knee surgeries. He returned strongly from the first surgery and is on pace to return to action later this year. His rehab work from the first knee surgery strengthened him and increased his speed. Lewis averaged 25 steals per season in both years, where he played over 50 games. Last season, he went 12-for-14 in stolen base attempts at Triple-A. Overall, he is a smart base runner with the speed to cause havoc for the opposition. 
Who do you think has the best speed tool in the Twins system? Should someone else make the list? Leave a COMMENT and start the discussion.
OTHER POSTS IN THE SERIES
-Power Tool
-Hit Tool