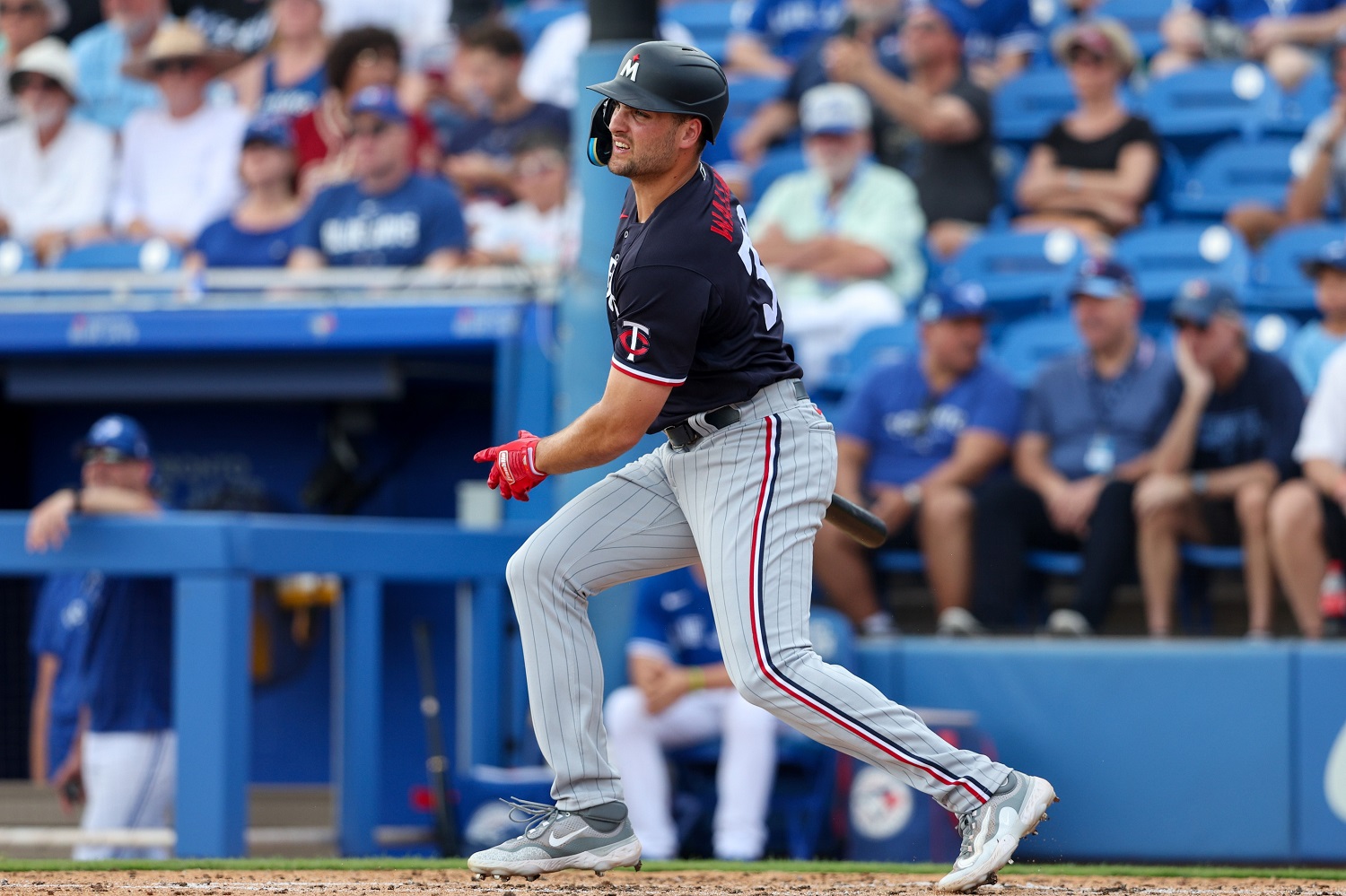 Image courtesy of Nathan Ray Seebeck-USA TODAY Sports
The Twins have altered their roster recently since setting MLB's all-time home run record in 2019. Last season, Minnesota didn't have any 30-home-run hitters, so the last two Twins hitters with 30 homers were Jorge Polanco (33 HR) and Miguel Sano (30 HR) in 2021. The five prospects below can join the 30-homer club when given a chance at the big-league level in the years ahead.
Scouts and front office personnel use a 20-80 scale to evaluate players' tools. This ranking system also projects how those tools will improve as the player develops. Below are the top five Twins prospects regarding current and future power potential.
5. Royce Lewis, SS/OF
Current Power/Future Power: 55/60
Lewis is recovering from his second ACL surgery in as many seasons, but he has many skills to be considered a five-tool player. Throughout the rehab process, he has added muscle to his frame, and the Twins saw some of those results in 2022. Last season, he hit .313/.405/.534 (.940) with 12 doubles and five home runs in 34 Triple-A games. Lewis showed flashes of his power in 12 big-league games by going 12-for-40 (.300 BA) with four doubles and two home runs. Minnesota hopes to have Lewis back in the line-up for the second half of the 2023 season. 
4. Brooks Lee, SS 
Current Power/Future Power: 55/60 
Lee makes such consistent contact that power is natural and can spray the ball to all fields. In his final two collegiate seasons, he averaged over 40 extra-base hits with a 1.073 OPS. Lee showed flashes of his power potential during his professional debut. He combined for ten extra-base hits and an .839 OPS in 31 games. During spring training, Lee has impressed many, including Carlos Correa, with his offensive approach and work ethic. He is likely heading to Double-A to start the season, but he may debut during the 2023 season. 
3. Emmanuel Rodriguez, OF
Current Power/Future Power: 55/65
Rodriguez is one of the most exciting prospects in the Twins system, and he could be a monster power hitter. He was a breakout prospect at Low-A last season while hitting .272/.493/.552 (1.044) with more walks (57) than strikeouts (52). The Florida State League can be a challenging environment for hitters, but Rodriguez shined with five doubles, three triples, and nine home runs. He's entering his age-20 season, and he hopes to add even more muscle to his frame to increase his power. By this time next season, he has a chance to be the Twins' top-rated prospect and a global top-20 prospect.
2. Aaron Sabato, 1B/DH
Current Power/Future Power: 60/60
The Twins drafted Sabato for one reason, his tremendous power potential. The pandemic limited his college career, but he posted a 1.158 OPS in 83 games. Last season, he hit .215/.336/.438 (.774) with 17 doubles and 22 home runs between High-A and Double-A. Sabato will spend the 2023 season in the minor's upper levels as he attempts to compile a breakout season. He is the lowest-rated prospect on this list, but the current front office drafted him in the first round, so they will give him every opportunity to find success. 
1. Matt Wallner, OF
Current Power/Future Power: 65/65
Wallner is coming off a season where he was named the Twins Daily Minor League Hitter of the Year. In 128 minor league games, he hit .277/.412/.542 (953) with 32 doubles, four triples, and 27 home runs. The Twins called him up in September, and he went 13-for-57 (.228) with five extra-base hits and a 105 OPS+ in 18 games. Minnesota's added depth at the big-league level has pushed Wallner down the organizational depth chart, but he's had fewer than 200 at-bats in Triple-A. Wallner will start the year in St. Paul, with his powerful swing being one injury away from the big leagues.
Who do you think has the best power in the Twins system? Should someone else make the list? Leave a COMMENT and start the discussion.