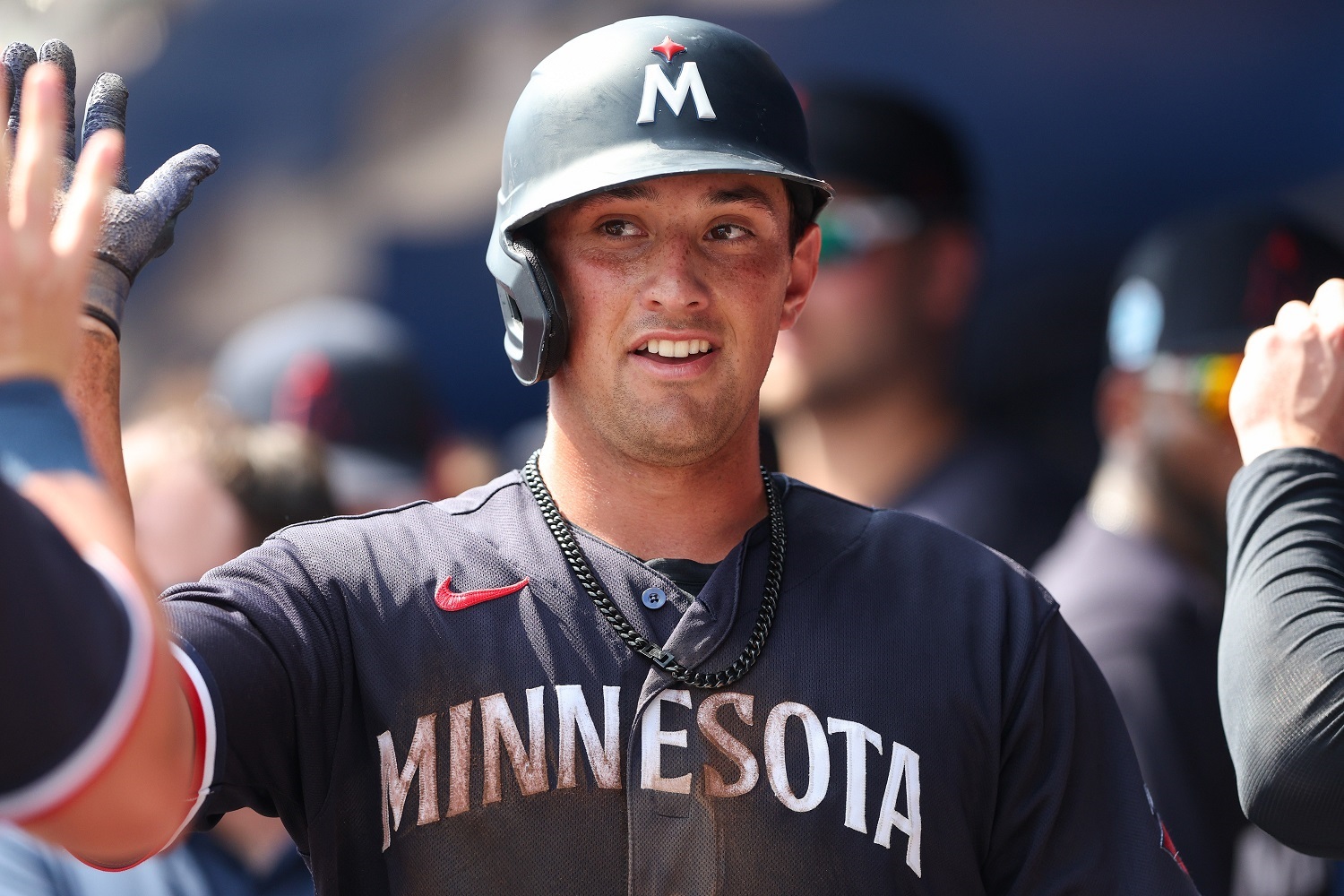 Image courtesy of Nathan Ray Seebeck-USA TODAY Sports
In an ideal world, every top Twins prospect would reach their full potential and become a star. That obviously doesn't happen, but fans can still look to the minors for hope for the future. Twins Daily's top five prospects face an important development season in 2023 with questions surrounding their future. 
Brooks Lee: Will he make his big-league debut?
TD Prospect Ranking: 1
Lee has been the talk of spring training, with players like Carlos Correa gushing over his performance. Many outlets, including Twins Daily, rank him as the organization's top prospect, and he's barely played 30 games in his professional career. He shot through three different levels during his pro debut and finished the year impacting the Double-A line-up in the playoffs. He's likely heading back to Wichita to start the season, and prospects of his caliber don't necessarily need time at Triple-A. The Twins don't need to rush him to the big leagues, but his performance might dictate a call-up at some point during the 2023 season. 
Royce Lewis: How will the team handle him when he is healthy?
TD Prospect Ranking: 2
Lewis showed flashes of his five-tool talent during his big-league debut, but it was a small sample size before he injured his ACL for the second consecutive season. He should be back by the middle of the 2023 season, and it will be interesting to see how the club treats him when he is fully healthy. Will they treat him like a minor leaguer and make him prove his bat is ready with an extended stay at Triple-A? Or will they immediately add him to the big-league roster when he completes his rehab assignment? Regardless of the team's path, Lewis can boost the line-up in the second half. 
Emmanuel Rodriguez: Does he have the highest ceiling of any Twins prospect?
TD Prospect Ranking: 3
There is plenty of hype surrounding Rodriguez and his breakout performance at Low-A in 2023. As a 19-year-old, he hit .272/.493/.552 (1.044) with five doubles, three triples, and nine home runs. He drew more walks (57 BB) than strikeouts (52 K) in 199 plate appearances. His season was cut short by a knee meniscus injury that required surgery in June. Rodriguez is a long way from Target Field, and he has plenty of development left to make in the years ahead. However, it's hard not to get excited about a prospect of his caliber. If he continues progressing, he can be a top-15 global prospect entering the 2024 season. 
Marco Raya: Can his body type hold up with more innings? 
TD Prospect Ranking: 4
Raya is similar in size to former Twins pitcher Jose Berrios, so evaluators tend to question whether pitchers of his body type can hold up to the rigors of more professional innings. Minnesota drafted him in 2020, but he missed the 2021 season with shoulder soreness. He has been limited to 65 innings in his professional career but had a 3.05 ERA with a 1.08 WHIP and 10.5 K/9. Baseball America ranked Raya as baseball's 53rd-best prospect entering the season, which was his lone top-100 appearance. A good goal for this season would be to crack the 100-inning mark, but the Twins will continue to monitor his usage as he gets closer to Target Field. 
Edouard Julien: How quickly can he impact the big-league roster?
TD Prospect Ranking: 5
Twins fans have seen what kind of impact Julien can have on games earlier during spring training. During the WBC, he will be on Canada's roster with a chance to put his name on the international map. He spent all of 2022 at Double-A, hitting .300/.441/.490 (.931) with 19 doubles, three triples, and 17 home runs. He transitioned that success to the AFL, where he posted a 1.248 OPS in 21 games. The Twins will likely send him to St. Paul, where he will wait for his call-up when an injury occurs in the infield, which should happen before May. 
What questions do you have about these prospects? Leave a COMMENT and start the discussion.