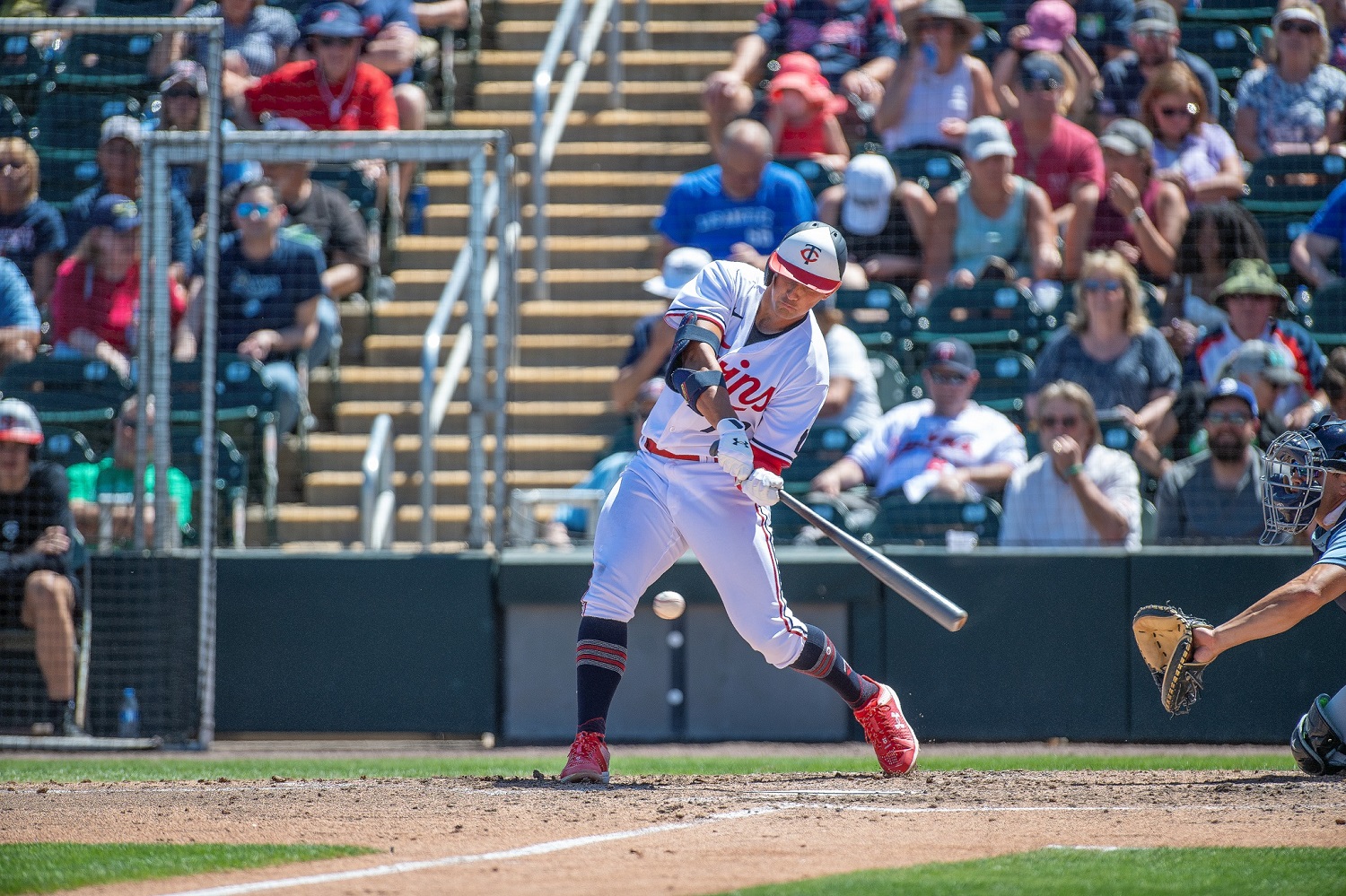 Image courtesy of William Parmeter
In recent years, the Twins have been lucky to have some strong hitters come through the farm system. Minnesota expects Alex Kirilloff and Jose Miranda to be key contributors to the 2023 roster, while former Twin Luis Arraez is coming off the AL Batting Title. Will any of the prospects below be the team's next batting champ?
Scouts and front office personnel use a 20-80 scale to evaluate players' tools. This ranking system also projects how those tools will improve as the player develops. Below are the top five Twins prospects regarding current and future hit tool potential.
5. Edouard Julien, IF
Current Hit/Future Hit: 45/55
MLB Pipeline gives other Twins prospects a 50-hit tool, but it's hard to have a top-5 list and not include Julien. Last season, he hit .300/.441/.490 (.931) with 39 extra-base hits in 113 Double-A games. The Twins sent him to the Arizona Fall League, and he went 28-for-70 (.400) with five doubles and five home runs in 21 games. Julien has been tremendous for Canada in the World Baseball Classic, but the Twins have already optioned him to Triple-A. The only question that remains is how much he can help the Twins in 2023.  
4. Austin Martin, SS/OF
Current Hit/Future Hit: 50/55
Martin is coming off a tough 2022 season that saw him fall from a consensus top-100 prospect to needing to prove himself in 2023. He finished the year on a high note by hitting .277/.392/.431 (.823) in September. The Twins sent him to the Arizona Fall League, and he continued his hot hitting. In 97 plate appearances, he hit .374/.454/.482 (.936) with seven extra-base hits and more walks (8) than strikeouts (7). Minnesota worked with Martin on his swing to get more power, but that approach didn't work, and he was feeling more like himself this spring. Unfortunately, a UCL sprain in his right elbow will cause him to miss the start of the 2023 season.
3. Bryan Acuna, SS
Current Hit/Future Hit: 55/60
Acuna is the younger brother of Braves superstar Ronald Acuna Jr., and they have very similar swings. The Twins signed him as part of the 2022 international class for roughly $870,000. He debuted professionally in the Dominican Summer League last season and hit .310/.409/.393 (.803) with 12 doubles. He has grown up around baseball and is known for his ability to make solid contact. Entering his age-17 season, he will come stateside, where the Twins can get an even closer look at the younger Acuna. He projects to be smaller than his brother, but that doesn't mean he can't have a better hit tool.
2. Danny De Andrade, SS/3B 
Current Hit/Future Hit: 55/60 
De Andrade has fewer than 100 games played, but he has already made his mark on the Twins organization. MLB.com ranked him as the 14th-best prospect in 2021, and the Twins signed him for $2.2 million. He's known for his bat-to-ball skills, but he can chase pitches out of the zone. De Andrade showed improvement last season in laying off balls and hit .284/.393/.453 (.846) with nine extra-base hits from July 4- August 16. All but five of his plate appearances came against older pitchers, which makes his performance even more impressive. He should get his first taste of Low-A this year in his age-19 campaign.   
1. Brooks Lee, SS
Current Hit/Future Hit: 65/65
Many evaluators considered Lee the top college hitter in the 2022 MLB Draft, so the Twins were ecstatic that he fell to them with the eighth overall pick. In three collegiate seasons, he hit .351/.426/.647 (1.073) with more walks (64) than strikeouts (63). He played well in wood-bat summer leagues throughout college, which helped increase his draft stock. He played at three levels during his pro debut and hit .303/.389/.451 (.839) with six doubles and four home runs. He's a switch hitter with tremendous bat-to-ball skills that help him generate power. Lee will likely start the year at Double-A, but there's a chance he will make his debut in 2023. 
Who do you think has the best hit tool in the Twins system? Should someone else make the list? Leave a COMMENT and start the discussion.