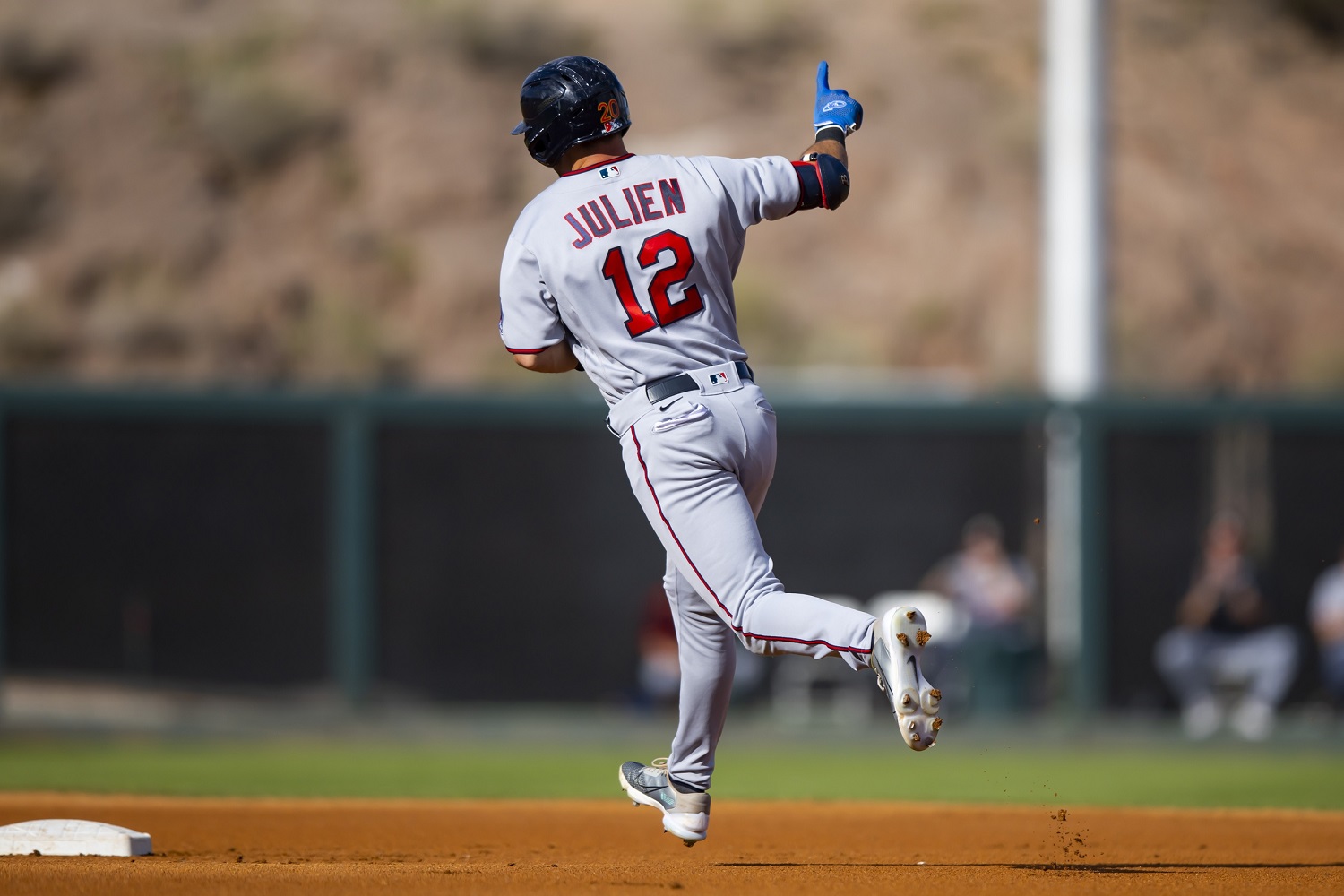 Image courtesy of © Mark J. Rebilas-USA TODAY Sports
Alex Kirilloff will be the first in line to replace Luis Arraez at first and against righties. Hoping Kirilloff's wrist doesn't flare up is the Twins' top priority when replacing Arraez. If Kirilloff misses time, however, the Twins will have an abundance of options to replace him, and one of the most exciting options is Edouard Julien. 
Similarities between Arraez and Julien
Julien and Luis Arraez both came up as second baseman. Neither is renowned for their defense at the position, and it is not a premium position. That limits their value and forces them to hit to be valuable players. 
Luckily for Arraez and Julien, they've shown they can hit, especially against right-handed pitchers. In 2022, Arraez posted a very good .824 OPS against right-handed pitchers, and Julien at AA posted a 1.031 OPS against right-handed pitchers. 
Arraez's strong .386 OBP primarily drives his success against righties. That on-base ability against righties is something the Twins will desperately need to replace. Last year, Julien posted a remarkable .465 OBP at AA against righties. If he can bring some of that on-base ability to the Twins, that would lessen the blow of losing Arraez. 
While Arraez and Julien share defensive limitations and overall production against right-handed pitchers, each has particular areas of their game where they excel over the other. So, it definitely won't be a one-for-one swap. Of course, you'll be hard-pressed to find anybody like Luis Arraez.  
Where Arraez is Better
Luis Arraez famously rarely strikes out. In his major league career, Arraez has more walks than strikeouts. His strikeout rate for his career is a tiny 8.3%. On the other hand, Julien strikes out at a poor rate, with a 24.6% strikeout rate in 2022 at AA. Surely, that would only increase at the major league level.
Arraez has also established himself as a premier hitter for average. While batting average isn't a great measure of overall offensive production, it's certainly a component. For batting average, Luis Arraez is your man. Of course, he's the batting champion, which tells you all you need to know about his ability to hit for average. 
Diving deeper in comparing him to Julien, his age-22 season in 2019 at AA seems most relevant as Julien just completed his age-23 season at AA. In limited games at AA in 2019 at age 22, Arraez hit a fantastic .348, which helped him on his ascent to the majors that season. Julien hit a much more mortal .300, which is still nothing to sneeze at. 
Another key differentiator between Arraez and Julien is that Arraez proved he could hit over his 3+ years in the majors. Julien seems on the path to hitting at the major league level too, but he hasn't even reached AAA, so he has a lot to prove. But Julien has shown he can do things that Arraez's limited skill set cannot match. 
Where Julien is Better
Julien's strikeout rate is ugly, but like many strikeout-prone hitters, Julien walks a ton. He had an elite 19.3% walk rate in 2022, which is a significant driver in his terrific on-base success. Arraez's walk rate for his career is a much more average of 8.7%. 
Another common characteristic of strikeout-prone players is power, and Julien has plenty. Of course, most of that comes against righties. He slugged .566 against righties with 15 of his 17 home runs in those matchups. 
This dimension of power and a more patient plate approach is where Julien differentiates himself from Arraez, at the cost of batting average. The Twins need more slugging in 2022 to maximize their offense, so Julien will boost their lineup. They especially need that from the left side. Last season, Nick Gordon had the highest slugging percentage of any Twins left-handed hitter.
Whether the Twins won or lost the Luis Arraez for Pablo López trade will mostly depend on López pitching well and staying healthy. But it will also hinge on young left-handed hitters replacing Arraez in the lineup against right-handed pitching. 
The Twins have their fair share of young left-handed hitters capable of stepping up. While Julien is still young and hasn't yet reached AAA, Twins fans shouldn't be surprised if they see him terrorizing right-handers in the majors come summertime.