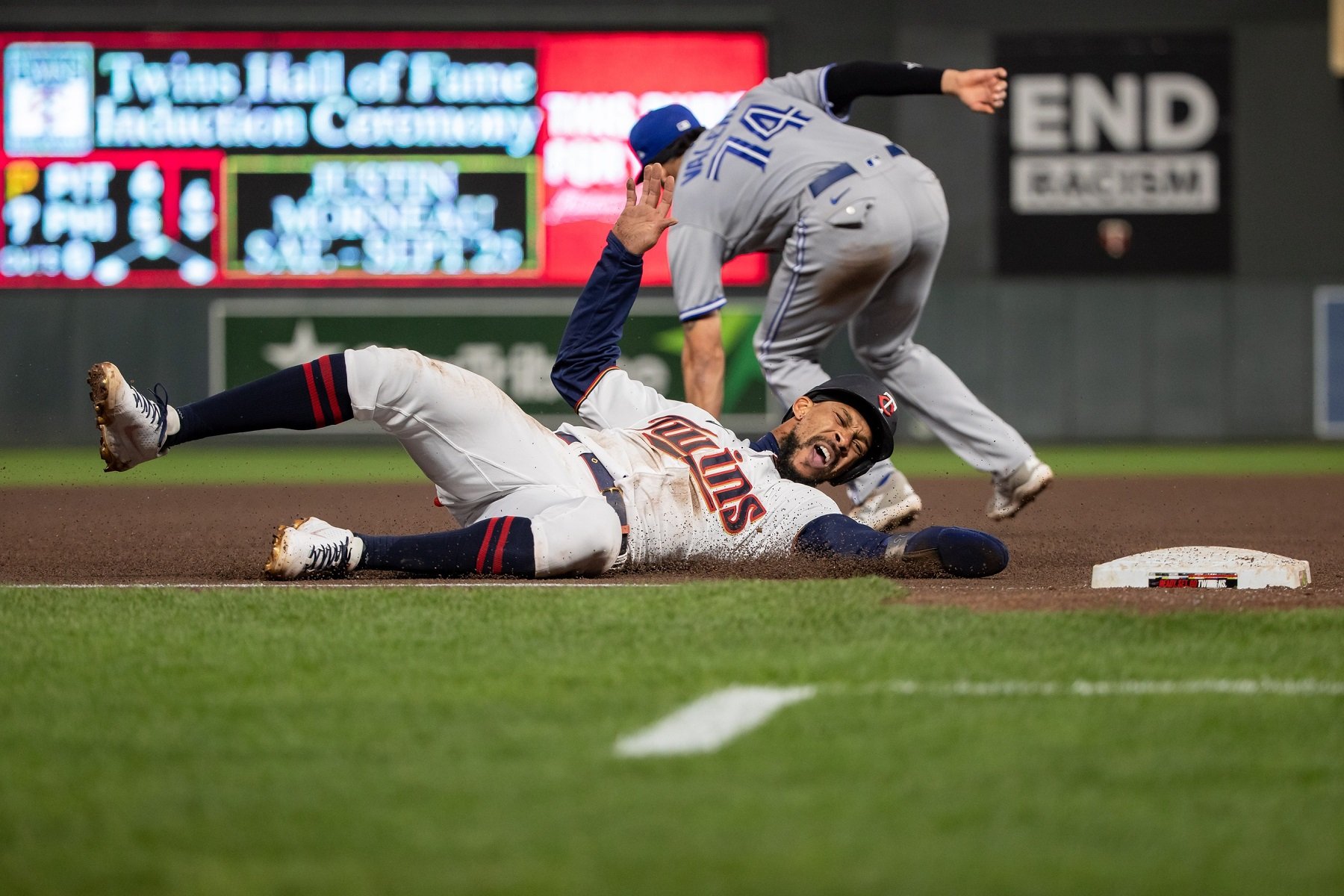 Image courtesy of Jordan Johnson, USA TODAY Sports
It finally happened. The Twins have signed Byron Buxton to a huge deal, $100 million deal over seven years and a bunch more incentives per Ken Rosenthal. Twins fans are very excited right now, but not every big contract pays off. 
While this is an excellent deal for the Twins and exciting for the fan base, it is more than fair to be  concerned about the health of Buxton and how much time he can stay on the field. Buxton has only appeared in over 100 games once in his career. That was in 2017, when he appeared in 140 games. 
$15 million  per year with incentives is not an insufficient salary for a player who has trouble staying on the field. While this investment could work out for the Twins, it could also go wrong if Buxton doesn't stay healthy. 
When Buxton is healthy, he is easily the best player on the field and in the lineup. He's made clutch catches and his batting average in 61 games this year was .306  . He made those 61 games count. The incentive for him to stay healthy? $500K each for reaching 502, 533, 567, 600, and 625 plate appearances. It  is an incentive to stay healthy.
The gamble is Buxton is like other players who have had outstanding years and been an asset to their team. This article is not meant to say that Buxton is not an asset, or will not fulfill the contract. When he is on the field, he is a solid asset to the team. He is a hard-nosed player who rehabs hard and does go all out. The concern of this writer, and some other fans, is that larger deals with players who are prone to injury can be exciting while still being concerning. Some players got long-term, big contracts and then busted after the ink had dried. Here are three such examples:  
Gary Matthews Jr had an outstanding year with the Rangers in 2005. He hit  .313 and drove in 79 runs with 19 home runs. The Angels liked  what they saw and offered him five years and $65 million. He was barely productive with the Angels posting a .248 hitting average, ten home runs, and totaled just  55 RBI in three seasons. The contract amount is comparable to what we are looking at in terms of length and desired production for Buxton.
Jeffrey Hammonds signed a three-year, $21 million deal with the Brewers. In 2001 that was a fairly large deal but it wasn't the largest or craziest. Milwaukee saw Hammonds hit.335 and drive in over 100 runs while posting an OPS over .900 the year before. Hammonds only played 49 games due to injuries in 2001 and never lived up to his contract or potential. 
Looking for an example with the Twins? Well, the largest contract the Twins have signed was with Joe Mauer. He was coming off of an MVP season and a year away from free agency. At the time, the Yankees and Red Sox likely would have been competing for his services, so the Twins didn't let him get to free agency. They locked him up for eight years and $184 million. The Twins were about to move into Target Field and the local boy turned future Hall of Famer had to be retained. Was he worth the $184 million during that contract? No. He fought some knee injuries and a concussion that altered the trajectory of his career. He struggled some and had to switch positions. 
Like Mauer a dozen years ago, the Twins could not afford to lose Byron Buxton this offseason. Of course, the ultimate hope would be to see Buxton have an inverse career to that of Mauer. Buxton has fought injuries before signing his nine-figure deal. Hopefully he will be able to remain healthy after signing the deal. 
The Twins are signing Buxton based on his previous field production and his immense talent and ceiling, but also considering  his on-field time missed. 
There have been notable times when players have been signed and gone downhill. The contract shows that the Twins have the means to make big contracts happen. Not all large contracts are bad. The Twins certainly are showing us that they are willing and able to make commitments to players and I believe this is a good sign for the organization and fans alike. I know there is still plenty of time left and about $50 million left, so now with Buck locked in and a good outfield roster, we can focus on putting that money into pitching - both starters and relief. 
While I am cautious about what this will mean for the Twins in the long run and the team if they have to continually cover for Buxton if his injurious state does not improve, it  is proof that the organization is willing to do what it takes to retain players. The fans who were putting all their hopes into the organization, I just hope it's enough.
Now we can take  a quick sigh of relief and hope the Twins make some pitching moves that will help the team in 2022 and beyond. But will they sign anyone before the CBA comes to an end and signings will be on a freeze.