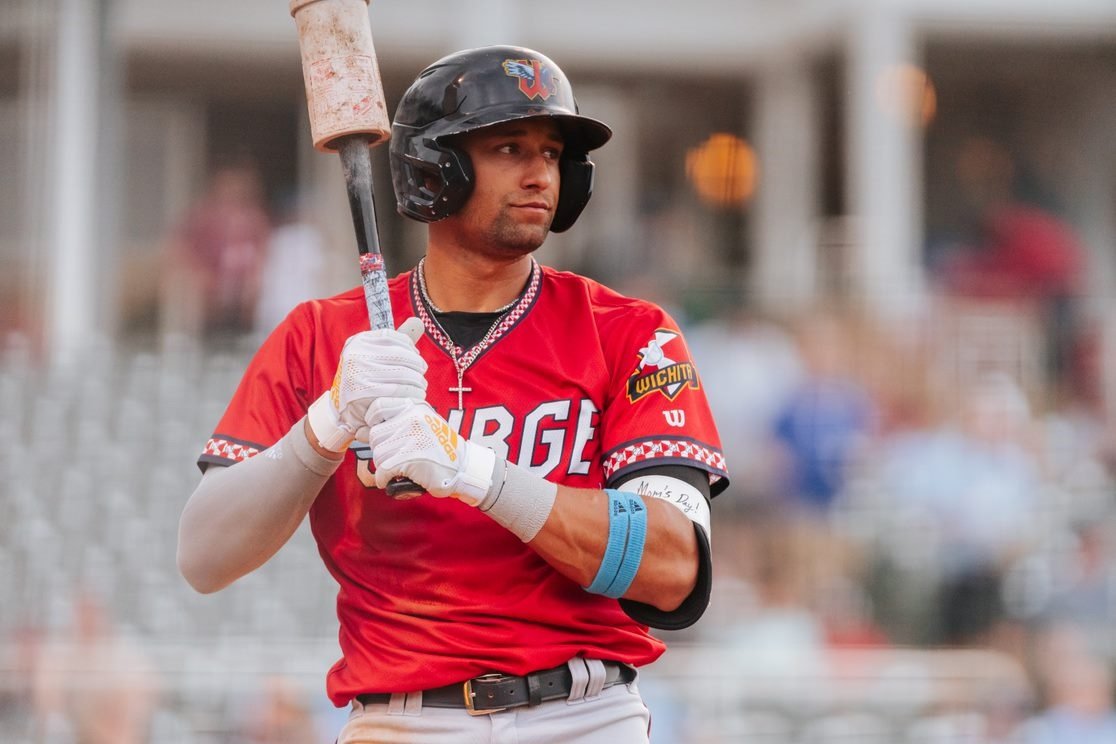 Image courtesy of Katherine Ramirez, Frisco RoughRiders
SAINTS SENTINEL 
St. Paul 8, Indianapolis 7
Box Score
Twins pitching prospect Simeon Woods Richardson made the start for the Saints. It was a tough outing as he lasted just 4 1/3 innings giving up five runs on six hits. Richardson did punch out four and allowed only a single walk but ceded a pair of longballs. His ERA on the seasons sits at 7.17.
After getting behind 1-0 in the 2nd inning, Ryan LaMarre evened things through a throwing error that plated Mark Contereras. The 3rd inning saw Indianapolis plate four and St. Paul fell behind by a score of 5-1
The Twins sent Trevor Larnach down to find power, and he did so with a 3rd inning solo shot to right field. Michael Helman then walked with the bases loaded in the 5th inning and brought Larnach across the plate. Andrew Stevenson then singled to score Kyle Garlick and it was a 5-4 game.
Looking to regain the lead Larnach blasted his second dinger of the evening and knotted things up. Michael Helman then tripled for the first time this season, scoring Garlick to take the lead, and Stevenson brought Helman in on a fielder's choice.
St. Paul was able to hang on and win by an 8-7 score giving the Twins a new look into the future. Larnach had two hits on the day and was tied in that regard by Helman. Jose Miranda made his 2023 debut with St. Paul going 1-for-5 with a strikeout.
WIND SURGE WISDOM
Wichita 8, Frisco 6 
Box Score
Twins star prospect Royce Lewis made his 2023 debut for Wichita, and while he went 0-for-3 with three strikeouts and was hit by a pitch in the shoulder, his availability was the key. Carlos Luna made the start for Wichita and worked four innings while allowing two runs on four hits. He struck out five and walked a pair.
Down 2-0 through four innings, the Wind Surge plated their first run in the 5th inning. Anthony Prato stole second base and Will Holland was able to race home on a throwing error by catcher Scott Kapers. After giving up a few more in the 5th inning, Wichita scored Brooks Lee on a Yunior Severino 6th inning single.
Kapers got his run back with a solo shot in the 6th inning, but then Wichita went to work. DaShawn Keirsey Jr. singled to drive in both Holland and Pat Winkel before Lee lifted a sacrifice fly to score Prato. By the end of the 7th inning it was a tie game at 5.
In the top of the 9th inning Alex Isola singled home both Jake Rucker and Lee before a Yoyner Fajardo single plated Isola. The Wind Surge had their first lead of the game and it came at a great time. Despite Frisco getting a run back in the bottom of the 9th inning, this one ended 8-6.
Severino and Fajardo both had a pair of hits on the evening.                                                                                                                                                     
KERNELS NUGGETS
Quad Cities 3, Cedar Rapids 0 (Game 1)
Box Score
After a rainout on Wednesday the Kernels played a pair against Quad Cities on Thursday. Pierson Ohl worked a complete game in the opener going six innings. He allowed three runs on nine hits while striking out four and walking none.
Quad Cities scored in the bottom half of the 1st inning and that would be enough of a lead to win this one. The Kernels were able to put up only four hits and three dropped the first half of the twin bill.
Cedar Rapids 4, Quad Cities 2 (Game 2)
Box Score
Looking to even the day, Cedar Rapids sent Mike Paredes to the mound. He worked 2 2/3 innings allowing one run on a pair of hits and a trio of walks. He did strike out two. Regi Grace continues to be a bright spot in relief and picked up his second save while working a scoreless inning with two strikeouts.
Misael Urbina started the scoring with a single that plated Noah Miller in the 1st inning. A Jose Salas ground out then brought Tanner Schobel home and Cedar Rapids was off and running. Quad Cities answered with a run in the 2nd inning, but the Kernels immediately responded.
Salas ripped his third double of the year in the 3rd inning to score Schobel for a second time in the nightcap and Jeferson Morales lifted a sacrifice fly to score Kala'i Rosario. Up 4-1, the Kernels would withstand a late run by Quad Cities and wound up taking game two.
Emmanuel Rodriguez, who has been scuffling since his return, had a nice multi-hit game.
MUSSEL MATTERS
For Myers 4, Tampa 0
Box Score
Develson Aria took the mound and was lights out against Tampa on Thursday night. He worked five innings and put up a scoreless effort on the evening. He allowed just two hits and struck out seven while walking just three. Aria lowered his season ERA to 3.38 with the outing.
Andrew Cossetti started the scoring in the 4th inning with a sacrifice fly to score Jorel Ortega. Ricardo Olivar then flew out to left field but scored Danny De Andrade in the process. Before the frame was over Dalton Shuffield reached on an error that allowed Carlos Aguiar to cross the plate. Up 3-0, the Mighty Mussels had some breathing room.
De Andrade ripped a solo shot, his first homer of the season, in the 6th inning to make it 4-0. That's where this one ended. De Andrade reached twice and recorded two of the five Fort Myers hits.
TWINS DAILY MINOR LEAGUE PLAYERS OF THE DAY
Pitcher of the Day – Develson Aria (Fort Myers) - 5.0 IP, 2 H, 0 R, 0 ER, 3 BB, 7 K
Hitter of the Day – Trevor Larnach (St. Paul) - 2-3, 3 R, 2 RBI, 2 BB, 2 HR(2)
PROSPECT SUMMARY
We will again keep tabs on the Twins top prospects. You'll probably read about them in the team sections, but if they aren't there, you'll see how they did here. 
Here's a look at how the current Twins Daily Top 20 performed:
#1 - Brooks Lee (Wichita) - 0-3, 2 R, RBI, BB K
#3 - Emmanuel Rodriguez (Cedar Rapids) - 2-6, BB, 3 K
#5 - Edouard Julien (St. Paul) - 0-5, 2 K
#6 - Simeon Woods Richardson (St. Paul) - 4.1 IP, 6 H, 5 R, 5 ER, 1 BB, 4 K
#8 - Jose Salas (Cedar Rapids) - 1-6, 2B, 2 RBI, 2 K
#14 - Noah Miller (Cedar Rapids) - 0-6, R, BB K
#18 - Tanner Schobel (Cedar Rapids) - 1-4, 2 R, BB, K
#20 - Misael Urbina (Cedar Rapids) - 1-4, RBI, BB, K 
FRIDAY'S PROBABLE STARTERS
Indianapolis @ St. Paul (6:37PM CST) - LHP Brent Headrick  
Wichita @ Frisco (7:05PM CST) - LHP Blayne Enlow
Cedar Rapids @ Quad Cities (6:30PM CST) - RHP Marco Raya
Tampa @ Fort Myers (6:00PM CST) - RHP C.J. Culpepper
Please feel free to ask questions and discuss Thursday's games!