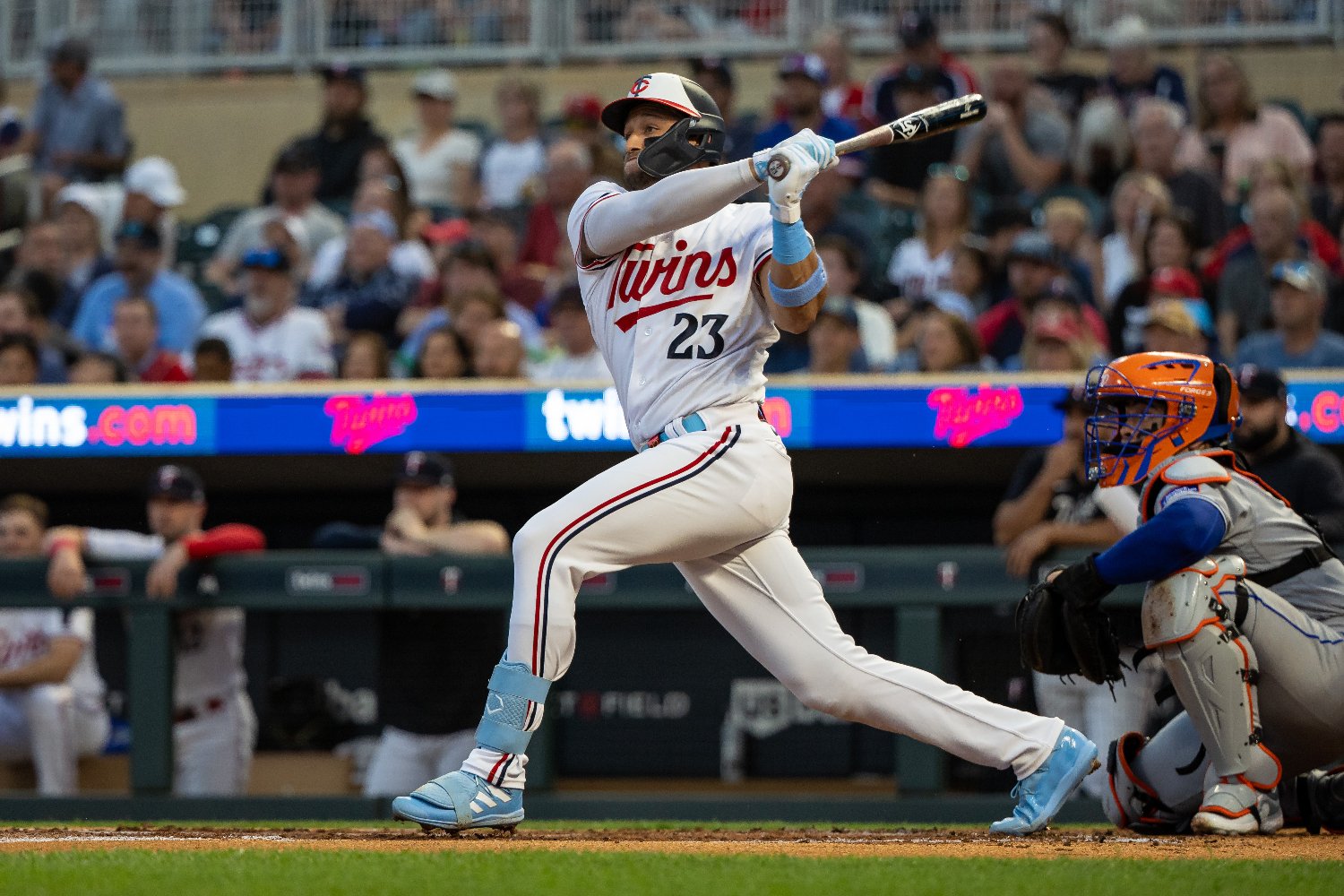 Image courtesy of © Jordan Johnson-USA TODAY Sports
Casual fans are the lifeblood of this country. They don't take things too personally, they don't experience the highs and lows obsessive fans do, and they generally have richer, fuller lives. The ultra-fans of musicians, politicians, celebrities, and sports teams are a pestilence whose maniacal need to defend their chosen cultural obsession is tired at this point.
I am part of that pestilence, with my obsessive fandom revolving around the Minnesota Twins. I'm a native Minnesotan and something in my neurodivergent brain was drawn to baseball- the rest is history. I live and die on every pitch, which is at least better than living and dying on every tweet from and about some celebrity (I might be fooling myself).
The casual fan is beset with fandom requests- they don't care and continue making genuine contributions to society. They should be commended for their restraint and perspective.
But they'll like this Twins team.
Casual fans will watch a crucial September game if it fits their schedule. And they love playoff runs. The critical games in September are hopefully over with Cleveland repeatedly tripping over themselves, but a playoff run should be the expectation for this team.
The Twins are hitting well as a group right now. Edouard Julien has been a revelation as a leadoff hitter, with the league's best chase percentage.
Max Kepler has reemerged, this time as the primary cleanup hitter. He's been one of baseball's top five right fielders since July, after a brutal start that left many fans and analysts calling for him to be cut loose from the team (not this one).
Jorge Polanco has returned from several injuries to be a pest with power from both sides of the plate. He's been perpetually underrated as an unassuming star for several years now.
Carlos Correa is starting to pick it up despite ongoing issues with plantar fasciitis, still plays a good shortstop, and has hit the seventh most home runs (18) in postseason history, tied with Reggie Jackson and Mickey Mantle.
Ryan Jeffers has cooled off a bit but still ranks first among catchers in OPS. He hasn't played as much as the elite two-way catchers (of which there are maybe three), but factoring in his above-average defense and game-calling, Jeffers has a claim as one of the most valuable Twins (he does have the highest bWAR among Twins hitters).
Matt Wallner is going through a rough patch right now, but his numbers are still decent overall, and he does possess what the old-school scouts call light tower power. When he connects, the ball is gone.
Alex Kirilloff is back and has looked good thus far, with some hard balls hit to left-center. When on his game, Kirilloff offers power to all fields, excellent plate coverage, and, new this year, a keen batting eye. He gives me toned-down Mark Teixiera vibes. His health is always a question, but he can usually go a month before something breaks down, so he's lined up pretty well to at least get to October.
Michael A. Taylor is a great guy to root for, given his personality and charitable work on rare diseases. He also plays excellent center field defense and hits home runs!
Willi Castro plays everywhere, gets clutch hits, and steals bases!
The guy we traded Luis Arraez for, Pablo López, has been really good, bordering on Cy-Young contending while nearly pacing the league in strikeouts (the most for a Twins pitching season since Johan Santana).
After he got back in gear in August, Sonny Gray has been even better. He represents, along with López, the best one-two punch the Twins have thrown out for a playoff series since Jack Morris and Scott Erickson.
The closer, Jhoan Duran, is brilliant. He throws the fastest fastball in all of baseball, which isn't even his best pitch. That would be his curveball, one of the best pitches in baseball (when he's commanding it).
The bullpen is full of guys who throw 98 MPH and expect reinforcements while already adding Louie Varland, the St. Paul kid who has thrown 100 MPH since converting to relief work.
Then there's Joe Ryan and Bailey Ober, who have pitched like top-of-the-rotation starters at different points this year.
I have yet to get to the most important hitter for the Twins this year, 35-year-old journeyman infielder Donovan Solano. Line drive after line drive off his bat has found outfield grass at crucial times this season, and his soft triple to center last week may have ended Cleveland's season.
And yes, Byron Buxton is injured. He is trying to rehab to the point that he can play center field by the end of September, but it's anyone's guess when and if he'll be available. It would be great fun if he could contribute something, even just a base hit, this October.
In short, there are a lot of hitters on this club who all do different things, supporting one of the better pitching staffs in recent memory. Key to it all will be Royce Lewis, who sports the charisma and clutch hitting that evokes memories of the one and only Kirby Puckett. He could go 0-75 down the stretch and still be seen as a threat every time he steps in with the game on the line. Home runs or fought-off sliders the other way, whatever you need, Lewis has it.
There are reinforcements in the event of an ill-timed injury, too. Brooks Lee is among the top 20 prospects in baseball, a line drive machine drafted eighth overall just last year. Austin Martin had such a ranking at one point, too, and looks healthy again as a speedy on-base machine who sprays singles and doubles all over the park. Chris Paddack has been an excellent major league pitcher around his injuries and will join the team in a couple of weeks following a second Tommy John surgery.
The team played poorly in the first half, and that will put a cap on their overall record when the year is done. But they have looked like a contender since the All-Star break, with the old core of players (Kepler, Polanco) blending into the new core (Lewis, Kirilloff, Julien, Duran). They proved they had enough left-handed bats to cover the loss of Arraez, and with the addition of López, the starting staff is capable of holding down a seasoned and skilled October lineup- they even lead the league in pitcher strikeouts (although it should be noted that they also lead in hitting strikeouts).
This will be an 85-win team, but that's different from who they are, especially in a short series. This is the best chance the Twins have had to win a playoff game since at least 2010, maybe even 2002. Teams respond well to removing monkeys from their backs; just ask the post-2004 Boston Red Sox, or last year's Mariners. The first game of the AL Wild Card series is October 3rd. All aboard.