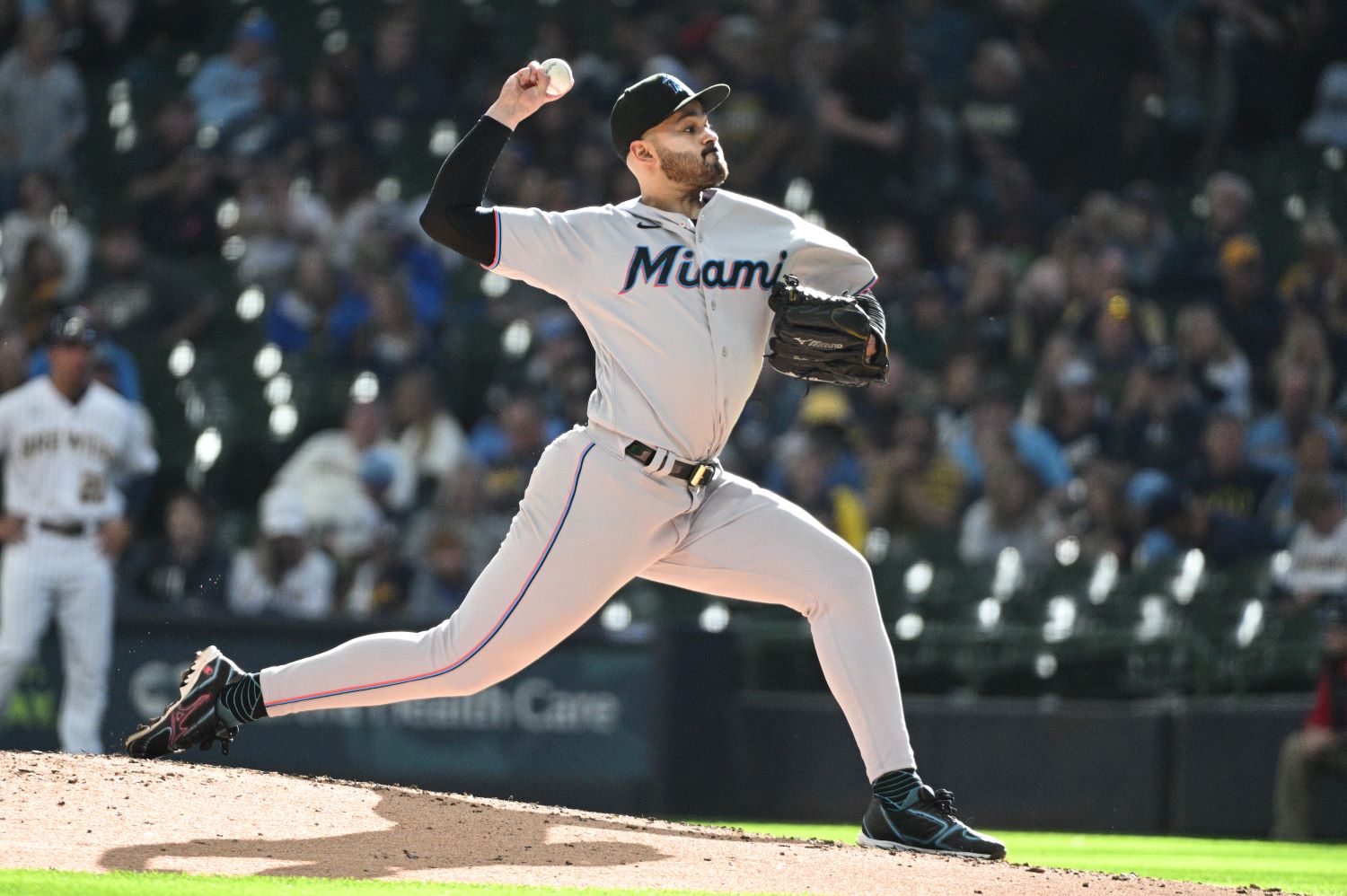 Image courtesy of Michael McLoone-USA TODAY Sports
Broadly speaking, that outline covers Chris Paddack, Tyler Mahle, and now López; one could argue that Kenta Maeda fits the mold as well. The idea probably stems from two sources: first, the Twins acknowledging themselves as an undesirable home for arms. Big-name starters have eschewed Minnesota for years. Despite recent infamous twirls with Yu Darvish and Zack Wheeler, Michael Pineda remains the richest starter to brace the cold under Derek Falvey's watch. Realizing that players have no say in trades, Falvey and Co. decided to force the issue, utilizing the lack of consent involved in deals to pool together talented arms. 
The second part is the more interesting one—and its assumptions will likely decide how successful the Twins are with their strategy.
Pitching in the modern baseball landscape is—and this is the technical term for it—absolutely bonkers. Arms become studs overnight—hello, Evan Phillips—as hefty advancements in technology make adjustments a science, no longer an art only understood by a few masters of the craft; a good pitching coach must communicate what the computer knows. Good teams aren't alone in claiming these resources; every team in MLB has them. But the most consistent franchises identify players most capable of breaking out, freeing them from the clutches of an ignorant team while reaping the rewards of a flourishing arm. The pickpocketed squad has no clue what happened. The Pirates lose 100 games.
Looking beyond the horrifying societal implications of technological modernity, the scientific pitching movement hasn't created an abundance of frustratingly talented pitchers—those will always exist—but it has made it tantalizingly irresistible to acquire them. "I can fix him," thinks a team watching a guy with an ideal fastball get crushed for a 4.70 ERA. Phil Maton has pitched for three teams over six seasons. Phil Maton's career rWAR is negative. Phil Maton will continue to have a bullpen spot on one of the smartest teams in baseball. Perhaps hearing the same information from a new source proves to be the catalyst. Or, as sports fans have known for decades, a guy just needs a change of scenery. If it doesn't work, the team may look silly, but that's the price of doing business.
Minnesota took this concept and ran with it in 2021. They acquired Paddack, one of the more notorious problems in baseball, pulled some strings on his pitching package, and came out with a renewed starter… until he got injured. Players still have ligaments, after all. They then acquired Mahle, watched him be exactly as maddening as he was in Cincinnati for 16 1/3 innings, and failed to help him realize his potential… because he, too, got injured. This pitching business sounds hazardous. Whether López's tale differs is up to him and whatever sacrifices the baseball gods choose to accept. 
While Minnesota hasn't yet experienced success with the plan, other teams have reaped great riches. Perhaps most famously, Houston understood that Gerrit Cole should not be throwing sinkers, thank you very much, and they enjoyed two years of some of the most dominating starting pitching baseball has seen in recent years. Toronto somehow didn't give up on Robbie Ray, transforming him into a Cy Young winner after a year where he walked nearly 18% of all hitters. Kevin Gausman evolved from pitching in relief for Cincinnati in 2019 into a legitimate Cy Young candidate. 
Minnesota hasn't yet seen a transformation like the previous arms, but it injuries are the culprit, not poor targeting.
Rather than tinker with potential, why not shoot for the best of the best? For starters, the most impactful arms in the game command a royal ransom in return, something that few teams are ok with meeting these days. You can criticize Minnesota for not going after Zac Gallen, but remember that no team yet has met Arizona's asking price for him; the Twins aren't an anomaly. Also, there just aren't many available aces these days. Sandy Alcántara is going to remain a Marlin for a few years, Milwaukee shut down trade noise, and Oakland is currently a picked-over walrus carcass. Is Cole Irvin your fallback plan?
This isn't to say that all their pitchers will figure it out eventually because, well, if everyone is super, then no one is. The game is in upside: what can you do in the future with your raw stuff? A player's past hardly defines them; their measurables reign supreme and the Twins have gathered a hearty assortment of players with fascinating under-the-hood numbers. We shall see if the plan works.