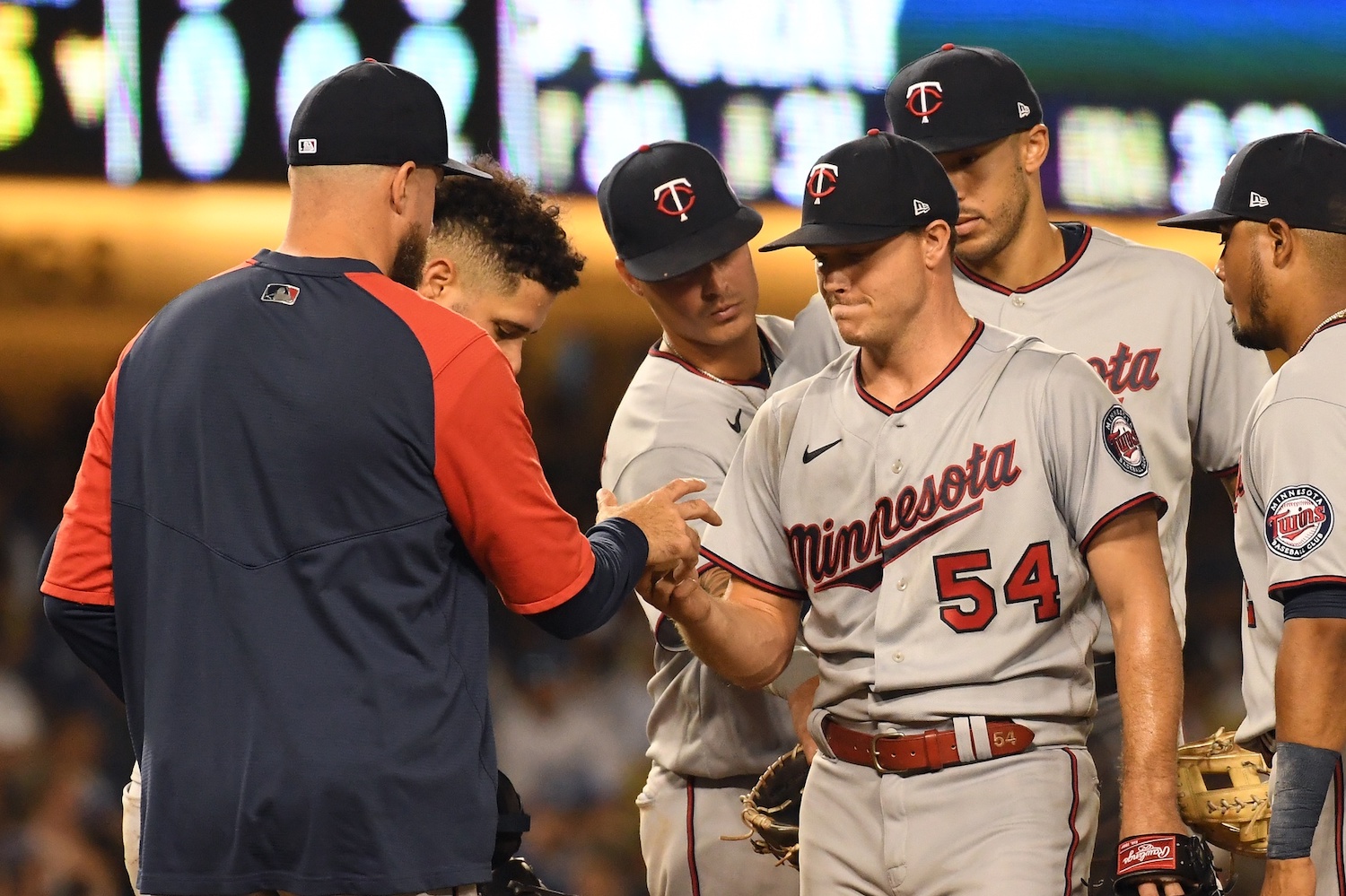 Image courtesy of Richard Mackson-USA TODAY Sports
Over the weekend, we learned that Sonny Gray will not be the Twins' Opening Day starter – that honor will instead go to newcomer Pablo López on Thursday in Kansas City. Gray will, however, get the nod for the home opener a week later. There's little question he is viewed as the veteran leader on this starting staff, one year after establishing himself as its top performer.
As such, Gray's comments following his final spring start on Sunday are noteworthy. After throwing three shutout innings against the Red Sox, the 33-year-old opened up on a bit of a vent session regarding last year's norm of shorter outings for Twins starters.
"I don't think we're interested in going four innings and being happy," Gray told reporters. "I feel like we had a group last year that was pretty content with going four innings, and [where] going four innings and five innings is considered a good start. I disagreed with that then, I disagree with that now."
Gray was channeling the frustrations a lot of fans felt with last year's team. And those frustrations are understandable, even if they were often misdirected. 
There's no doubt that Rocco Baldelli generally had a quick trigger with starters in 2022, more so than ever before. But it wasn't due to some sudden philosophical shift on his part. As I see it, this tendency owed to two different factors:
The league in general has trended toward shorter outings for starters and more innings for specialized relief pitchers. 
The Twins had a particularly bad starting staff last year, with both Chris Archer and Dylan Bundy members of the rotation on Opening Day and all year long.
The first part is what it is, and it's not likely to change in the age of high-powered, optimization-obsessive baseball pitching strategy. Baldelli might be more apt than some others to embrace the analytical logic of "times through the order" penalties and matchup-based advantages, but he's hardly some outlier egghead on this topic. 
It's the way of the game. Last year, eight MLB pitchers threw more than 200 innings and one (Sandy Alcantara) threw more than 210. Twenty years earlier (2002), those numbers were 42 and thirty. 
Gray himself is sort of a poster child for the modern MLB starting pitcher. While an accomplished multi-time All-Star, and a guy who's rightfully earned "borderline ace" designation, Gray has averaged 140 innings per season over the past seven years, and has never topped even 180 during that span. He hasn't thrown a complete game since 2017.
That said, I don't think Gray's expectations for himself or others in the rotation are tethered to some outdated standard, even if some fans still long for the prototypical workhorse of yesteryear. He just wants starting pitchers around him who get the job done. Which brings us to my second point above: the Twins were just flat-out lacking in pitching talent last year.
To some extent, they deserve a bit of grace on that part. Losing Kenta Maeda to Tommy John surgery and trading José Berríos at the deadline left them in an extremely tough spot with no easy answers. The front office signaled early on that they might get experimental in terms of pitcher usage as a way to navigate this challenge, so no one should've been all that surprised that they basically did just that. 
Ultimately there were some fatal flaws in the execution of this plan, but that doesn't mean it a was conceptually bad idea. And anyway, what needs to be emphasized here is that it was a matter of circumstance: the Twins were in a uniquely bad position with their short-term rotation depth. 
Fast-forward one year, and the makeup of this unit is very different. Gray now has had a full, normal spring – no lockout-trade combo disrupting his buildup routine – so hopefully that helps lead him to a healthier year and continued excellent performance on the mound. Joe Ryan is now fully established as a quality mid-rotation starter.
On top of those two, you've got these additions to the mix: 
Tyler Mahle, who threw 180 innings in his last full season (2021),

López, who threw 180 innings last season, and

Maeda, who averaged 5.4 IP/start for the Twins before undergoing Tommy John surgery
These are hurlers who you can expect to pitch into the sixth inning with regularity, if healthy. That was never a particularly reasonable expectation for the likes of Archer or Bundy.
It's easy to read Gray's comment at a glance and say, "He's taking a shot at his manager and the way this staff was a run last year." In reality, I think what he's saying is, "It sure is nice to be surrounded by competent talent in the rotation  now."
While I'm sure he meant no specific offense to Archer with his comment, it's understandable how Gray might've been baffled (as we all were) watching the Twins go through an extensive orchestrated routine to get four mediocre innings out of the guy every fifth day.
The situation this year will be a far cry from that, which is one of the main reasons fans should feel confident in a significantly better on-field product in 2023.