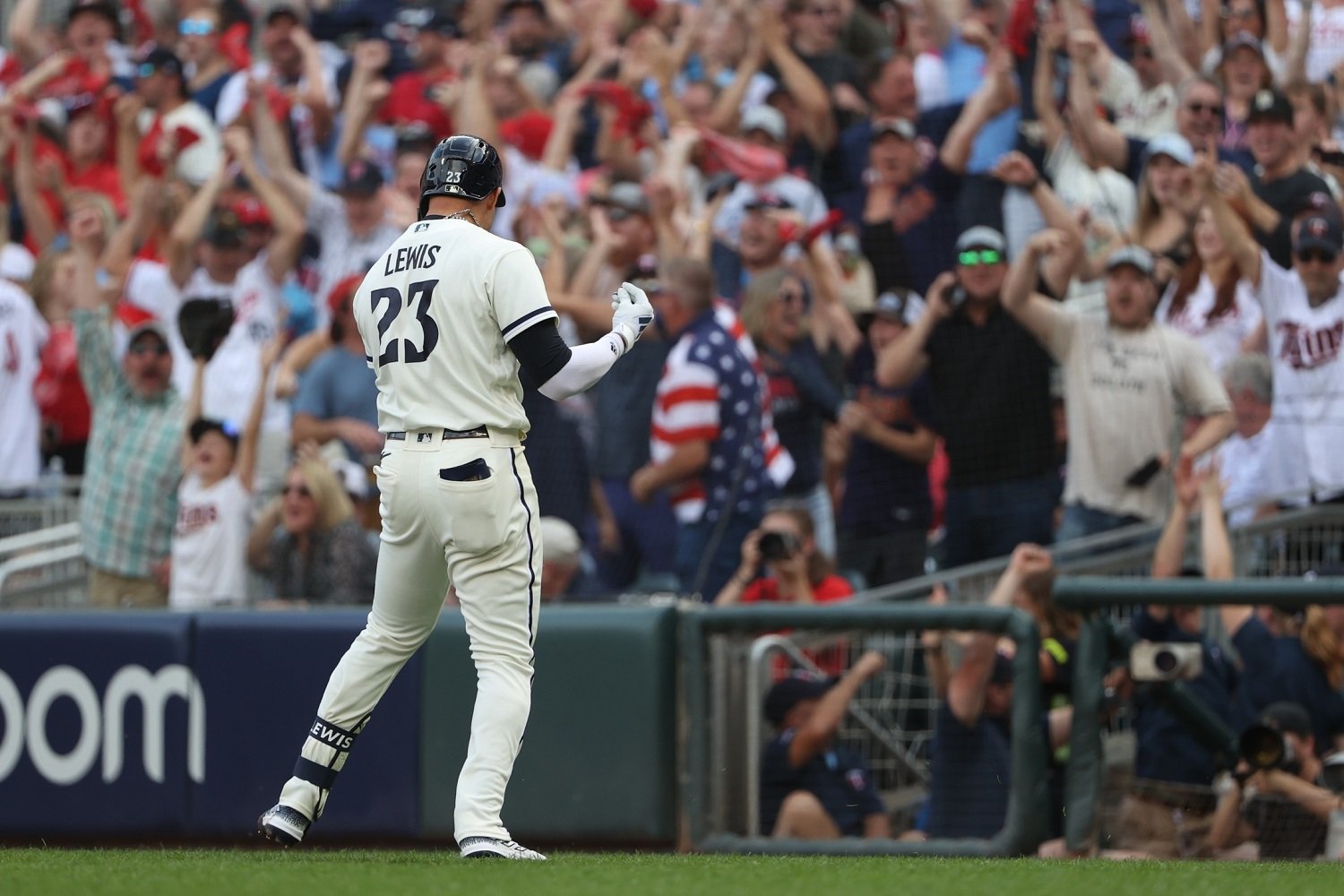 Image courtesy of © Jesse Johnson-USA TODAY Sports
And this kid? We keep trying to contextualize what Royce Lewis has done. We keep failing, because we are used to talking about statistics or subtleties. At Twins Daily, we believe in those details. We find beauty there. It's what we fell in love with. It's truth. It's my heart.
But you know what else is my heart?
The Natural. Maybe the sappiest baseball movie of all time - and that's a high bar, given Field of Dreams. But, also, maybe the most magical baseball movie of all time - and that's a high bar, given Field of Dreams. There is something magi….. no, it's too easy a word. Other-worldly? Pure? I'm struggling with the adjective. Let me try again.
There is something inspiring/uplifting/emboldening about seeing somebody do the thing that they were clearly intended to do. Especially when that something was denied them by a career-threatening injury.
Then, by the same career-threatening injury. Then, by a goofy injury. Then, a week before the postseason, by another goofy injury.
Then? They still do it! Then they do it again! (Then the opposition just kinda decides they want nothing to do with that guy.) 
It's even better when that person rises above an environment that is just so … toxic. Not even purposely toxic like The Judge or Max Mercy or Memo Paris. But, toxic like they just can't free themselves, like Pop Fisher or Terrance Mann or Annie's brother. An environment that has been around them so long that they see hope as a surrender and victory as an unrealistic sin rather than something right there. And rightly theirs.
As a Twins fan who has lived in that environment for 14 years, let me tell you….
I'm sorry, what? Only 14? Did you wonder why I didn't say 19, since the Twins last won a postseason game 19 years ago today?
That's because I was at Game 163, another game with a title. I will tell you: last night's crowd was the best I've seen in the history of Target Field. It was the most energetic, most optimistic, most present, most supportive crowd since a dome of Minnesotans willed Bobby Keppel through a scoreless twelfth inning and a win.
I want to get back to that, because one particular section of Target Field's crowd deserves a callout, so much so that they've getting one of my four stars of this game, but allow me to skip around a bit and come back to them. I'll tip my hat to conventional internet lists by starting at the end.
The #4 star of the game goes to Michael A. Taylor. The Twins' outfield defense was a difference-maker in this game. I could describe Taylor's catches, but I expect you saw them, and if you didn't, I can't do them justice. Plus, again, the fielding details seem to move me away from what was important.
The important part was that Taylor's glove snuffed out any spark of hope. Twice. And then a couple times more just to let the Blue Jays know that there was a No Oxygen Zone covering about 30% of the available turf to which they could hit the ball.
Am I overstating that? Just ask the Blue Jays fans around you in Target Field about him. They will tell you: they really hate that guy. He couldn't get a better endorsement.
Jumping ahead to the #2 star: Pablo Lopez, who was the perfect choice for Game 1. He was determined to set the tone, and not just on the field. Was it important that he showed up to the game wearing a Johan Santana jersey? Of course nawwwwww…..
You know what? Yes. Yes, it was. Not because he idolizes his fellow Venezuelan, Santana. Not because Santana was the last Twins pitcher to win a postseason game 19 years ago. But because Lopez was putting a stake in the ground. Don't think so? Imagine the narratives he (and we) would have endured - especially from those fans bitter about losing Luis Arraez - if the Twins lost. If that little gesture backfired? Instead, he set expectations.  
Then he exceeded them. I suppose critics (trolls?) will dismiss "only" 5 2/3 innings. Those critics (trolls) should carry 19 years worth of postseason defeats on their back for 93 pitches, and then get back to me.
Back to the #3 star: Target Field's crowd, and specifically, the entire left field lower level bleachers. The "GAAAUUUSS-MAAANNNNN" chants? That was them. The "JOOOOR-DAAAAN" chants? That was them. Standing and cheering on every two-strike pitch? They led that. They were passionate. Organized. Knowledgeable. Maybe a touch insane. Watching them infect the stadium down the arterial third base line was…. 
Inspiring. Uplifting. Emboldening. The same adjectives I settled on for Lewis' performance. Honestly, it might have been my favorite part of the night, even more so than winning.
The whole crowd last night was incredible. I am convinced they helped Lopez though the fifth. Griffin Jax was a different pitcher in the eighth when they got behind him. They reassured Jhoan Duran. They pestered pitchers into walks and bad counts. The Blue Jays' dugout felt the malevolence. The crowd tonight created a home field advantage I haven't felt in Minnesota since the claustrophobic Metrodome.
I'm legitimately a little baffled where it came from. It didn't come from the lead; the crowd was like that from the first pitch. Was it from nearly 20 years of frustration? Was it from facing the Blue Jays? Having veterans like Carlos Correa? The youth? Or was it having faith in players that could rise to the occasion, like….
Our #1 star: Royce Lewis.
OK, let's use the word. Sure, it was magical. But there is a place beyond magical, where you expect the magic to happen.
That's what I saw tonight. Eyes opened wide at that first home run, but it was followed by knowing looks. Heads shook back and forth incredulously at the second home run, but it was followed by the Michael Jordan shoulder shrug. I saw it. In the stands. In the dugout. Maybe you saw it or felt it, too, wherever you were. We're probing a different level, as a team, as fans, as people.
It made for a helluva night, a night worthy of a title.
But for now, it doesn't mean anything more than the end of a crummy streak and a one-game lead. Plus, the job is getting harder, because the Jays also watched Lewis' performance up close. With Lewis clearly having a bum hamstring, they pivoted in his third at-bat. They aren't going to give him a pitch that allows him to trot around the bases. They'll let him walk to first, but he's going to need to run (as best he can) the rest of the way. Which means tomorrow's stars will likely need to be awarded to different players. 
I believe the Twins will find them. After all, if, before tonight, you believed that 0-18 despair would lead to more losses, must you also not believe the other side of the coin? That streak-breaking magic is contagious?
After tonight, how can you not?