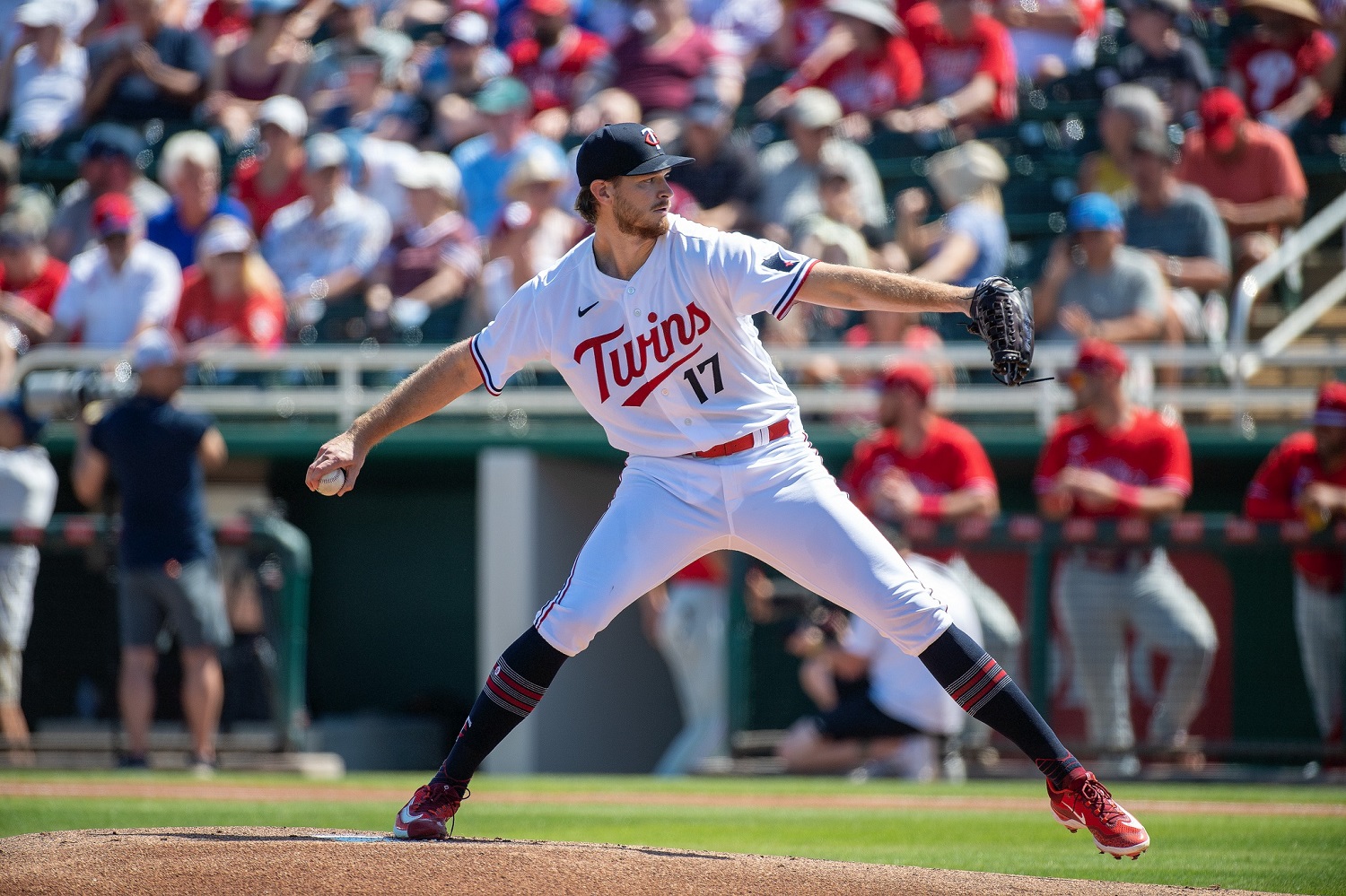 Image courtesy of William Parmeter
The Twins will open their season on Thursday afternoon in Kansas City. After making four roster transactions on Sunday morning, it appears their Opening Day roster is pretty well set. Of course, the Twins front office will be talking to other teams about trades as well as watching the waiver wire, so it is obviously subject to change. 
Heading into spring training, we knew that the Twins had six potential starting pitchers for five Opening Day rotation spots. Would all six of them stay healthy through the spring schedule? Would they consider a six-man starting rotation? 
Well, the most important thing for the Minnesota Twins is that all six managed to stay healthy. Unfortunately for Bailey Ober, it means that he will have to start the season with the St. Paul Saints. 
In 2014, Ober was the national Freshman of the Year at the College of Charleston after he went 10-3 with a 1.52 ERA over 106 2/3 innings. That summer, he played for Team USA and hurt his elbow. He had Tommy John surgery and missed the 2015 season. he returned in 2016 and was drafted but chose to go back for his senior season. Following that 2017 season, the Twins made him their 12th round pick. Since then, two things have held true. 
First, he has pitched incredibly well. Just a look at ERAs by minor-league level are impressive: 2.43 in the rookie league, 3.62 in Low-A, 0.99 in High-A, 0.38 in Double-A, and 3.51 in Triple-A. Over 31 starts for the Twins the past two seasons, he is 5-6 with a 3.82 ERA. In 148 1/3 innings, he has 147 strikeouts with just 30 walks. This spring, he made three starts in big-league games and gave up no runs and no hits over six innings. He walked two and struck out six batters. 
However, the other truism of Ober's career is that he has missed a lot of time due to injury in the past. He has had some elbow concerns and the Twins have been very careful with him, knowing his potential. When he debuted in 2021, the Twins were very cautious. He was often limited to 60 pitches, or 75 pitches. Why? Because of his injury history, and because he did not pitch at all in 2020 due to the pandemic. In 2022, Ober posted a 3.21 ERA and a 1.05 WHIP over his 11 starts and 56 innings. Unfortunately, he had a groin injury that limited his availability. 
As fans, I think we can understand the pecking order, but I think that we can say that while acknowledging that Bailey Ober is and should be a big leaguers. And we know that over the course of the season, Ober will make a lot of starts for the Twins as well. 
In addition, Aaron Sanchez was reassigned to minor-league camp on Sunday. That leaves these five as the Twins starting pitchers on the Opening Day Roster: Pablo Lopez, Sonny Gray, Joe Ryan, Kenta Maeda and Tyler Mahle.
Let's jump to the bullpen. The Twins also reassigned left-hander Danny Coulombe to minor-league camp. The veteran southpaw signed a minor-league deal with the Twins in 2020 after missing the 2019 season with an arm injury. He has pitched in 41 games for the Minnesota Twins over the past three seasons. This is the fourth consecutive season that Coulombe has signed a minor-league deal with the team. And this spring, he was incredible. He pitched in seven spring games. In nine innings, he gave up only an unearned run on eight hits and four walks. He had 13 strikeouts. 
The very clear assumption is that, unless there are more moves coming, Jovani Moran will make the Opening Day roster. The bullpen will consist of eight pitchers. With the moves on Sunday, there are 10 pitchers for those eight spots. On Saturday, the Twins reassigned Jeff Hoffman to minor-league camp, and it is believed that he will opt out of his deal on Monday.  There are no more non-roster guys, so let's figure out who is yet in play. 
Twins Opening Day Bullpen: Jhoan Duran, Jorge Lopez, Griffin Jax, Caleb Thielbar, Jovani Moran, Emilio Pagan, Jorge Alcala, Cole Sands. 
Presumably Josh Winder and Ronny Henriquez will begin the season on the Injured List as neither has pitched this spring due to injury. 
Alright, let's jump to the offensive side of roster. We know that Jorge Polanco, Alex Kirilloff, and Gilberto Celestino will start the season on the Twins IL. 
Catchers: I don't need to spend too much time on this position. Christian Vazquez and Ryan Jeffers will split the time behind the plate. Tony Wolters remains on the spring roster as a non-roster guy, but he'll be assigned to the Saints unless something unfortunate happens. 
The Twins announced that Kyle Garlick has been reassigned to minor league camp on Sunday, just hours before he doubled off of lefty Chris Sale and the Red Sox. 
So, the position players on the Opening Day roster appear set as well. 
Infielders: Carlos Correa, Jose Miranda, Kyle Farmer, Donovan Solano, Willi Castro
Outfielders: Byron Buxton, Michael A. Taylor, Max Kepler, Joey Gallo, Trevor Larnach, Nick Gordon.
The semi-surprising name on the list is non-roster Willie Castro. The club will need to add him to the 40-man roster on Thursday, but there is an open spot after Dennis Santana was claimed by the Mets a week ago. The 25-year-old from Puerto Rico has spent much of the past four seasons with the Detroit Tigers. He's got 303 games and 1,092 plate appearances in the big leagues. While his career numbers are just .245/.292/.381 (.673), he can play all over the infield and outfield. And that can be said for several of the players that will be on the Twins opening day roster. 
With Jorge Polanco out, we could see Nick Gordon, Kyle Farmer, and Donovan Solano could all get time at second base. 
With Alex Kirilloff out, we could see Solano, Farmer, Jose Miranda, and quite a bit of Joey Gallo at first base. 
So, let's put a fun summary Opening Day Roster list here, and then feel free to discuss it in the comments. (again, pending transactions) 
Catchers: Christian Vazquez, Ryan Jeffers. (2)
Infielders: Carlos Correa, Jose Miranda, Kyle Farmer, Donovan Solano, Willi Castro. (5)
Outfielders: Byron Buxton, Michael A. Taylor, Max Kepler, Joey Gallo, Trevor Larnach, Nick Gordon. (6)
Starters: Sonny Gray, Pablo Lopez, Joe Ryan, Tyler Mahle, Kenta Maeda. (5)
Relievers: Jhoan Duran, Jorge Lopez, Griffin Jax, Emilio Pagan, Jorge Alcala, Cole Sands, Caleb Thielbar, Jovani Moran. (8)
Injured List: Alex Kirilloff, Jorge Polanco, Gilberto Celestino, Ronny Henriquez, Josh Winder. (5)
60-Day IL: Chris Paddack, Royce Lewis. (2) 
Share your thoughts.