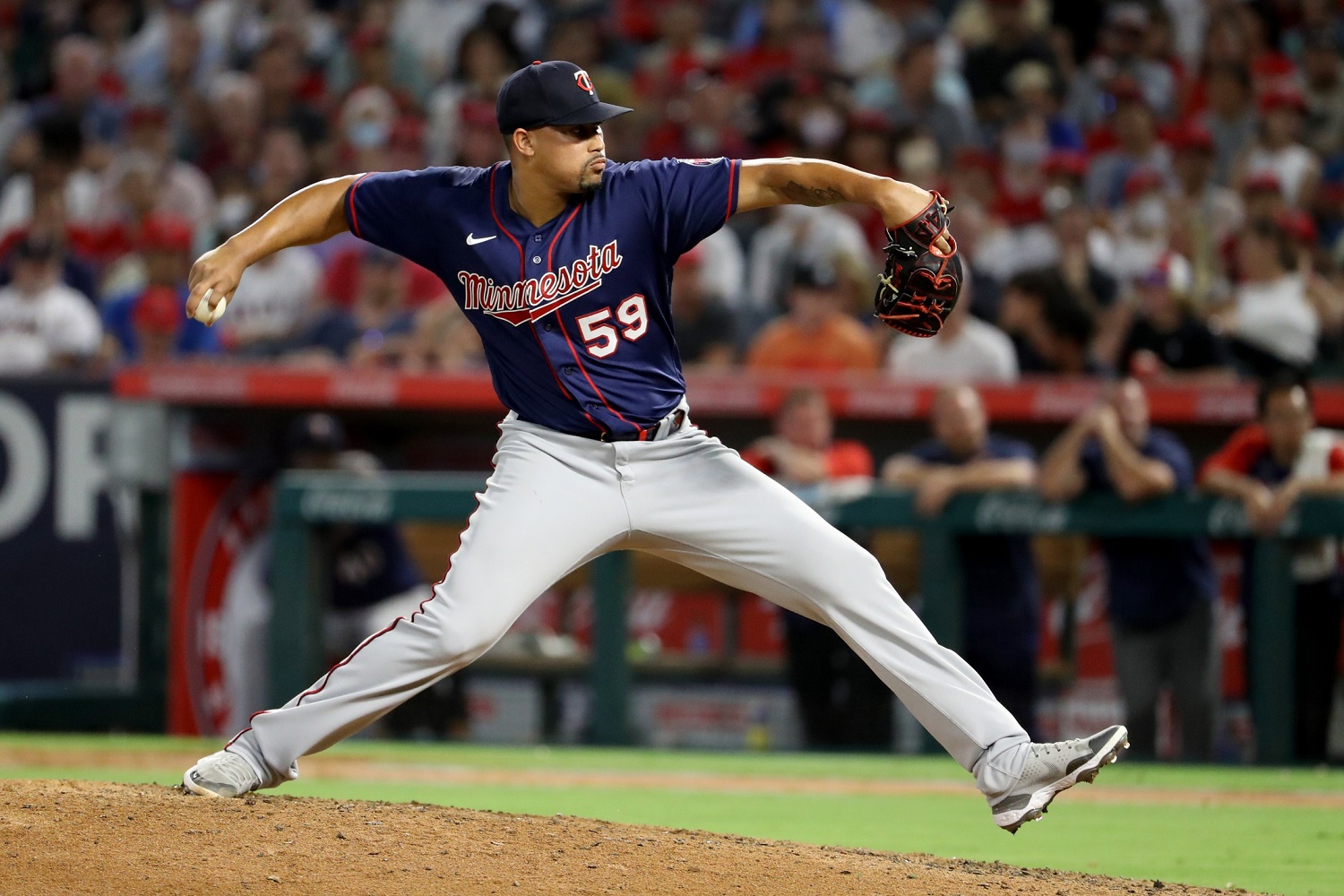 Image courtesy of Kiyoshi Mio-USA TODAY Sports
It's truly amazing to consider what Jhoan Duran was able to accomplish during his rookie campaign. The Twins used him as a starter throughout his professional career, but he transitioned to reliever last spring. Minnesota surprised many by dealing away Taylor Rogers shortly before Opening Day, but that could be a sign of the front office's confidence in Duran. He went on to lead all AL pitchers in Win Probability Added, but there are still areas for him to improve in 2023. 
Keep the Ball in the Park
Every reliever attempts to keep the ball in the park, but Duran's dominant strikeout totals should allow him to do an even better job at limiting home runs. In 67 2/3 innings, Duran allowed 50 hits, with six being long balls. Toronto's Tim Mayza (25.9%) and Minnesota's Emilio Pagan (18.5%) were the only qualified AL relievers to allow more HR/FB than Duran (17.6%).
Twins fans don't want to see Duran's name on any leaderboard with Pagan. Duran's split-finger fastball was his worst pitch in 2022, as it was responsible for half of his home runs and a .462 SLG. He threw his splitter less than 16% of the time, so it will be interesting to see if the Twins encourage him to use this pitch less often in 2023.  

Increase Multi-Inning Appearances
Duran dealt with injury concerns during his minor league, which was one reason Minnesota moved him to a reliever role. There was some thought that Duran may be able to handle multi-inning appearances because of his previous starting experience. In 57 appearances, Duran pitched more than one inning 14 times, including ten appearances of two innings.
However, only two of his multi-inning appearances came after July 16, corresponding to when the Twins fell out of contention. Duran's second-half numbers were significantly better in the second half with a 1.05 ERA and 13.3 K/9, but he pitched over 16 fewer innings after the All-Star Game. In his sophomore season, Rocco Baldelli should feel more comfortable utilizing him in a multi-inning role throughout the 2023 campaign.  

Another Player Takes the Closer Role
Bullpen usage has evolved recently, with some teams not adhering to a traditional closer role. Managers often turn to their best reliever in the highest leverage situations, which is only sometimes in the ninth inning. Last season, Duran was at his best in high-leverage situations. In 39 games, he held batters to a .180/.246/.243 (.489) with six GDPs and a 39 to 6 strikeout-to-walk ratio.
The Twins added Jorge Lopez at the trade deadline to fill a more traditional closer's role, but he struggled in the second half. The Twins hope that Lopez made some adjustments this winter and he can reestablish himself as a late-inning weapon. Minnesota also hopes relievers like Griffin Jax, Jovani Moran, and Jorge Alcala are prepared to take on more significant roles. 

Duran will need help to replicate his numbers from his rookie campaign. However, the Twins can put him into some situations that help to boost his overall performance. If he finds a way to improve in 2023, the rest of the American League better watch out. 

What do you think Duran can do to reach another level in 2023? Leave a COMMENT and start the discussion.