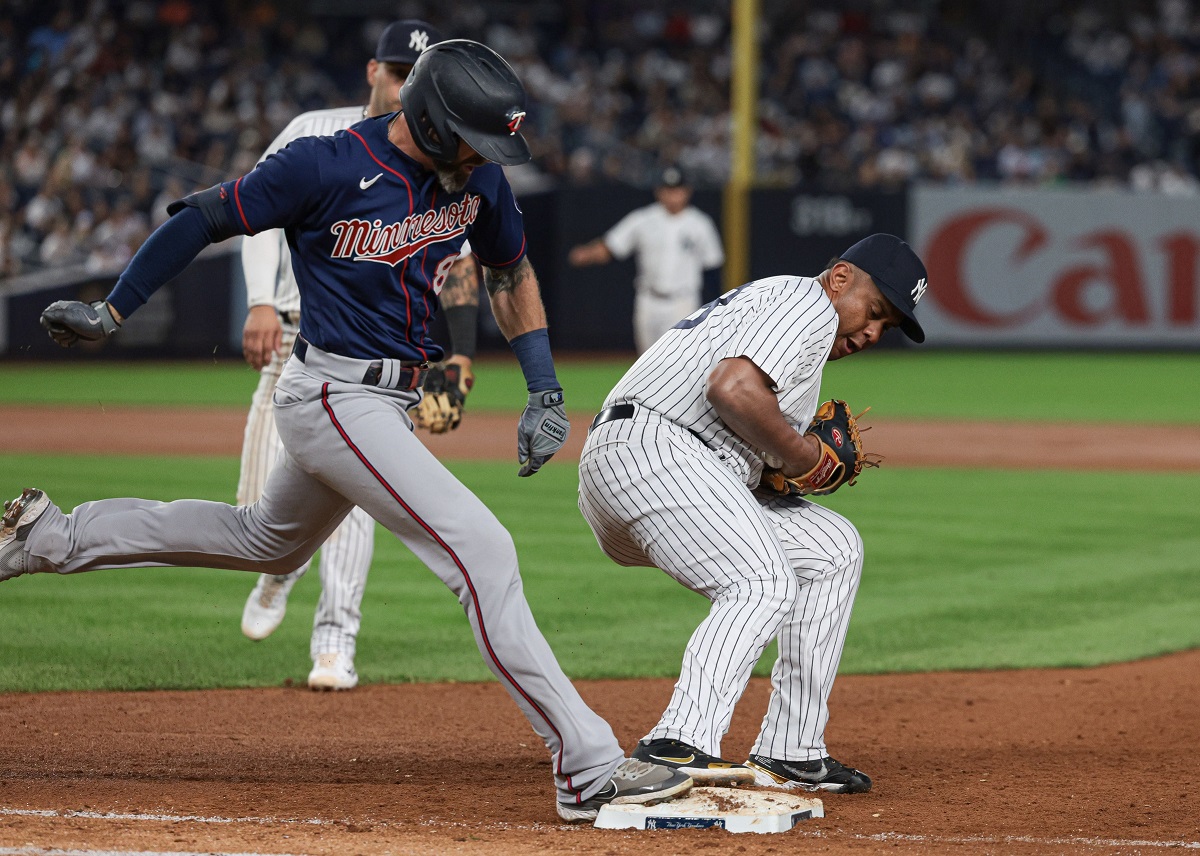 Image courtesy of Vincent Carchietta-USA TODAY Sports
Earlier this year, Twins Daily covered a host of experimental rules MLB was trying out in its minor leagues during the 2022 season. On Friday, September 9, MLB's Joint Competition Committee, which evaluates and ratifies proposed rule changes, officially approved these rules for use in the majors beginning in 2023. Baseball purists can exhale for now: "robot umpires," currently being experimented with at the minor league level, are not coming to MLB quite yet. 
The pitch clock, ban on the shift, and larger base sizes were the only three rules proposed by MLB to the Joint Competition Committee- a voting body consisting of four active players, six members appointed by MLB and one umpire that was created as part of the this spring's 2022-26 Collective Bargaining Agreement (CBA). Though an automatic ball-strike system, otherwise known as "robot umpires" or "robo umps" is currently being experimented with at the minor-league level, a formal rule change proposal related to the robot umpires has not yet been made to the committee and is not expected for the 2023 season.
A common thread connecting these approved changes is MLB's goals of making the game faster and improving player safety. Though these rules will be new at the MLB level, each of these has been tested and deemed successful in the minors during the 2021 and 2022 seasons. Here is a rundown of the changes MLB fans will see in 2023. 
Pitch Clock
For the first time, MLB will implement a pitch clock. Pitchers will be required to deliver the pitch within 20 seconds with runners on base or 15 seconds with the bases empty. The batter must be in the box "alert to the pitcher" with at least eight seconds left on the timer. In order to further keep the game moving, there will be a 30-second timer between batters. In addition, MLB will also implement a limit on throws to first base, which has reportedly increased stolen base attempts in the minors. MLB explained how a pitch clock would work in detail on Friday. 
The pitch clock has been seen as an overwhelming success at the minor-league level- if success is measured by faster games. MLB reports that games have sped up by an average of 26 minutes at the minor-league level with use of the pitch clock. Players appear to have gotten used to the pitch clock: according to MLB, in its most recent week, the MiLB has seen an average of only .45 pitch clock violations per game.
In MLB's eyes, the same amount of game action (or even more, if there are more stolen bases) will be packed into a shorter amount of time, thus increasing excitement for fans. 
Time will tell whether or not this change will actually lead to greater fan engagement or recapture the interest of a younger age demographic. MLB has the oldest fans among the major sports, with an average age of 57, according to a 2017 survey by Sports Business Journal.
Twins Daily covered the pros and cons of a pitch clock earlier this year.
Bigger bases
First, second, and third base will be increased by three inches (from 15 inches by 15 inches to 18 inches by 18 inches). MLB's stated goal of using the larger bases is to reduce player injuries on the base paths. With slightly shorter base paths, MLB is also hoping it will increase the amount of stolen base attempts, and thus bolster game excitement. Though a few inches over the course of a 90-foot base path might not sound like much, seasoned baseball fans know that the amount of plays that come down to an inch or two is not insignificant.
Larger bases were used in the Arizona Fall League and at the Triple-A level in 2021, and MLB found that they not only reduced injuries but contributed to an increase in stolen base rates due to the slightly shortened base paths and the larger base size making it more difficult to overslide the base. Bigger bases are being used in all full-season minor leagues during the current 2022 season.
Previous Twins Daily coverage evaluating the new, oversized bases. 
Banning the shift
New to MLB in 2023, the defensive team will be required to have at least four players on the infield when the pitcher delivers, with two on either side of second base. MLB is hoping that these restrictions "increase the batting average on balls in play, to allow infielders to better showcase their athleticism and to restore more traditional outcomes on batted balls." In other words, MLB wants to see more hits and higher player batting averages, Defensive shifts have been around for years, but in recent years, MLB shifts have greatly increased in prevalence, thus leading to the league cracking down. Currently, in 2022 the league-wide batting average on balls in play is .291 . This is six points lower than in 2012 and 10 points lower than in 2006. According to MLB, this can be attributed to an increase infield in shifts over the years, which have risen by 589% since the start of the 2018 season.
A shift ban is being used in Double-A and both Class A levels during the 2022 season. 
- -
Now that these rules are official, what do you think? Will you enjoy faster MLB game times? Do you think robot umpires will actually make it to the majors? Leave a COMMENT below.