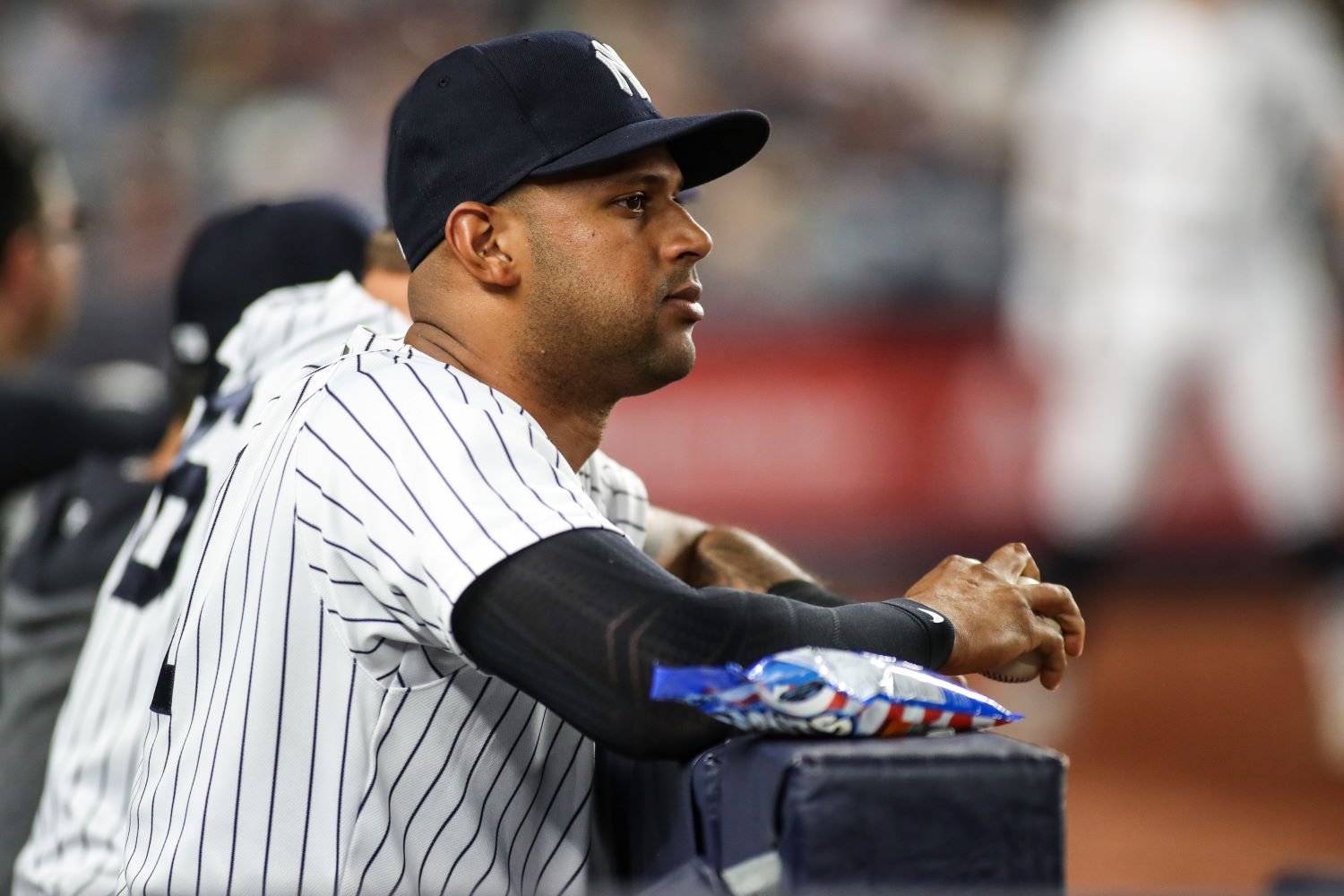 Image courtesy of Wendell Cruz-USA TODAY Sports
November 11, 2015: Traded by the Minnesota Twins to the New York Yankees for John Ryan Murphy
There was good reason for the trade at the time. Minnesota's catcher situation was Kurt Suzuki—awful in 2015—and Juan Centeno, of non-prospect pedigree and lacking in inspiring performance. Prospect Stuart Turner was also in the major-league mix; he eventually put up -1.2 rWAR in 89 major-league plate appearances with the Reds in 2017. Murphy was interesting, however, potentially in the way that all MLB players are interesting, but he claimed youth and could hit a little bit. New York didn't care too much—they had an even younger masher on the horizon named Gary Sánchez—so a swap involving the catcher seemed attractive.
The real reason for the Twins to banish Hicks was not necessarily to replenish their weak catching situation but because of a limited amount of outfield spots to hand out to a promising young crop. Eddie Rosario had already broken into the majors, holding his own over 122 games; Max Kepler was too pronounced to ignore after a dominant performance at Double-A Chattanooga; and, finally, the real reason why Minnesota shipped Hicks out of town: a man named Byron Buxton was set to control MLB for a decade. 
And so the teams made a deal. J.R. Murphy would trade in Yankee pinstripes and any hope of becoming the next Jorge Posada, while one slightly used Aaron Hicks would earn a chance to prove his worth in the toughest market in sports.
We know how this played out; Murphy barely played for the Twins, was outright bad when he did play, and got jettisoned amongst franchise turnover when the new front office took over following a disastrous 2016. Hicks turned in a poor first year in New York before realizing his potential, becoming a great tertiary, complementary piece on some dangerous Yankees teams in both 2017 and 2018. Pleased with their heist, New York decision-makers handed him a seven-year, $70 million contract before the 2019 season.
And then something weird happened. As atrophy and injuries siphoned excitement from the new Yankees contenders, Hicks—fair or not—fell victim to the swamp of blame, trudging through murky front-office choices and healthless seasons while the "baby bombers" consistently fell to better, more well-built franchises. The mood shifted. No longer a wise steal, Hicks was now part of the establishment representing failed attempts at a title; his play dropped tremendously—a respectable 2020 begat painful 2021 and 2022 campaigns. Fresh out of patience, the Yankees looked at one of the worst left fields in MLB and decided that not having Hicks would be an improvement to their current lot, and he was DFA'd with two years and a team option left on his deal.
Now we can tangle with the ultimate question: was the trade that bad?
Sure, the Twins received nothing in Murphy, but Hicks' Yankees career turned into two years of solid performance and a handful of seasons of misery—the kind of which that ruins the strongest wills. New York had to hold onto him long after his expiration date, hoping that the Hicks of old was still there, just needing one more day to appear. In the meantime, their performance sagged by their standards. 
Meanwhile, Buxton is about to crack 20 career fWAR, Kepler is near 17, and Rosario handed Minnesota about as much value as Hicks accrued in his MLB career (12.2 to 11.9, respectively). 
Perhaps it was a poor allocation of resources—they could have acquired someone, anyone better in the swap—but all they lost was a position player they could not use, a weapon they could not fire. If that is all, then this trade will likely fall deep into the forgotten chasm of tragic deals, only remembered by sour fans or cunning historians.