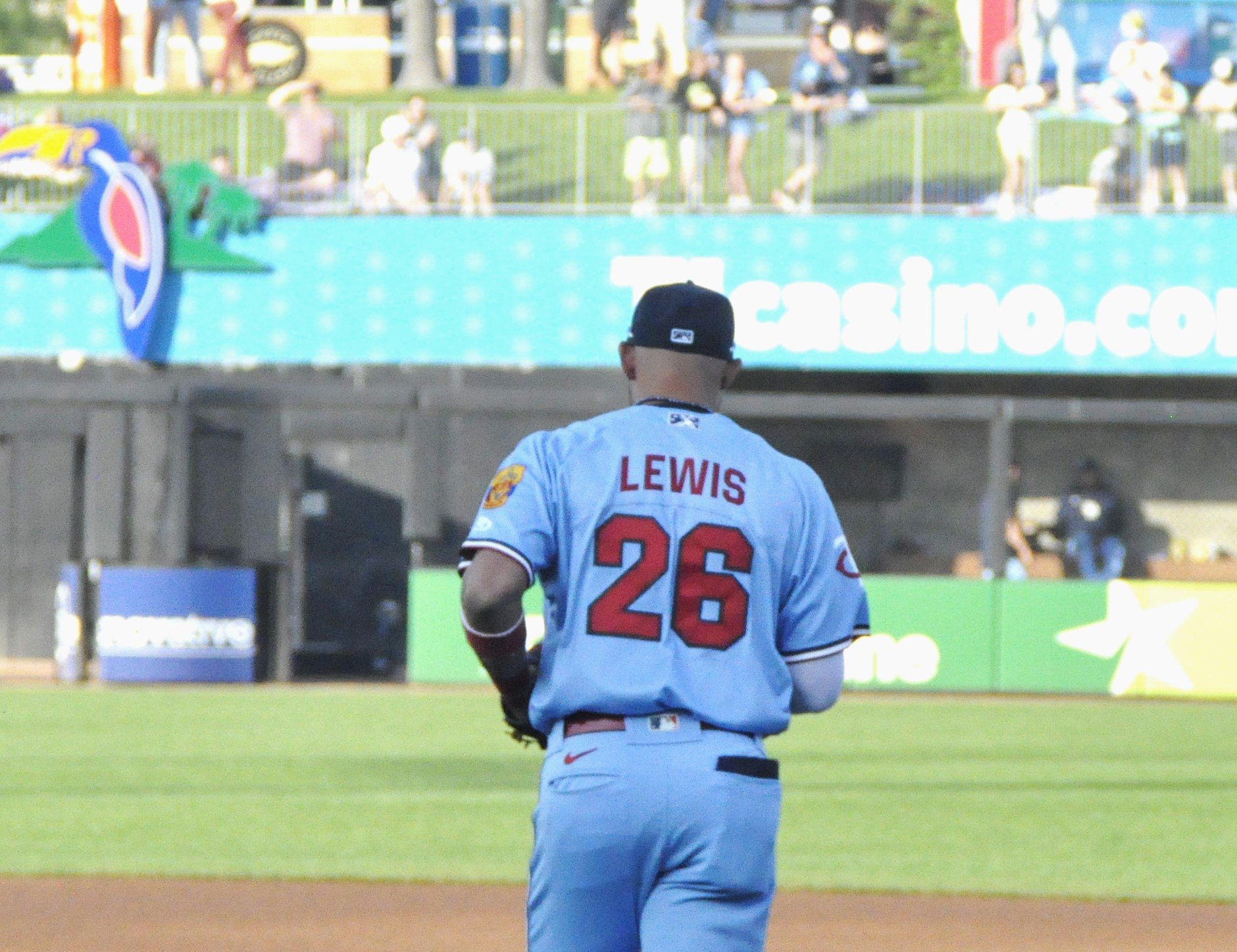 Image courtesy of Theo Tollefson
ST. PAUL – Royce Lewis had his second call-up to the Major Leagues a year ago and started in center field against the Kansas City Royals on May 29, 2022. 
The first two innings of the game went smoothly for the Twins' top prospect, then in the top of the third, everything changed for Lewis. 
"I remember like it was yesterday," Lewis said. "It was just a ball hit by Emmanuel Rivera very well, that I didn't think he got a ton of, and then I realized mid-running like, 'Oh, he got this better than I thought.' it was bad timing on my part and a freak injury where it happened at the end." 
He tore his ACL for the second time in a year and was out for the rest of the 2022 season. It's now been a year since that happened and his return to the big leagues is just around the corner. 
Lewis has raked at the plate as his rehab began on May 11 hitting .333/.375/.700 (1.075) with three home runs, and nine RBI in the eight games he's rehabbed in between Double-A Wichita and Triple-A St. Paul. On top of that, he's been successful in four out of five steal attempts and flashing defensively with the glove on the left side of the infield. 
"He seems good right now," said St. Paul Saints manager Toby Gardenhire on Lewis. "It's always tough coming back from an injury, especially the long injuries like this one where it takes a year to come back from it. But he really hasn't skipped too much of a beat."
The journey back from the second ACL tear wasn't an easy one at first for Lewis. He said the first three days following the surgery were some of the toughest he has gone through. 
"The next three days [post surgery] were hell. It was horrible. I would never want anyone to go through something like that, like the pain that I had. It would just hurt for the whole week, week and a half. Finally as I started walking more and moving it around more, it got better," said Lewis. 
While those first three weeks were painful for Lewis to get through, he would go through it all again as it's made him stronger both physically and mentally as an athlete. 
"I am glad I did it. It's something that you wish you never went through it, like kind of like hell week for football, right? They go and do that, and they come out of it better and stronger and better people. That's how I feel like I came out of that surgery. So I would do it 100 times over," he said. 
(Editor's Note: Let's hope two is the charm, and that he doesn't need a third, much less a 100th time!)
Lewis didn't get through the rehab off the field without help. Former Twins centerfield Torii Hunter and his son Torii Jr. were a massive help to him while he was recovering in Texas. 
"He's the man, and he is always there to take care of everybody. He's taken care of me like another son and I couldn't thank him enough. And Torii Jr. has been the same way with me as well. I listened to both of Torii's, and if I can get any advice or wisdom for them, I'm gonna take it," Lewis said. 
While Lewis didn't see any in-game action during spring training his time on the back fields built him back up to the player he's always known himself to be. And it was during extended spring training when he knew Royce Lewis was back to full health as the player he can be. 
"I knew I was back probably a month ago in Florida when we started doing some running stuff. They had me do everything, and it was unbelievable. We're doing way more in rehab. They're crushing you. There's no game we played, and we need to make sure you can do everything once you're in the game. So they push you to 150% where when you play at 100% in games, it makes it so much easier," Lewis said. 
Lewis now describes his energy as starting at 120% at the beginning of each game now. He's feeling comfortable at the plate, in the field at third base and shortstop, and his running game is better than ever. 
"The biggest thing is for him to keep improving, just keep getting better with his development. He's still young, he's still got a long way to go but he's got so many tools and so much talent that he can really go a long way," said Gardenhire. 
His performance during this rehab stint points to Lewis bringing a similar performance to his first call-up to the Twins a year ago when the Twins made the move to bring him back. He can be activated as early as Monday, landing his potential return date on the anniversary of his second ACL tear. 
While it is in the back of his mind, it's not holding weight on Lewis and what his performance will be day in and day out while he makes his return to the game on a full-time basis. 
"I'm just being myself and having fun. I think honestly when I perform well, whether it's defense or offensive, that happens to go with how I'm feeling emotionally and it just tells you where I'm at emotionally and I'm so happy to be back on the diamond and just playing the game that I love and missed," said Lewis. 
For much, much more on Royce Lewis, click here.