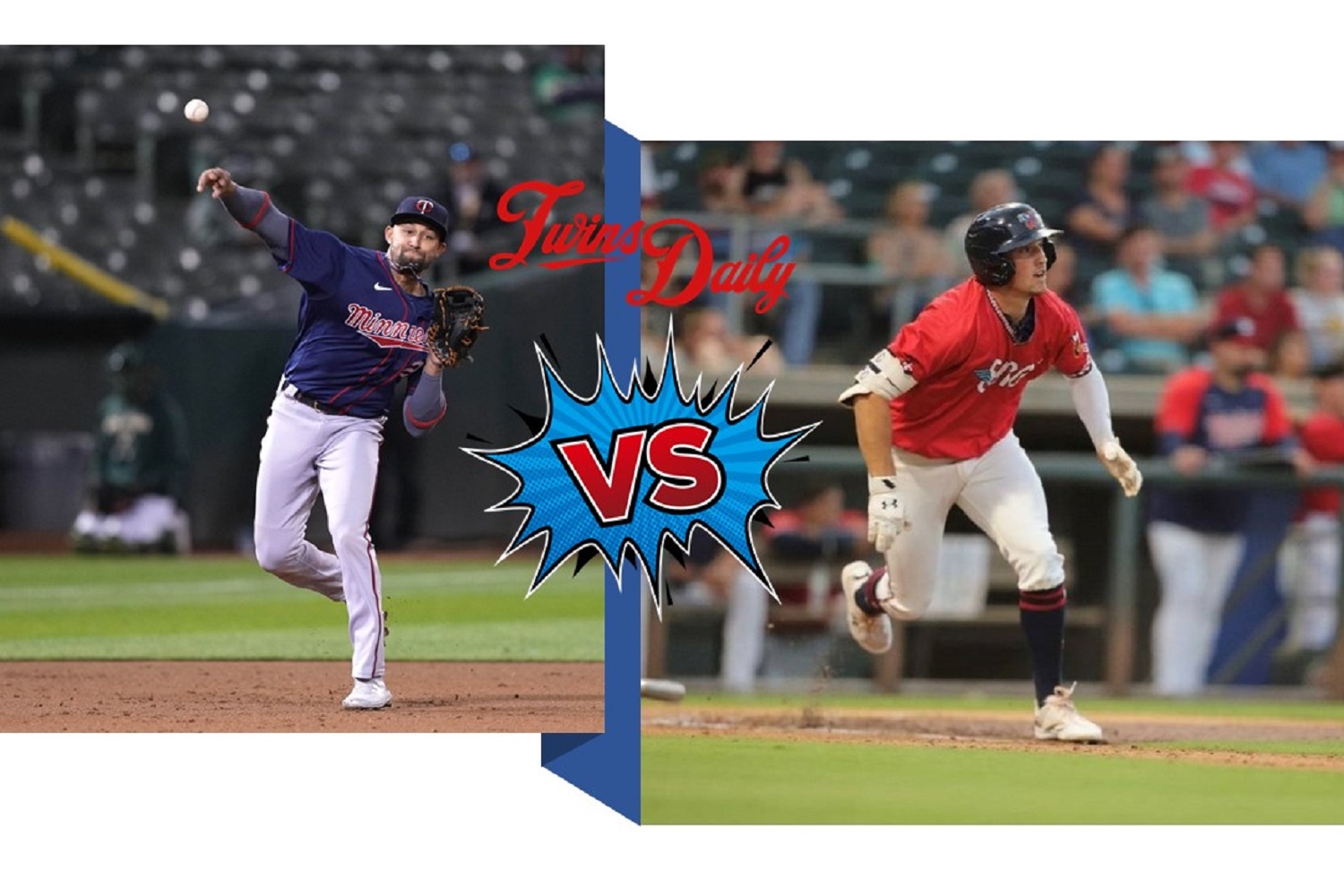 Image courtesy of Darren Yamashita, USA Today (Lewis), Ed Bailey, Wichita Wind Surge (Lee)
Many national outlets will rank Brooks Lee as Minnesota's top prospect entering the 2023 season. However, Royce Lewis still sits in the top spot here at Twins Daily. The franchise's long-term performance is tied to both players. Arguments can put both players in the top spot, so let's examine what separates these two players from each other. 

Arguments for Brooks Lee
Minnesota drafted Lee with the eighth overall pick in the 2022 MLB Draft, and the club had to be surprised that Lee was still on the board. Entering the draft, evaluators considered him the best collegiate bat, and he showcased that ability in his professional debut. Lee got his feet wet in four games with the FCL Twins before skipping Low-A and heading to Cedar Rapids. In 25 games with the Kernels, he hit .289/.395/.454 (.848) with four doubles and four home runs. But Cedar Rapids wouldn't be his final stop, since the Twins' Double-A team, the Witchita Wind Surge, was heading for the playoffs. 

Lee was over three years younger than the average age of the competition at Double-A, but he was indeed able to hold his own. He helped Wichita make a run to the Texas League Championship before the team eventually fell short of the title. It was an impressive start to his professional career, and there is plenty of optimism surrounding his future. 
Lee is a switch-hitter with a tremendous ability to make consistent contact. In 115 collegiate games, he had more walks (64) than strikeouts (63). He has shown the ability to drive the ball to all fields, and he will likely improve his power numbers as he continues to mature. His dad is a college coach, so he has grown up around the game, which will help him continue to rise through the Twins system. 
The Twins drafted Lee as a shortstop, and there is some thought that he will need to move to third base when he adds more muscle to his frame. If Lee isn't going to be a shortstop at the big-league level, that's why some rank Lewis as a higher prospect.

Arguments for Royce Lewis
The Twins took Lewis with the number one overall pick back in 2017. A lot of pressure comes with being selected 1-1, but Lewis continues to show promise. The pandemic and a torn ACL meant he didn't play in a competitive game for over two years. He returned from injury in 2022 and made a strong first impression at the Triple-A level. In 34 games, he hit .300/.405/.534 (.940) with 12 doubles, a triple, and five home runs. Some may have thought his knee surgery would hamper his speed, but he was successful in 12-of-14 stolen base attempts. It certainly looked like Lewis was ready for the big-league level. 

When a pitch hit Carlos Correa, it looked like the Twins may need to turn shortstop over to Lewis for multiple months. Instead, Correa didn't suffer any broken bones, and Lewis made a brief but impactful debut. In 12 games, he went 12-for-40 (.300 BA) with four doubles and two home runs. Unfortunately, he crashed into the center field wall, tearing his ACL for the second consecutive season. Lewis will not be ready to start the season, which has the Twins searching for other shortstop options. 
His defense has significantly improved since joining the Twins organization, with some evaluators thinking he can stick at shortstop in the big leagues. There is no way to know how he will respond to a second ACL surgery, but he lost little speed from the first surgery. Minnesota will test the free agent waters this winter for one of the top shortstops, but the front office may also be comfortable with Lewis being the shortstop of the future. 

Currently, I have Lee ranked higher than Lewis because of his age and potentially elite bat. Who do you think is Minnesota's top prospect? Leave a COMMENT and start the discussion.