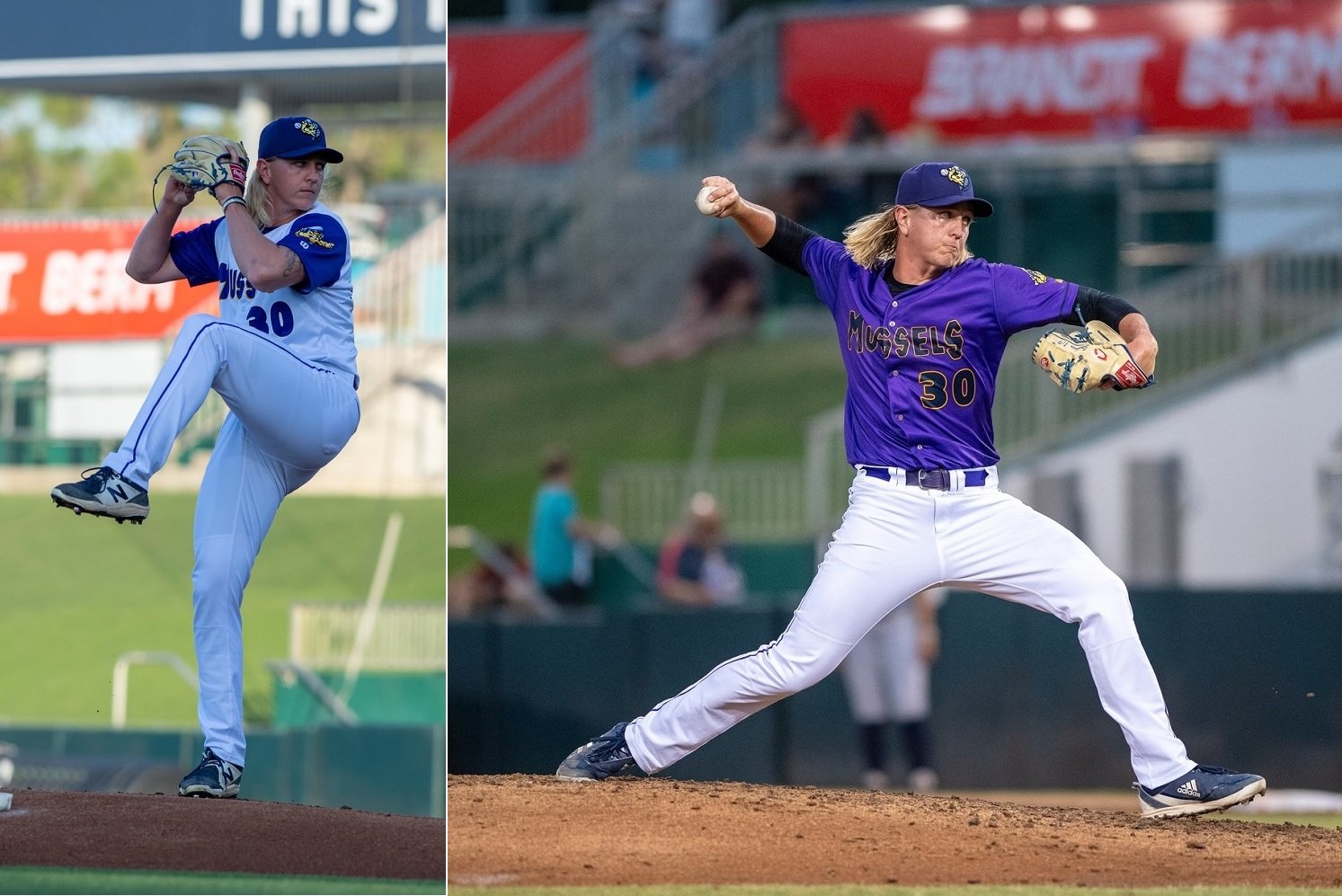 Image courtesy of William Parmeter
If you listened to last week's episode of Destination: The Show, Cedar Rapids Kernels pitching coach Jonas Lovin was asked about CJ Culpepper.  
He concluded his comments by saying. "CJ had a really good year and progressed really well throughout the year. He'll be one that, I'm sure, Twins fans will be seeing down the road and will be looking forward to following, and he'll keep working." 
Seven players selected by the Twins in the 2019 draft have already reached the big leagues. Two others spent most of the 2023 season with the Triple-A St. Paul Saints. Matt Canterino returns in 2024 with an eye on the big leagues, too. 
However, among many Twins fans, there is excitement around the pitchers they selected in the 2022 draft. Kyle Jones (7th round) spent the entire season with the Kernels. Cory Lewis (9th), Zebby Matthews (8th), Andrew Morris (4th), and CJ Culpepper (13th) all started the season in Fort Myers, but each spent most of the second half making starts in Cedar Rapids. In addition, Ben Ethridge (15th) and Zach Veen (18th) remained in Fort Myers, pitching very well, and are now pitching in the Arizona Fall League. Of course, Connor Prielipp (2nd) started the season with the Kernels, but unfortunately, he made just one start and later had elbow surgery. 
The group has become quite close over the past year. Culpepper said, "We've all become really close, and that's good. All of us are different. We pitch differently. It's cool to talk to them about what they do mechanically."
While Culpepper hasn't added a knuckleball to his in-game pitch repertoire, he's learned a lot about the pitch from his time with Cory Lewis. "Playing catch with him (Lewis) isn't too much fun either. It's scary. It's terrifying."
(You can watch the full 49-minute interview right here, or you can right-click on the video and watch/listen to it in another tab so you can continue perusing Twins Daily while watching the interview.)
C.J. Culpepper grew up in southern California, and baseball has been a big part of his life. 
His mom tells him that from when he was two, he was always playing ball. Culpepper's earliest memory is one that many of us can understand and appreciate. 
"The earliest memory I can think of is having my dad coaching me all growing up. I always thought that was really cool. Being able to share that experience with him and having his knowledge get dropped down to me is pretty cool. It's just something I've cherished for the longest time."
He was always young for his grade and spent three seasons on the Rancho Cucamonga varsity team. He had played soccer in his younger years. Like Twins starter Joe Ryan, Culpepper also played water polo in high school. "My mom said, 'You're going to play water polo.' So I really shouldn't say No.'" 
He also participated in the Garciaparra Baseball Group team from Inland Empire, a southern California team. They played in the Jupiter tournaments in Florida, key events for high school players to be seen by scouts from every organization, as well as many colleges. 
California Baptist jumped from Division I to Division II for the 2019 season. Upon visiting, Culpepper quickly knew that it was the place he wanted to play ball. He had a strong relationship with the coaches, and it was a place where he could continue to grow his faith. 
He had a handful of games pitched in 2020 before Covid ended the season. As a sophomore, he had 38 strikeouts in 30 innings out of the Lancers' bullpen. 
That summer of 2021 marked a crucial point in C.J. Culpepper's baseball career. He went to the Cape Cod League and pitched well against top competition. In 15 2/3 innings over 10 appearances, he went 1-0 with four saves, a 1.72 ERA and a 0.77 WHIP. He also had 23 strikeouts and just two walks. His performance gave him a lot of confidence heading into his junior season. 
In 2022, he joined the starting rotation for California Baptist. He went 5-3 with a 3.26 ERA and a 1.15 WHIP. He also had 76 strikeouts in 69 innings. 
In July, he heard various things from his advisor leading to the draft. In fact, on Day 2, his advisor said a team asked if he would take a specific signing bonus if they drafted him. He agreed. Unfortunately, that team picked someone else with that pick. 
On Day 3, he spent the day with his parents. They were "watching" the draft online, and in the 13th round, they saw CJ's name pop up on their computer screen. 
"Right when they saw my name, they were so happy. Tears started coming down. They just realized that this is what he's been working for, and now it's starting. They were just so ecstatic." 
He continued, "It was a fun day, for sure." 
It's similar to one of his first days in Fort Myers after signing. He found himself on one of the back fields, playing catch, when he stopped and looked around a bit, thinking, "This is something I've been working for my entire life, and now I'm here. I was just in awe. It was definitely an experience that I'll cherish, for sure."
Fortunately, there were several players around him that he knew to some degree. During his season with Yarmouth–Dennis in the Cape Cod League, he was on the same team as catcher Nate Baez (12th round) and first-round pick Brooks Lee. Also on the team was 2023 10th-round pick Ross Dunn. 
While Culpepper was the lone player that the Twins drafted from California Baptist, they added more in 2023. In the 15th round, the Twins selected right-handed pitcher Spencer Bengard from the school. In the 16th round, the Twins took righty Anthony Silvas from Riverside City College. However, he spent the 2022 season at California Baptist. Following the draft, the Twins signed right-hander Liam Rocha as a non-drafted free agent. He spent three years at Cal Baptist. 
With that background, it's also quite exciting to think about his pitch mix. The right-hander throws a four-seam fastball, a cutter, a slider, a sinker, a changeup, and a curveball. In college, his fastball was generally between 89 and 93 mph. In 2023, Culpepper was not only 93-95 mph, but he touched 97 at times and was able to maintain that velocity later in games. 
(Of note, I forgot to ask Culpepper if he has ever actually thrown a kitchen sink.) 
More important than just having all of those pitches, it's about those pitches being good, being effective. And with all the work that the Twins pitching development group does watching videos, reading the Statcast data, and developing a plan for him, still throwing all six pitches speaks to their effectiveness. 
Culpepper admits. "I'm pretty comfortable with all the pitches that I have. Whatever the situation and the count allows me to throw. I'm comfortable enough with all of them." 
Returning to last week's Destination the Show, you heard Kernels pitching coach Jonas Lovin talk about Culpepper. "CJ's great. He's a really hard worker, and he's a really good thinker. He does a really good job of asking good questions and thinking through what he can improve upon." 
Lovin later added, "CJ is so unique because he throws so many different pitches. He throws six different pitches, and they're all good. He does a good job commanding them in the strike zone, and they all move a decent amount. 
After spending most of his life in California, Culpepper is spending this offseason in Tennessee. Maybe it's to work on something else that he can bring with him to Minnesota. When he played in the Cape, his host family got him excited about fishing by taking him out often. Where he lives in Tennessee, he says he's got a lake 10 minutes away and some canals and rivers nearby to work on his newfound passion. 
He said he would also like to get into hunting sometime but hasn't found a group to take him out yet. I'm just guessing that if CJ Culpepper gets to the big leagues with the Twins, he will have several new friends willing to show him the ropes. 
For more Twins Daily content in which C.J. Culpepper has been tagged, click here. Here was his Twins Daily Draft page from 2022.