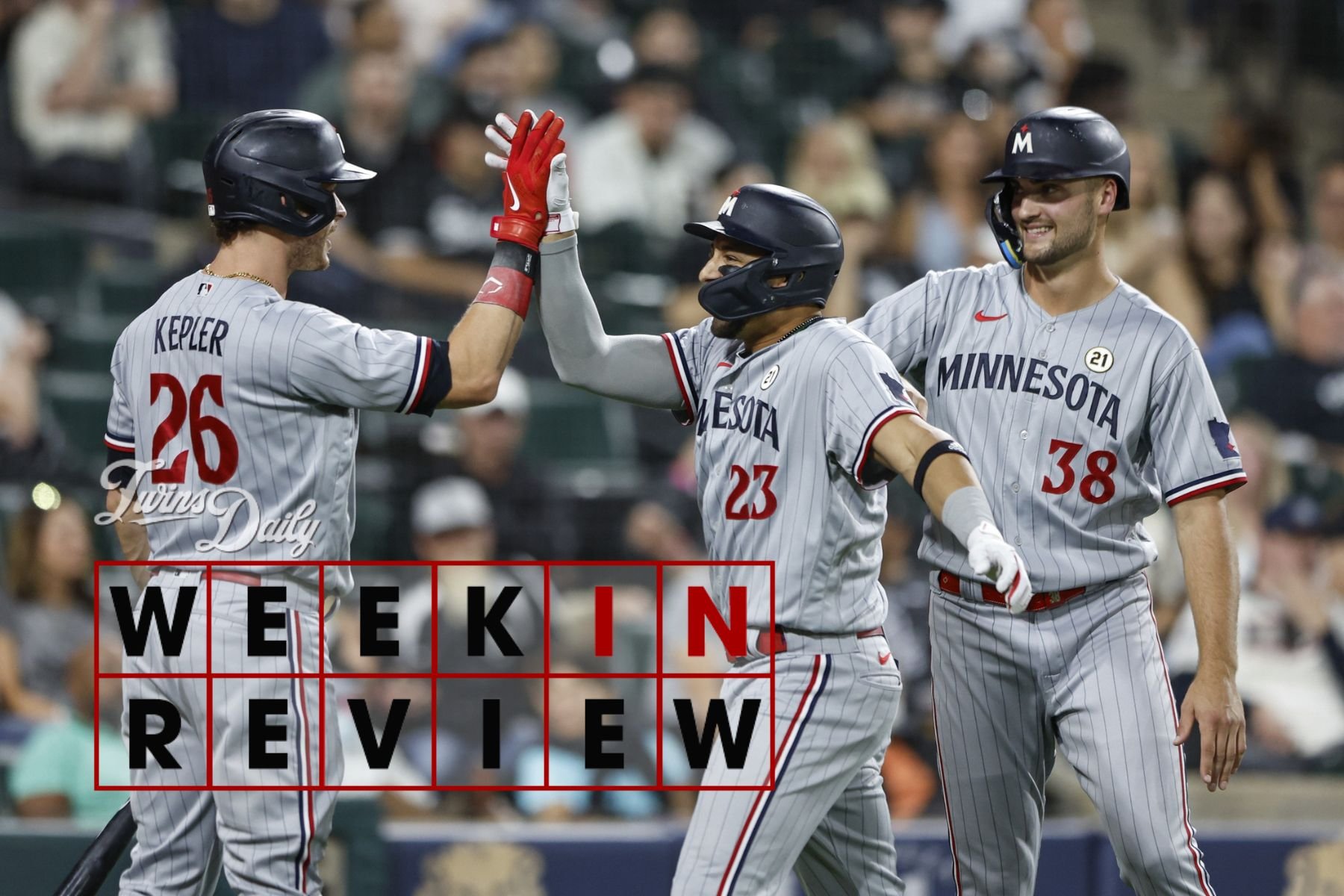 Image courtesy of Kamil Krzaczynski-USA TODAY Sports
Weekly Snapshot: Mon, 9/11 through Sun, 9/17
***
Record Last Week: 4-3 (Overall: 79-71)
Run Differential Last Week: +16 (Overall: +90)
Standing: 1st Place in AL Central (7.0 GA)
Last Week's Game Results:
Game 144 | TB 7, MIN 4: Bullpen Struggles After Gray's Early Exit
Game 145 | MIN 3, TB 2: Julien and Castro Homers Tilt Close Game
Game 146 | TB 5, MIN 4: Twins Rally Back But Fall Short, Drop Series
Game 147 | MIN 10, CWS 2: Bats Lift Off, Maeda Cruises in Chicago
Game 148 | MIN 10, CWS 2: Another Lewis Slam Fuels Another Blowout
Game 149 | CWS 7, MIN 6: Early Pablo Struggles Too Much to Overcome
Game 150 | MIN 4, CWS 0: Twins Take Series from Sox in Easy Shutout
NEWS & NOTES
As he battled through a series of attempted ramp-ups and setbacks, it started to look as though a return to action was not in the cards for Brock Stewart this year. With just a couple of weeks left to go, he's aiming to upend that narrative at the most crucial time possible.
Stewart initiated a rehab stint at Triple-A St. Paul on Friday and looked fantastic, striking out two on 12 pitches in an inning of work. With his fastball ripping in the upper-90s, Stewart looked very much like the dominant specimen we saw in the first half.
I'm guessing the Twins will get Stewart one or two more appearances in the minors before recalling him and letting him loose a few times in the majors before season's end. Those who remember how incredibly clutch the 31-year-old was in high-leverage spots back in May and June need not be reminded what a game-changing impact Stewart's arrival could have on the relief corps for October.
Chris Paddack also took another positive step in his rehab, throwing four innings in a start for Wichita on Tuesday. The stuff looked good as Paddack struck out six with no walks, though he did give up a pair of runs, including one on a solo homer.
The same night as Stewart kicked off his rehab stint with the Saints, Nick Gordon did the same. This development is less impactful for the playoff picture – Gordon likely won't make the roster, barring something unexpected – but it's good to see him make it back on the field at the end of a lost season. Gordon is hitless through seven plate appearances with the Saints.
Will Bailey Ober play in the postseason? That's an open question, but the tea leaves seem to be signaling against it, even though Ober has had a very good year and was solid in his return to action on Friday night. He hurled five innings of two-run ball with six strikeouts and no walks. With a bullpen role in October seeming unlikely, Ober might just by playing out the string for this season.
HIGHLIGHTS
We've officially run out of superlatives to describe Royce Lewis. What is even going on. Manager Rocco Baldelli was rightfully astonished after watching the rookie phenom launch his fourth grand slam of the season and fifth in his young career on Friday night. Lewis' propensity for delivering big hits in key spots has already earned him legendary status at age 24. For the week, Lewis went 7-for-25 with three home runs, 10 RBIs, and six walks; the developing discipline is especially promising.
Joining the fun in a week that saw Minnesota's explosive offense post two double-digit totals and rally for several comebacks:
Max Kepler was 8-for-24, hitting for the cycle across six games while driving in four runs. His three-strikeout game on Saturday was, notably, his first of the season. 
Shaking free from a slump that was clearly frustrating him, Matt Wallner got back on track in a big way, tallying nine hits in 19 ABs. His OPS is back up over .850 thanks to the big surge.
Edouard Julien, too, shook free from a mini-slump – though in his case "slumping" still tends to involve getting on base 40% of the time. He did just that last week, drawing five walks in six games, but he also chipped in three homers and a double. Despite being clearly slowed by a hamstring issue, Julien started all seven games.
Having all of these hitters clicking the way they are – along with Jorge Polanco (5-for-15 with a homer last week) and Carlos Correa (three doubles, a homer and five walks) – bodes very well for the club's postseason outlook.
Key developments are priming the pitching staff for postseason success as well. Chief among them: the emergence of Louie Varland as a bulldog out of the pen. He made two multi-inning appearances last week and was lights-out in both, holding the Rays scoreless for 2 ⅓ and then tossing two more shutout innings against the White Sox. 
Unleashing upper-90s heat and a newly weaponized cutter, Varland was utterly dominant, striking out seven with zero walks.
Meanwhile, Kenta Maeda made a case for his readiness to assume an important postseason role, tossing seven innings of two-run ball in Thursday's blowout win over the White Sox. The outing matched Maeda's longest of the year (July 4th vs. KC) and the eight strikeouts were his most in nine starts.
Maeda is probably behind Joe Ryan in line for a playoff start, but his proven postseason track record – comprising mostly relief work – makes him an X-factor for October.
LOWLIGHTS
The heart of the Twins relief unit is looking strong, with Varland on his way to joining Jhoan Duran and Caleb Thielbar as reliable high-leverage fixtures. But the postseason rewards deep bullpens, and a tough offense like Toronto or Seattle is likely to test Minnesota beyond its trusted back-end horses.
Thus the pressure is mounting on guys like Griffin Jax and Dylan Floro, whose on-field results have lagged badly behind their expected numbers. 
Jax had another tough week, coughing up a game-winning home run to Randy Arozarena on Wednesday at home, where he was tagged with his 10th loss of the season. The right-hander entered the All-Star break with a 2.92 ERA but is at 5.76 since, with 27 hits and five homers allowed in 24 innings. 
Floro had actually put together a nice string of outings since his nightmare meltdown in Milwaukee, but lapsed against the Rays last Monday, surrendering three runs in the fifth inning of an eventual three-run loss.
In both cases, there are underlying metrics that inspire some level of faith. Jax has a 2.92 xERA on the season, compared to his 4.13 actual ERA. For Floro, it's 3.36 versus 4.97. But theoretical expected numbers don't mean much when they are consistently misaligned with results, and that's only more true in the playoffs.
A solid stretch to close the season from either of these two would go a long way toward instilling piece of mind for Twins fans, and lessening the urgency for Stewart and/or Paddack to come back and work miracles.
TRENDING STORYLINE
In an article for the Star Tribune last week, Bobby Nightengale detailed Correa's painful battle with plantar fasciitis, which the shortstop said continues to affect him on a daily basis.
"It's just tough to move around," Correa said in the piece. "Defense is not all hands. It's moving your feet and getting yourself in the right spot. It makes everything tougher, even just walking in the morning. It's just harder to move around, but at the same time, I have to finish plays."
This has been noticeable in watching Correa miss some plays he characteristically makes at shortstop, though his bat does seem to be coming around. And while Nightengale's article affirms what we've consistently heard – a few days or even weeks off won't solve the problem – it does appear the Twins are making efforts to get Correa off his feet more with the division all but clinched. 
Correa had started 23 consecutive games before getting the day off on Wednesday, and Rocco Baldelli was committed enough to making it a true day off that he bypassed subbing Correa in a key late-game pinch hitting situation, turning instead of the vastly inferior Christian Vázquez. Correa also got Thursday off. 
He returned to play all three games over the weekend, going 3-for-11 with a double and three walks, but it would be no surprise to see him spelled frequently in the final two weeks. In fact I'd be surprised if he's not, and I hope the small respites can help Correa bring his A-game when it counts most.
LOOKING AHEAD
The Twins wrap up their midwest swing with a trip to Cincinnati that is solid (five games above .500) but out of contention. The Reds haven't announced starters for Monday or Tuesday yet, but Hunter Greene is slated to start on Wednesday, setting up a matchup between the No. 1 (Lewis) and No. 2 (Greene) overall picks in the 2017 draft.
Minnesota returns home against the weekend to face the Angels, which should be an easy matchup except the Halos are throwing three left-handers. I'll be curious to see how much Baldelli tests his lefty hitters in that series, given the presumably low stakes.
MONDAY, 9/18: TWINS @ REDS – RHP Joe Ryan v. TBD
TUESDAY, 9/19: TWINS @ REDS – RHP Kenta Maeda v. TBD
WEDNESDAY, 9/20: TWINS @ REDS – RHP Bailey Ober v. RHP Hunter Greene
FRIDAY, 9/22: ANGELS @ TWINS – LHP Tyler Anderson v. RHP Pablo Lopez
SATURDAY, 9/23: ANGELS @ TWINS – LHP Reid Detmers v. RHP Sonny Gray
SUNDAY, 9/24: ANGELS @ TWINS – LHP Patrick Sandoval v. RHP Joe Ryan