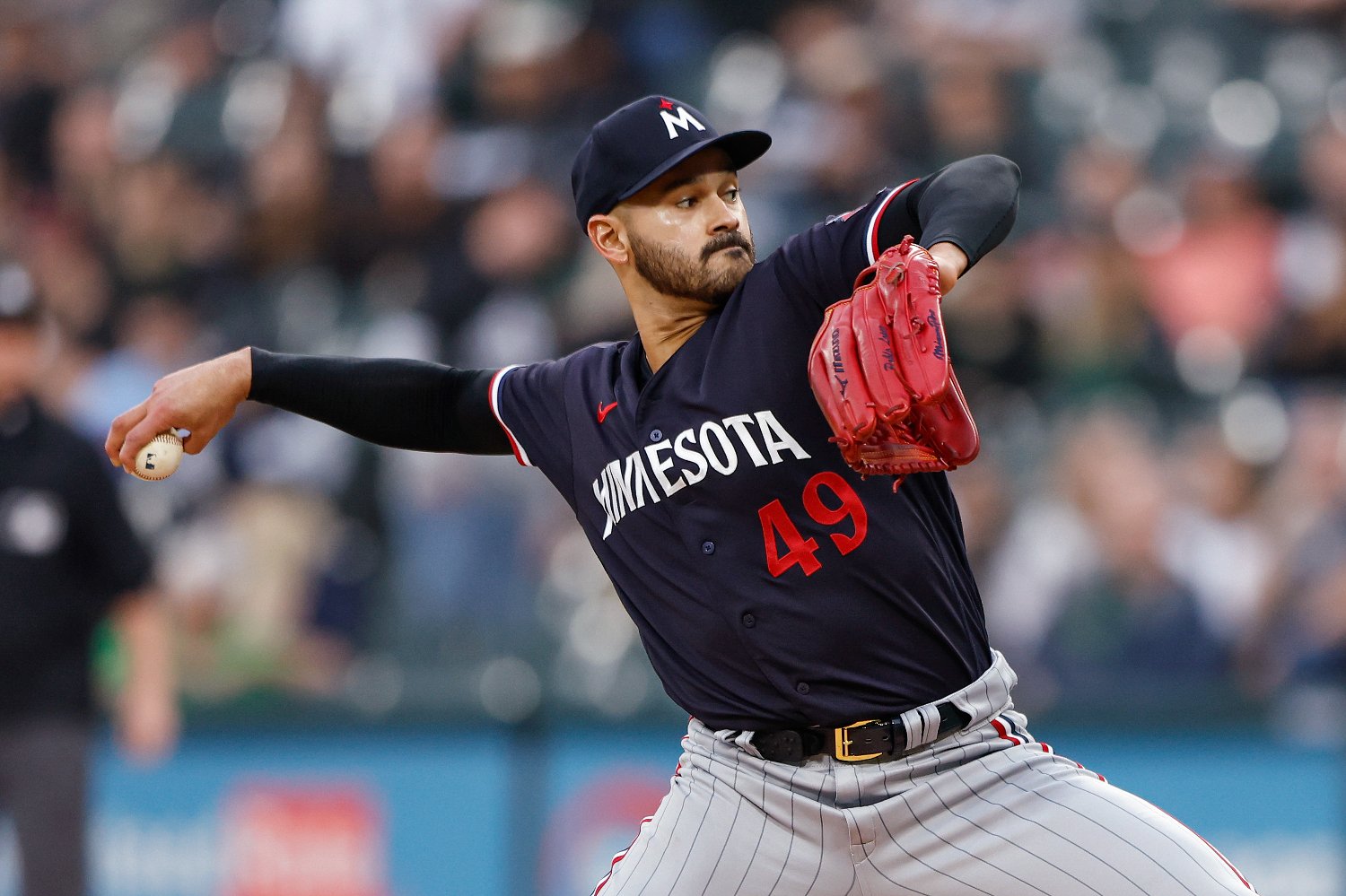 Image courtesy of Kamil Krzaczynski-USA TODAY Sports
Box Score:
Starting Pitcher: Pablo López: 5 IP, 8 H, 5 ER, 0 BB, 8 K (85 Pitches, 62 Strikes, 73%)
Home Runs: None
Bottom 3 WPA: López (-.335), Willi Castro (-.270), Max Kepler (-.158)
Win Probability Chart (Via Fangraphs):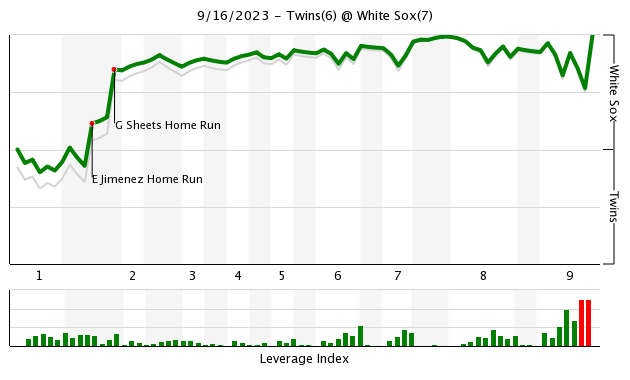 After consecutive 10-2 trouncings of the dysfunctional White Sox, the Twins turned to one of their aces in Pablo López as they looked to continue their September roll. With a good start, López could have strengthened his burgeoning case for the AL Cy-Young. The White Sox had other ideas.
The evening started out well. Facing one of the worst right-handed pitchers in baseball, Touki Toussaint, Edouard Julien laced a double to the right-center field gap and scored on a sharp single from (who else) Royce Lewis. Toussaint limited the damage, though, and López began his night with a one run lead.
That lead was short lived. Lewis made an ill-advised throw on Tim Anderson's leadoff swinging bunt, throwing wildly and allowing Anderson to reach second. After Andrew Benintendi struck out, Eloy Jimenez unloaded on a center cut fastball to make the score 2-1. Unlike his last start against the Mets, when López had pinpoint command of his breaking pitches en route to eight shutout innings, he left a few up to the White Sox. After two more singles, Gavin Sheets crushed a low curveball for a three-run homer and a 5-1 Chicago lead.
After the Twins went down 1-2-3 against Toussaint in the second, the White Sox went right back to work, or so it appeared. Backup catcher Carlos Perez and Anderson led off with consecutive singles before López struck out Benintendi and Luis Robert for the second time each. He then got Jimenez on a nice sweeper to end the frame.
Toussaint showed why he comes with the pedigree of a former first round draft pick despite his career-long (5.43 ERA, 14.3% walk rate) struggles. He relied on an effective changeup and curveball located on both low corners for strikes and uncomfortable swings. The Twins were likely expecting control problems from the righty, and instead saw a slew of offspeed pitches for strikes that left them behind in the count. Toussaint struck out six Twins in the first three innings. He was pitching on three days rest after being obliterated by the Royals his last time out, so perhaps that bodes well for him to continue his career as a reliever. His final line was five innings, one run and eight strikeouts.
For López's part, he at least held the score where it was, firing four scoreless innings after his adventurous first. His eight strikeouts leave him one K short of league leader Kevin Gausman.
Immediately following Toussaint's departure, the Twins put a threat together against struggling lefty Aaron Bummer. They loaded the bases on an infield single, a chopper over the first baseman, and a walk, bringing up the suddenly hot-hitting Kyle Farmer as the tying run. He came about an inch from clearing the bases on a foul liner, but eventually struck out looking on a dotted fastball from Bummer.
Josh Winder relieved López and after a strong sixth inning, gave up some hard contact in the seventh, allowing two more runs to score.
The Twins made some noise in the eighth against Gregory Santos and his 101 MPH sinker. Polanco and Lewis walked, Kepler and Correa singled, and Kyle Farmer grounded into a fielders choice to score three runs and make the Chicago faithful a little queasy. Matt Wallner then hit a chopper to first baseman Andrew Vaughn, who fumbled the ball and allowed Wallner to reach, scoring the Twins' fifth run.
Curiously, Christian Vázquez was not pinch-hit for as the tying run. He popped out weakly while Ryan Jeffers (and Andrew Stevenson and Jordan Luplow) looked on.
The Twins rallied again in the ninth, down two runs. Polanco singled with one out, and Lewis added one of his own. Lefty Tanner Banks was brought in to face Kepler, who struck out looking after running the count full. Correa and Farmer walked, bringing up Willi Castro who popped out to end the game.
The good:
-Matt Wallner's at-bats have looked a lot better. His walk against Bryan Shaw in the seventh gave the Twins some life, and came after he fell behind 0-2.
-Jhoan Duran pitched a quick 1-2-3 eighth inning. He's rested a lot lately, to good effect.
-Lewis had another three hits. Ho hum.
The bad:
-López was ambushed by Sheets, giving up his homer on a curveball down in the zone, but the homer he allowed to Jimenez came on the sort of fastball he can't throw in the playoffs, middle-middle. López was good for the final four innings, however.
-Lewis made two bad throws in the first inning. Both he could have held onto, as neither batter was going to be retired. Lewis has been okay at third base, but it appears that isn't his long-term home; shorter throws seem to suit him better, and it may be Brooks Lee who profiles as the third baseman of the future.
-A first half issue reared its ugly head in that the lineup did not appear able to adjust to their initial game plan against Toussaint. They wanted to work counts and get mistakes, but Toussaint refused to make them. You know what you're getting from Gausman, Jon Gray and Luis Castillo, three starters the Twins might face in game one of their upcoming playoff series, so there's that, at least.
What's Next: Sonny Gray (7-7, 2.96 ERA) tries to win the series opposing Sox ace Dylan Cease (7-7 4.87 ERA). Gray has been good and has an outside shot at the Cy Young award, while Cease has struggled all year despite retaining elite raw stuff.
Postgame Interviews:
Bullpen Usage Chart:
| | | | | | | |
| --- | --- | --- | --- | --- | --- | --- |
|   | TUE | WED | THU | FRI | SAT | TOT |
| Varland | 31 | 0 | 0 | 29 | 0 | 60 |
| Winder | 0 | 0 | 14 | 0 | 25 | 39 |
| Jax | 0 | 16 | 0 | 16 | 0 | 32 |
| Pagán | 0 | 29 | 0 | 0 | 0 | 29 |
| Thielbar | 11 | 17 | 0 | 0 | 0 | 28 |
| Durán | 10 | 0 | 0 | 0 | 9 | 19 |
| Funderburk | 0 | 0 | 0 | 16 | 0 | 16 |
| Floro | 0 | 13 | 0 | 0 | 0 | 13 |