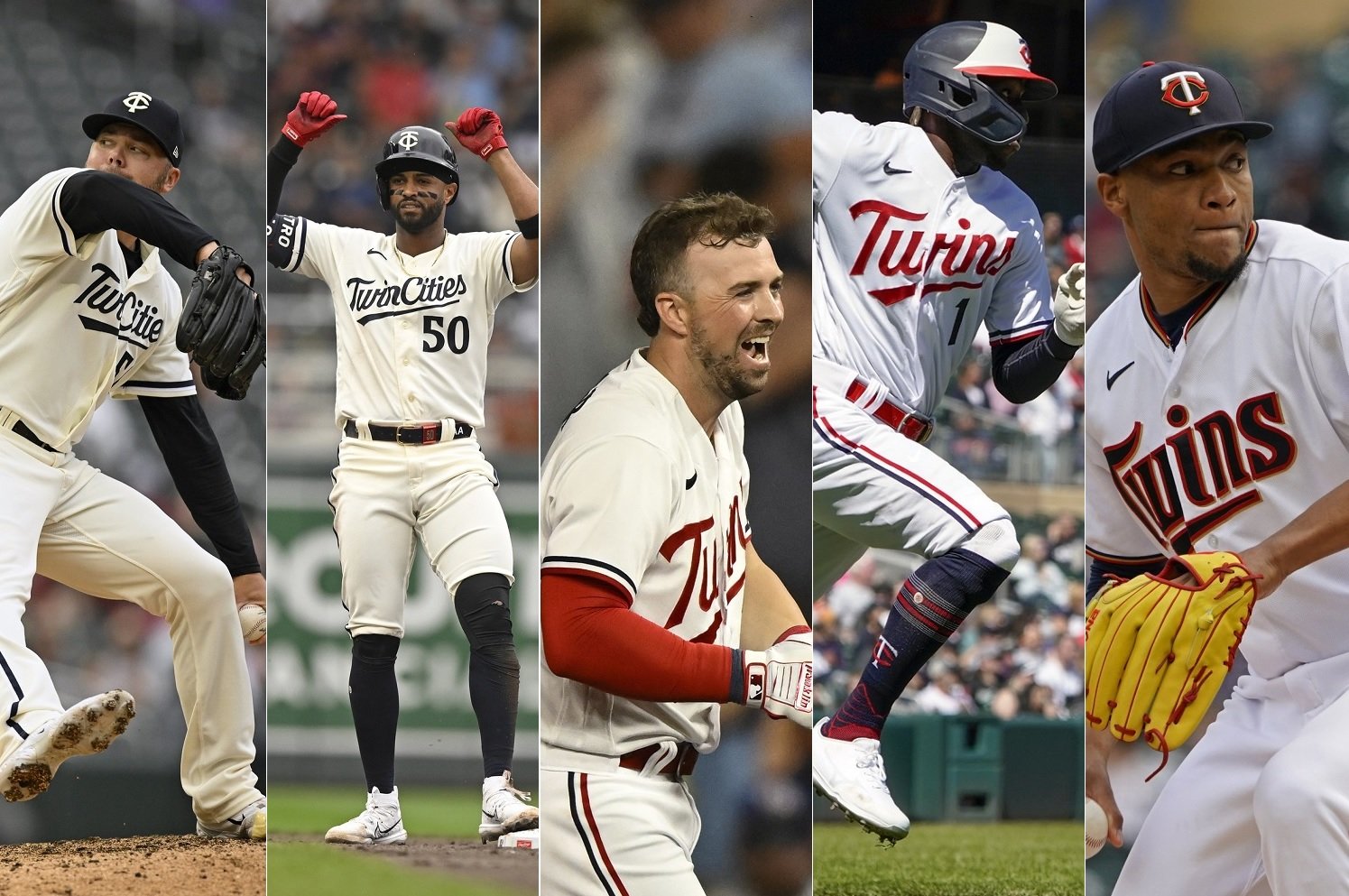 Image courtesy of Nick Wosika-USA TODAY Sports
Article Update (7:40 pm): On Friday night, the Twins announced that they have tendered 2024 contracts to all seven arbitration-eligible players. It was also announced the Jovani Moran is expected to be having Tommy John surgery in the near future and miss the 2024 season. The Twins are trying to get him to sign a two-year minor league deal. In addition, the Twins did not tender a 2024 contract to RHP Ronny Henriquez.
With Moran and Henriquez coming off of the 40-man roster, the roster is now at 36 players. There are 17 pitchers, three catchers, eight infielders and eight outfielders. 
-----------------------------------------------------------------------------------------------------
When the offseason began, the Minnesota Twins had nine players on their roster that were arbitration-eligible. Since then, the Twins made quick decisions on two of them. Soon after their playoff run concluded, Jordan Luplow and Jose De Leon were designated for assignment and became free agents. 
That leaves seven players that the Twins still need to make decisions about their 2024 status. Below, I will run through these seven players and make some notes on each. Several of them may involve answering some difficult questions. A few are pretty easy decisions. 
Please feel free to ask questions and discuss these decisions in the Forum below. Also, generally-speaking not many pre-arbitration players are non-tendered, but it has happened. We aren't going to try to project which, if any, of those players will be non-tendered on Friday. 
(Players sorted by MLB Trade Rumors Projections) 
2B/OF Nick Gordon
Service Time: 2.136 (two years, 136 days, Super 2)
Arbitration Year: 1 of 4
Age in 2024: 28 
MLB Trade Rumors Projected 2024 Salary: $1.0 million 
Deadline Decision: Tendered

2023 Season: If this decision had to be made after Gordon's 2022 breakout season, it would have been simple. However, Gordon's 2023 season started out very slow, but just when he started playing well, he broke his leg and was out the remainder of the season. However, he was an impressive teammate and cheerleader for the team in October! 

Potential 2024 Role: Gordon can play second base and performed well in left field and centerfield over the previous year. In a pinch, he can play shortstop and third base as well. He could be the left-handed side of platoons or a more traditional utility player, capable of playing at least five positions if needed. With the emergence of Edouard Julien, Matt Wallner and Royce Lewis, and the likes of Austin Martin and Brooks Lee potentially ready in the near future, playing time may be more and more limited. 

Biggest Question Marks: Gordon has had several injuries in his career. And while his 2022 season was just as good as Willi Castro's 2023 season, Castro is the better defensive player at each spot on the field. Gordon is also out of options, so he couldn't be sent to the minor leagues by the Twins without going through waivers. 

Prediction: The dollars are low and Gordon should have value to teams, including the Twins. I would predict that he will be tendered a 2024 contract, although I would think that the Twins front office might be looking to trade him to a team looking for a solid utility option. A trade could happen before Friday's deadline, or anytime after Friday (assuming he is tendered).  
RHP Jorge Alcala
Service Time: 4.014 (four years, 14 days)
Arbitration Year: 2 of 3
Age in 2024: 28 
MLB Trade Rumors Projected 2024 Salary: $1.0 million 
Deadline Decision: Tendered

2023 Season: After pitching just twice in 2022, Alcala made the 2023 opening day roster. However, after 10 games and 15 innings, he went on the Injured List in mid-May and didn't return until the final game of the season. However, in that game, he was displaying a fastball between 97 and 99 and a sharp slider. 

Potential 2024 Role: The "potential" for Alcala has been the same each of the past five offseasons. When healthy, he has a big fastball and quality secondaries that are inconsistent but have big… potential. He has the potential and talent to be the top set up man, joining Griffin Jax and Brock Stewart in getting the ball to Jhoan Duran. I'd like to see what he can do in a fully healthy season. 

Biggest Question Mark: Health. That's it. Yeah, he can work on pitches too and become more consistent, but the only way to do that is to stay healthy and get the innings.  

Prediction: This should be a very easy decision. The Twins should absolutely tender him a contract. If it's $1 million, that's fine. A year ago, he avoided arbitration by agreeing to a one-year, $790,000 deal, just $70K over league minimum. With his limited pitching the last couple of seasons, I would think he would happily sign a one-year, $900,000 deal, or something in that range. Sure, the team can still look to trade him if someone sends a quality prospect. However, Alcala hasn't been optioned in the past, so he's got three years worth of options remaining which might allow him to work on things and get innings if he's not with the Twins. 
1B Alex Kirilloff
Service Time: 2.141 (two years, 141 days, Super 2)
Arbitration Year: 1 of 4
Age in 2024: 26 
MLB Trade Rumors Projected 2024 Salary: $1.7 million
Deadline Decision: Tendered 

2023 Season: Because of ongoing wrist pain, Kirilloff's 2022 season ended after just 45 games. He had a surgery which involved shaving bones in his wrist to help alleviate the pain. The Twins brought him back slowly early in the 2023 season. He missed some time, but generally speaking, his wrist was not an issue. He played in 88 games and posted a .793 OPS with 14 doubles and 11 homers. He struggled in the playoffs and was removed from the roster in the ALDS series against the Astros due to a shoulder injury. He had surgery shortly after the Twins playoff run came to an end.  

Potential 2024 Role: When healthy, Kirilloff will be the primary first baseman. While his surgery turned out to be much more minor than feared, he could still miss some time early in the season. When he's healthy, he is potentially an All Star bat. Can he still reach that level? 

Biggest Question Mark: That is the question. He will get healthy in time, though that has certainly become his biggest issue so far. He was pretty strictly platooned in 2023 due to some horrific numbers versus southpaws. Can he put up decent-enough numbers against same-siders to be an everyday player? 

Prediction: Easy decision. He will be tendered a contract. Can they negotiate a deal with him and his agent (Boras) to sign a deal for below the projection? Maybe. 
C Ryan Jeffers
Service Time: 3.089 (three years, 89 days)
Arbitration Year: 1 of 3
Age in 2024: 27
MLB Trade Rumors Projected 2024 Salary: $2.3 million 
Deadline Decision: Tendered  

2023 Season: After hitting a combined .203/.277/.384 (.661) in 152 games between 2021 and 2022, the Twins brought in veteran backstop Christian Vazquez on a three-year deal. Early in the season, Vazquez was playing approximately two out of three games. However, Jeffers started playing much better behind the plate and at the plate. In 96 games, he hit .276/.369/.490 (.858) with 15 doubles and 14 home runs. His OPS+ was 134! The Twins played six playoff games in 2023. Jeffers caught all six of them.    

Potential 2024 Role: Aside from "normal" catcher bumps, bruises and pain, Vazquez and Jeffers remained healthy throughout the 2023 season. The two should continue to split time, with Jeffers getting the start in two out of three games. If he's hitting like he did in 2023, he could get more DH opportunities too. 

Biggest Question Mark: He's a catcher. That alone comes with inherent risks of injury. That shouldn't be a consideration in this discussion. So the big question for Jeffers in 2024 will be if he can replicate his 2023 success as opposed to revert to his 2021 and 2022 levels. 

Prediction: Another easy decision. In fact, these two sides should spend time this offseason working on a four or five year deal to keep him in a Twins uniform for a long time. 
LHP Caleb Thielbar
Service Time: 5.131 (five years, 131 days)
Arbitration Year: 3 of 3
Age in 2024: 37 
MLB Trade Rumors Projected 2024 Salary: $3.0 million
Deadline Decision: Tendered 

2023 Season: Since returning to the Twins before the 2020 season, Thielbar has been remarkably consistent, and remarkably effective as a setup man for the Twins. 2023 was the first time in his career that he missed significant time due to injury. He strained his oblique, probably came back too quickly, strained it again and then took longer to return the second time. So, he only pitched in 36 games, but in his 30 2/3 innings, he had 36 strikeouts and just six walks. For the first time since his 2013 rookie season, he had a WHIP of under 1.00. 

Potential 2024 Role: More of the same from Thielbar. Yes, he will be 37, but he hasn't lost velocity, and his curveball continues to be a great pitch. He should continue to get crucial spots anywhere from the sixth through ninth innings. He can also continue to be a mentor in the bullpen.  

Biggest Question Mark: Can he stay healthy throughout most of the season? And obviously can he remain effective for another year? And on some level, how much longer does he want to continue pitching? 

Prediction: Sure, there are questions, but this is another easy decision for the Twins' brass. Thielbar will be tendered a contract for 2024. And I would like to see the two sides come together and discuss a longer-term deal. Maybe it's a series of options. $3 million for 2024, then an option for 2025 at $3 million that vests with 50 innings. If he is between 40 and 49 2/3 innings in 2024, the option vests at $2.5 million. If he's under 40 innings, there could be a club option at $2 million but if they decline it, there could be a player option at $1.5 million. And, of course, Thielbar would have the right to retire at any point. The lawyers could get involved to creatively work through a one-year deal with a couple of options that would keep Thielbar pitching for his hometown team until he retires. 
UT Willi Castro
Service Time: 4.017 (4 years, 17 days)
Arbitration Year: 1 of 2
Age in 2024: 27 
MLB Trade Rumors Projected 2024 Salary: $3.2 million
Deadline Decision: Tendered  

2023 Season: Following the 2022 season, Castro had accumulated just over three years of service time with the Tigers. He was projected to make $1.7 million in his first year of arbitration, so Detroit non-tendered him. The Twins pursued him aggressively and he quickly signed a minor-league deal with the Twins in which he would make $1.8 million if he was with the Twins all season. Because of injuries and more, Castro made the Twins Opening Day roster, and after not playing for the first several games, he found a way to spend the entire season as a very valuable role player with the Twins. He was fantastic defensively at three infield positions. He did a nice job filling in left and center field as well. In his parts of four seasons with the Tigers, he accumulated 0.4 bWAR. In 124 games with the Twins in 2023, Castro ranked third among Twins hitters with 2.6 bWAR. He played strong defense. He hit .257/.339/.411 (.750) with 32 extra base hits. He stole 33 bases in 38 attempts, an element the Twins haven't had for a long time. 

Potential 2024 Role: His role in 2024 should be very similar to what it was in 2023. He can play three to five times per week all over the diamond. The fact that he is a switch hitter allows him to give guys off at different spots regardless of that day's starting pitcher.  

Biggest Question Mark: He was well worth the $1.8 million in 2023, and we can all picture him continuing to be valuable, but his 2023 production was significantly better than it had been the two previous seasons when he played over 110 games. Won't the real Willi Castro please stand up? And, how does the front office see the combination of Castro and Gordon in the organization? Can they both be on the roster and provide value? Castro is a year younger. 

Prediction: This is really the first one where I've had to think about how much I buy into Willi Castro's 2023 season. That said, I think the Twins will tender him a contract, try to come up with a little lower than projected number, and use his switch-hitting and defensive versatility in 2024.
IF Kyle Farmer
Service Time: 5.129 (five years, 129 days)
Arbitration Year: 3 or 3
Age in 2024: 33 
MLB Trade Rumors Projected 2024 Salary: $6.6 million
Deadline Decision: Tendered  

2023 Season: Farmer came to the Twins after the 2022 season from the Cincinnati Reds in exchange for RH RP Casey Legumina. At the time, he was technically the Twins starting shortstop. As you all know, after a long and winding road, Carlos Correa came back to the Twins which meant it was back to the bench for Farmer. That said, Rocco Baldelli kept his bench active all season. Farmer got extended time at second base early in the season when Jorge Polanco was out. He got quite a bit of time at third base in between the Jose Miranda demotion and the return of Royce Lewis. And late in the year, he played shortstop most every day when Correa was resting his plantar fasciitis. In between, he was a platoon player, often splitting time with, and mentoring, Edouard Julien at second base. Solid defense around the infield. Fantastic leader and teammate. Generally mashes left-handed pitching. Took a fastball to the mouth and went through multiple surgeries.  

Potential 2024 Role: It would be the same general role for Farmer in 2024. Depending on how the right side of the infield shakes out this offseason, he could platoon at first and/or second base. He can pinch hit, DH, and even be that emergency catcher. Depending on health, it is likely his playing time would decrease. 

Biggest Question Mark: Payroll. Just what will the Twins payroll be in 2024. We know it's going to drop, so can the Twins afford to pay a utility player over $6 million? Unfortunately that is the reality because my sense is that everyone associated with the Twins would love to bring Farmer back. 

Prediction: This is by far the most difficult decision for the Twins front office. As noted, if payroll remained the same, he would very likely be tendered, but with payroll down, we can't assume that. We know his value to a big-league roster. You would hate to non-tender him and lose him for nothing. So, I don't think they'll do that. I do think that they will try hard to trade him for something over the next 24-36 hours, but if they can't before Friday's deadline, I would guess that they will tender him a contract and continue to try to deal him throughout the offseason. 
There are quick glimpses at the seven remaining arbitration-eligible cases that the Twins front office have to make decisions on before Friday evening. Will they tender all seven? How many do you think they will, or they should tender? Could they be looking to make a trade or two, either of these players or of some pre-arbitration players to make additional room on the roster? How many of these players should be considered for multi-year contract extensions? Feel free to discuss below. And again, check back over the next couple of days to find out what the Twins decided to do.