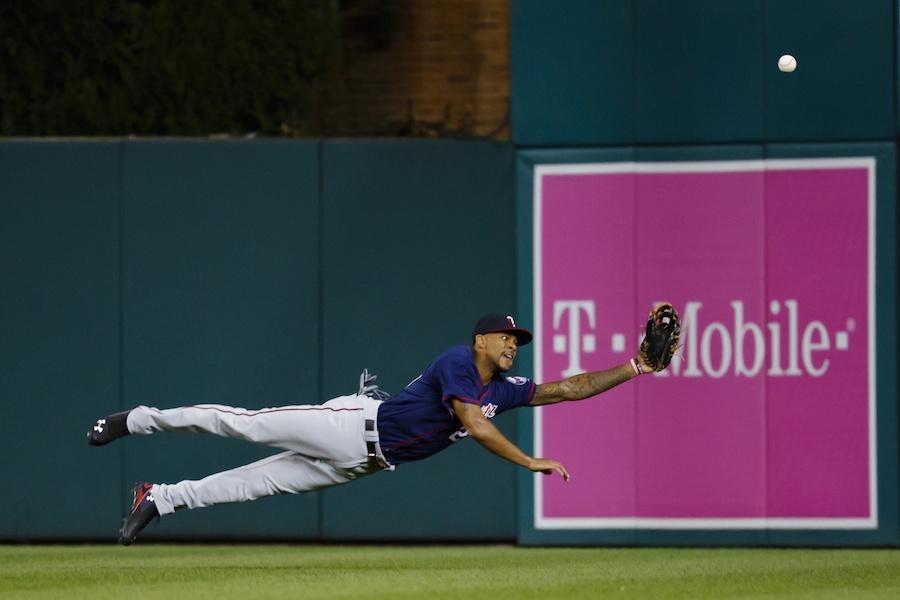 Image courtesy of Rick Osentoski, USA Today
The CBO and skipper exhaled as the young outfielder sprung up and lobbed the ball back into the infield, but it was a play that highlights both Buxton's dynamic capabilities and his nerve-racking tendency to put his body in harm's way.
Buxton has no plans to change. His credo is akin Popeye's: I yam what I yam.
Unlike the cartoon sailor man, though, Buxton can't gain invincibility by chugging down a can of spinach. We've seen this reality play out more than once.
Buxton is a rare breed. That statement obviously applies to his freakish athleticism and uncommon aptitude for the game, but also to his demeanor. In the clubhouse, the outfielder can usually be found sitting quietly at his locker, occupying himself but remaining approachable. He speaks softly and politely, frequently deflecting praise onto others.
Most strikingly, the prep superstar who went on to become a No. 2 overall draft pick before developing into the consensus top prospect in the game and centerpiece for a franchise, exhibits almost no trace of an ego. Maybe it's because he's still young, or because he hasn't yet turned the corner in the majors. But this genuinely seems to be his nature.
That reserved disposition certainly doesn't manifest on the baseball field. Buxton is a ferocious force in all aspects: barreling around the base paths, careening through the expanses of center field, swinging the bat like he's trying to fell a tree with one hack.
Asked about his approach this spring, Buxton said he's keeping it simple, which proved effective for him last year when he came back in September from a second minor league demotion and blasted nine home runs.
"I can't worry about where my foot's landing, where my hands are. I just go up there and see the ball, hit the ball. As long as I'm comfortable, that's all that matters to me. And that's what I'm gonna stick with."
"Just coming up there and being aggressive," he added, "ready to attack the baseball."
Two days after I chatted him with him at his locker, Buxton led off a game against Baltimore by turning on a 93 MPH heater from Dylan Bundy and crushing it far over the wall in left-center. He later added a double.
Afterwards, bench coach Joe Vavra used a familiar word to describe what he was observing: "He continues to be in attack mode."
Yes, the unassuming kid from Georgia, whose tentativeness at the plate was a constant frustration while he struck out at a ludicrous 35 percent rate in his first two MLB seasons, is on the attack. That's true both at the plate and in the field.
But of course, going on attack tends to mean leaving oneself vulnerable. The Twins are rightfully doing nothing to discourage Buxton's all-out mentality – "It's hard to take away a guy's aggressiveness, and I don't think you ever want to," said Falvey – but the new regime is certainly aware of Buxton's history.
In June of 2015, a 21-year-old Buxton became the third-youngest player to ever debut in a Twins uniform. This was made all the more impressive by the fact that nearly his entire 2014 campaign had been wiped out by injuries.
A trying season opened with a left wrist sprain suffered on a diving attempt in the outfield during spring training. He missed the first month, and then in his fifth game back, reaggravated the injury diving into third base. That cost him another two months.
He returned to the field in July, received a promotion to Double-A after 30 games, and then in his first game with New Britain he collided violently with fellow outfielder Mike Kvasnicka at full speed, an extremely frightening incident that left the top prospect unconscious on the field for 10 minutes before he was carted out in an ambulance.
Buxton was fortunate to come away with only a concussion, but his season was over. He did make it back for the Arizona Fall League, which was once again cut short, this time by a dislocated finger suffered while – you guessed it – diving for a ball in the outfield.
The next summer, in his 10th game with Minnesota following a big-league promotion, Buxton sprained his thumb while sliding on a stolen base attempt. Undoubtedly frustrated after all he'd been through, he tried to push through, but struck out four times against Chris Sale the next afternoon and was placed on the disabled list. He wound up sidelined for another two months.
All of this missed time during the crux of his development is probably an underrated contributor to the young outfielder's troubles finding his way at the plate. But now, he has finally been able to put together a sustained run of health. He played 141 total games last year and has reported no issues this spring.
Still, the threat lurks, leading to justifiable anxiety amongst the team's brass each time he goes into the wall. But it's who he is.
"I can't really be worrying about getting hurt out here," Buxton said. "I'm focused on being myself between those lines instead of trying to be somebody I'm not."
The Twins aren't asking him to be anyone else. But they are cognizant of the inherent risks presented by his style of play, and so it's important to have contingencies in place in case of emergency.
A desire to build quality depth behind Buxton may have played into the team's decision to sign Drew Stubbs to a minor-league contract during the offseason.
Different people pointed to different attributes when discussing what the veteran outfielder brings to the table. Falvey, whose Indians rostered Stubbs in 2013, pointed to character and clubhouse impact. Molitor was interested in the potential for his right-handed bat on the bench with lefty swingers starting in both corner spots.
But the 32-year-old recognizes a big part of his own appeal.
"I'm a natural center fielder," Stubbs said, "and those are kind of hard to come by when you're looking for a guy who can fill in."
Of course, Eddie Rosario and Max Kepler can fill the spot in a pinch, but shouldn't be there for prolonged periods. Danny Santana was the primary backup last year but may not make the roster as his mistakes continue to pile up.
Zack Granite is in big-league camp for the first time this year and has certainly been drawing some attention, including from the manager. On Saturday, Granite made a play in the center that was positively Buxton-esque, sprinting about 100 feet to the warning track in right-center to snag a ball that looked uncatchable coming off the bat.
"He went a long way for that ball," Molitor said after the game with a hint of wonderment.
Granite was the organization's Minor League Player of the Year in 2016 and clearly the team likes him. Eventually he could be an almost ideal backup for Buxton. But for now, the 24-year-old hasn't played above Double-A and needs everyday at-bats, so he'll get more time in the minors.
In the present, Stubbs looks to be the front-runner to join Robbie Grossman in the outfield reserves and to serve as a backup if things should go amiss with Buxton.
Of course, we're all hoping that the Buck never stops. But if they can install solid depth behind him, the Twins can breathe a little easier while Buxton stays in attack mode.