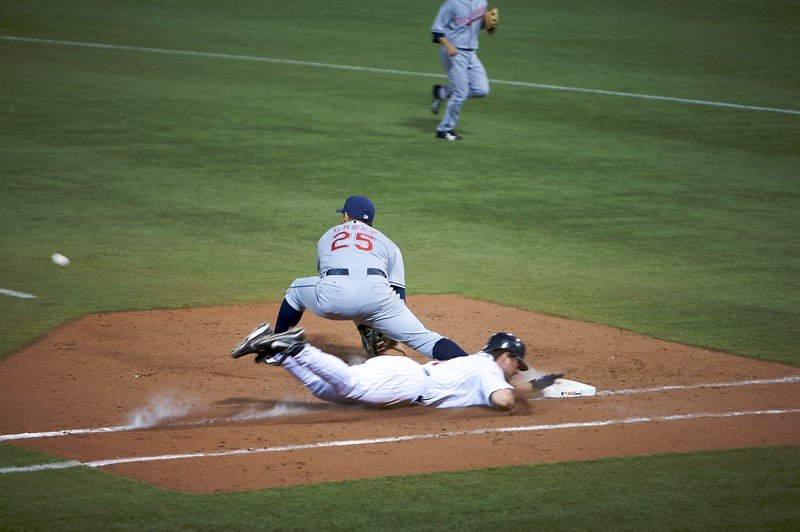 Image courtesy of Flickr/Alan Tarkus
I'm going to say it: the Twins are going to win the AL Central and make the playoffs this year. This is great!
Unfortunately, once they clinch, the conversation will immediately turn to Minnesota's incredible playoff drought. This isn't great!
That said, some of you may wonder what the world was like on October 5th, 2004, when Johan Santana went to Yankee Stadium, scattered nine hits over seven innings, and defeated New York 2-0.
As an Old, let me tell you what it was like.
The upcoming home games in the playoff series would be played in the Metrodome, a beautiful, multipurpose dump that stood where US Bank Stadium is today. It kind of sucked, and I miss it every day.
Target Field was still a parking lot. The North Loop still had cheap rent.
There weren't any iPhones yet. They were three years away. You texted your friend about what kind of jail Phil Cuzzi should be in after Game 2 on a Blackberry like everyone else did.
You texted this because Twitter wasn't a thing yet and Facebook was just getting started on college campuses. Maybe you poked somebody else at Stanford about Jacque Jones, but I really doubt it. Why would you do that.
To read a thorough recap of the game, you could wander over to aarongleeman.com. This was the week the Strib featured AG and Twins Daily co-founder John Bonnes in one of those clickbait photos that the media relied on in 2004. Gleeman picked the Twins to beat the aging Yankees in five games. It seemed like a good idea at the time.
By the way: You might think all the players in Game 1 would have retired by now. WRONG. Lew Ford just wrapped up another season with the Long Island Ducks.
If you were going to quote Netflix-and-chill unquote between games 2 & 3, you would have to play the long game of renting a physical DVD and getting it from the US mail 2-3 days later. They wouldn't introduce streaming until 2007. The DVD was probably an American Pie sequel or Lord of the Rings.
The Minnesota Vikings were on a bye week after starting the 2004 season 2-1. They would go on to a disappointing 8-8 regular season, back their way into the playoffs, and thrash Green Bay at Lambeau Field as Randy Moss mortified Joe Buck with the "disgusting act" of…wiggling his butt.
ALSO: Daunte Culpepper is undefeated at Lambeau Field in the playoffs. Compare his perfect 1.000 winning percentage to Aaron Rodgers' .636. Love you, Daunte.
ALSO ALSO: The Vikings Love Boat scandal would occur exactly one year and one day after the last Twins playoff victory.
The number one movie in the country was Shark Tale, an animated comedy featuring the voices of Will Smith, Robert De Niro, Angelina Jolie, Jack Black, and many, many others. My kids had this DVD. I remember less than nothing about this film.
The number one song in the country was "Goodies," by Ciara ft. Petey Pablo. Ciara is now married to veteran Denver Broncos quarterback Russell Wilson.
ALSO: Russell Wilson was a high school sophomore the last time the Twins won a playoff game.
The game was played the same day as the only Vice Presidential Debate of 2004. The less said about both participants the better.
Also that day, three Americans won the Nobel Prize in physics for discovering asymptotic freedom in the theory of the strong interaction. In layman's terms, this is why Byron Buxton can't stay healthy.
ALSO: Byron Buxton was 10 years old when this game was played. Twins analyst Glen Perkins was a junior at the U. Walker Jenkins wasn't born yet.
ER was still airing new episodes. ER! The first episode of ER aired in 1994. Scott Erickson threw a no-hitter that year against a Brewers lineup that contained Brian Harper.
The big musical act at the recently completed Minnesota State Fair was…Clay Aiken, I guess? American Idol was still a huge deal. People would get real upset if, like, Bo Bice didn't advance to the next week. So don't ever let anyone tell you these were the good old days.
I was 33 then. My grandparents were still alive. My youngest child was 10 months old.
I'm 52 now. My grandparents are long dead. My youngest child is a college sophomore.
All things being equal, I'd like to see a win. And don't put the highlights on a DVD, I don't have anything to play it with.
Image license for incredible photo of Nick Punto diving into first base at the Metrodome like an idiot.