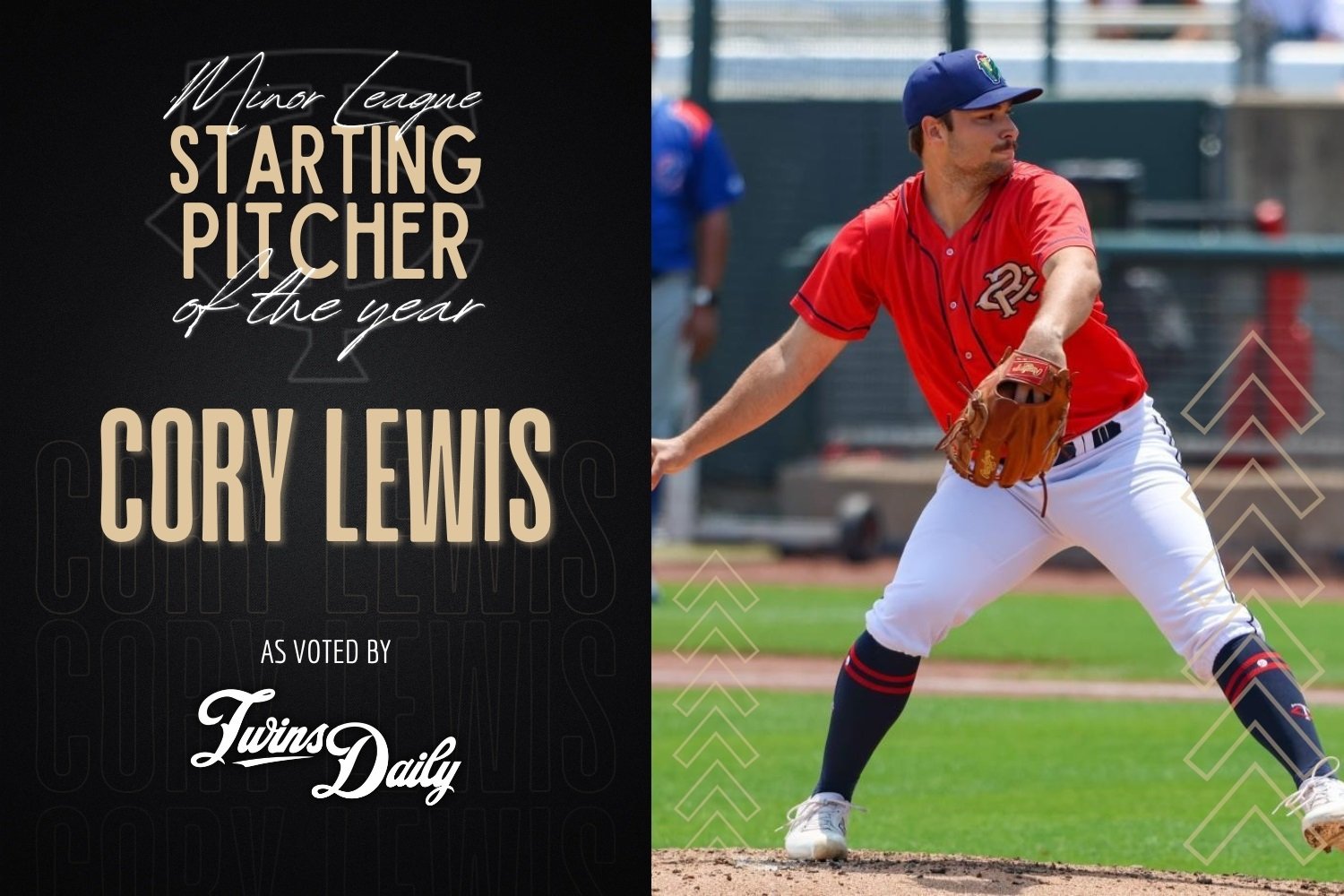 If we have learned anything over the past couple of years, it's that when the Twins draft a college pitcher on the third day of the draft, don't just assume they will be an organizational filler. Who knows? That Day 3 draft pick may become an organizational thriller (like Louie Varland, Bailey Ober). A look through the top starting pitchers in the Twins minor leaguers, we see more examples of this. Pitchers drafted out of college on Day 2 or 3 fill up much of this list. 
The Twins 2022 college draft picks helped lead the Cedar Rapids Kernels to the Midwest League championship this year. It's fun to see these pitchers enter the organization with one scouting report, and one or two years later, they have added four to six mph of velocity and a second and/or third pitch that are now at least an average pitch. 
Before getting into the top four starters, here are some others who received votes. .
Others Receiving Votes
Others Receiving Votes
Blayne Enlow, Ben Ethridge, Ronny Henriquez, Simeon Woods Richardson
Twins Minor League Starting Pitcher of the Year
Here are the top four vote-getters for Twins Starting Pitcher of the Year.
4. RHP David Festa, 23, Wichita/St. Paul
24 G, 22 GS, 92.1 IP, 86 H, 42 BB, 119 K, 4.19 ERA, 1.39 WHIP, 4.1 BB/9, 11.6 K/9.
Festa was the Twins 13th round pick in 2021 out of Seton Hall. He had a tremendous first full season in pro ball in 2022. After five starts (with a 1.50 ERA) in Fort Myers, he moved up to Cedar Rapids and went 7-3 with a 2.71 ERA. In 103 2/3 innings, he had 108 strikeouts with 34 walks. As important as the numbers, Festa had developed some really awe-inspiring "stuff," including a fastball in the upper 90s. 
The 23-year-old began this season in Wichita and pitched in 21 games (19 starts). He went 3-3 with a 4.39 ERA, and in 80 innings, he struck out 104 batters. He also walked 34 batters. In July, he pitched an inning in the Futures Game. He ended his season with three starts for the Saints. He was 1-1 with a 2.92 ERA. He had 15 strikeouts in 12 1/3 innings. He also walked nine batters. He will need to hone in on his control, but David Festa should spend the 2024 season at St. Paul, eagerly awaiting an opportunity. He should continue to start, but like Louie Varland this year, Festa has the arm to finish the season as a dominant, late-inning reliever if needed. 
3. RHP Zebby Matthews, 23, Fort Myers/Cedar Rapids
22 G, 20 GS, 105.1 IP, 96 H, 15 BB, 112 K, 3.84 ERA, 1.05 WHIP, 1.3 BB/9, 9.6 K/9.
A native of North Carolina, Zebby Matthews began his college career at Walters State. In 2020, he transferred to Western Carolina and went 3-1 before the season ended due to Covid. Over the next two seasons, he went 10-8 and posted sub-4.00 ERAs both years. In 157 innings, he had 182 strikeouts and just 28 walks. The Twins drafted him in the 8th round in 2022. He pitched in just two games. 
Matthews began the 2023 season at Fort Myers. However, after eight games (7 starts), he went 3-1 with a 2.56 ERA and was promoted to Cedar Rapids. He made 14 games (13 starts) for the Kernels. As he did in college, he continued to show great control. In 105 1/3 total innings, he has 112 strikeouts with just 15 walks. Matthews has a fastball that reaches 94-95 mph. He has also developed a sweeper and cutter, making them effective secondary pitches. The combination of three potentially average-or-better pitches and his ability to throw strikes and command the zone makes him very intriguing. 
2. RHP Pierson Ohl, 24, Cedar Rapids/Wichita
24 G, 21 GS, 127.1 IP, 117 H, 18 BB, 115 K, 3.32 ERA, 1.06 WHIP, 1.1 BB/9, 9.1 K/9
A southern California native, Ohl headed east, to Phoenix and Grand Canyon University for his college years. As a freshman, he posted a 3.45 ERA in 16 starts. He had a 2.89 ERA through his four pre-Covid starts in 2020. Then in 2021, he went 10-2 with a 2.60 ERA. Over those final two college seasons, he struck out 120 batters and walked just 13. Based on those numbers, the Twins had to be thrilled to draft him in the 14th round in 2021. He spent the entire 2022 season at Fort Myers and went 6-7 with a 3.53 ERA. In 91 2/3 innings, he had 101 strikeouts and just 13 walks. 
Oh began the 2023 season in Cedar Rapids where he pitched in eight games (7 starts). He started the season with five really good starts and had just two walks and 26 strikeouts in 26 innings. But then, over the next three starts, he gave up 15 runs (13 earned) in 14 1/3 innings, which made it very interesting that he was promoted to Double-A. He gave up nine runs in 10 2/3 innings in his first two Wichita starts. However, over his final 14 starts, he went 7-2 with a 2.00 ERA. In 76 1/3 innings, he struck out 65 and walked just 13. Opponents hit just .197 against him. While working as a starter, he touched 97 on the radar gun, well above the high-80s, low-90s he threw when drafted. He also has a good curveball and a change-up that can be very good most days. 
1. RHP Cory Lewis, 22, Fort Myers/Cedar Rapids
22 GS, 101.1 IP, 74 H, 33 BB, 118 K, 2.49 ERA, 1.06 WHIP, 2.9 BB/9, 10.5 K/9
I'm sure you won't be surprised to learn that Cory Lewis was a star on his Marina High School baseball team. He was a four-year letter winner. He was the league's freshman of the year. He was named the league's top pitcher as a sophomore. He was also All-League as a first baseman. He was the league's MVP his senior season. 
After high school, he went to UC-Santa Barbara. He was set to redshirt his first year, which worked out fine since it was the Covid season. In 2021, he pitched in 15 games and made 10 starts. He was 7-4 with a 3.38 ERA and a 1.08 WHIP. In 80 innings, he had 86 strikeouts to go with 31 walks. In 2022, he made 16 starts and went 9-1 with a 3.57 ERA. In 88 1/3 innings, he had 107 strikeouts and 42 walks. 
As a redshirt sophomore, Lewis was the Twins ninth-round pick in 2022. He didn't pitch at all in the Twins organization. 
So he made his professional debut in 2023, and it went well. He began the season with nine starts in Fort Myers. He went 4-3 with a 2.75 ERA and a 1.04 WHIP. In 39 2/3 innings, he struck out 55 batters and issued 15 walks. In mid-May, he threw the first 5 2/3 innings of a combined no-hitter for the Mussels. He was promoted to Cedar Rapids where he made 13 starts. He was 5-1 with a 2.32 ERA. In 62 innings, he had 63 strikeouts and 18 walks. And all that work led him and the Kernels to their Midwest League championship.  
Twins Director of Player Development Drew MacPhail began by simply saying, "Big Game Cory!" He continued, "Not only did Cory Lewis dominate across two levels this year. He also pitched in two, winner-take-all playoff series at Cedar Rapids (including a championship rubber match) and dominated both outings! Not only does Cory have outlier fastball pitch qualities and traditional secondary offerings, but he pairs that with an 84 mph knuckleball that got outlier miss across Low A and A+ this year."
You've been reading about Lewis throughout the season here at Twins Daily, so you knew he threw a knuckleball. However, he is not a knuckleball pitcher, per se. He doesn't just throw a 60 mph knuckleball every pitch. No, with Lewis, the knuckleball is just one of his quality pitches. He threw it about 10% of the time in 2023, and as Mr. MacPhail noted, he throws it hard, generally between 82 and 85 mph. That is very unusual. And those pitches are typically seen heading toward the plate at less than 200 RPMs. 
Lewis has a fastball in the 91-93 mph range, but he can throw it very well up in the zone. He also has a solid changeup, curveball and slider. It will be interesting to see how his pitch repertoire changes as he continues to move up the organizational ladder. 
Congratulations to Cory Lewis on winning the Twins Daily Starting Pitcher of the Year award for 2023. He's obviously joining an impressive group of previous winners. And congratulations to all of the pitchers mentioned in today's articles on fantastic 2023 seasons! 
Join us in congratulating Lewis and the rest of these pitchers and discussing them and the Twins pitching pipeline in the comments below.
For more Twins Daily content on the pitchers mentioned in today's article, click on the links below: 
Cory Lewis, Pierson Ohl, Zebby Matthews, David Festa, CJ Culpepper, Andrew Morris, Marco Raya, Louie Varland, Blayne Enlow, Ben Ethridge, Ronny Henriquez, Simeon Woods Richardson. 
Previous Starting Pitcher of the Year Winners:
2022 winner - Louie Varland 
2021 winner - Louie Varland
2019 winner- Randy Dobnak
2018 winner - Tyler Wells
2017 winner - Stephen Gonsalves
2016 winner - Stephen Gonsalves
2015 winner - Jose Berrios
2014 winner - Jose Berrios
2013 winner - Taylor Rogers
2012 winner - BJ Hermsen