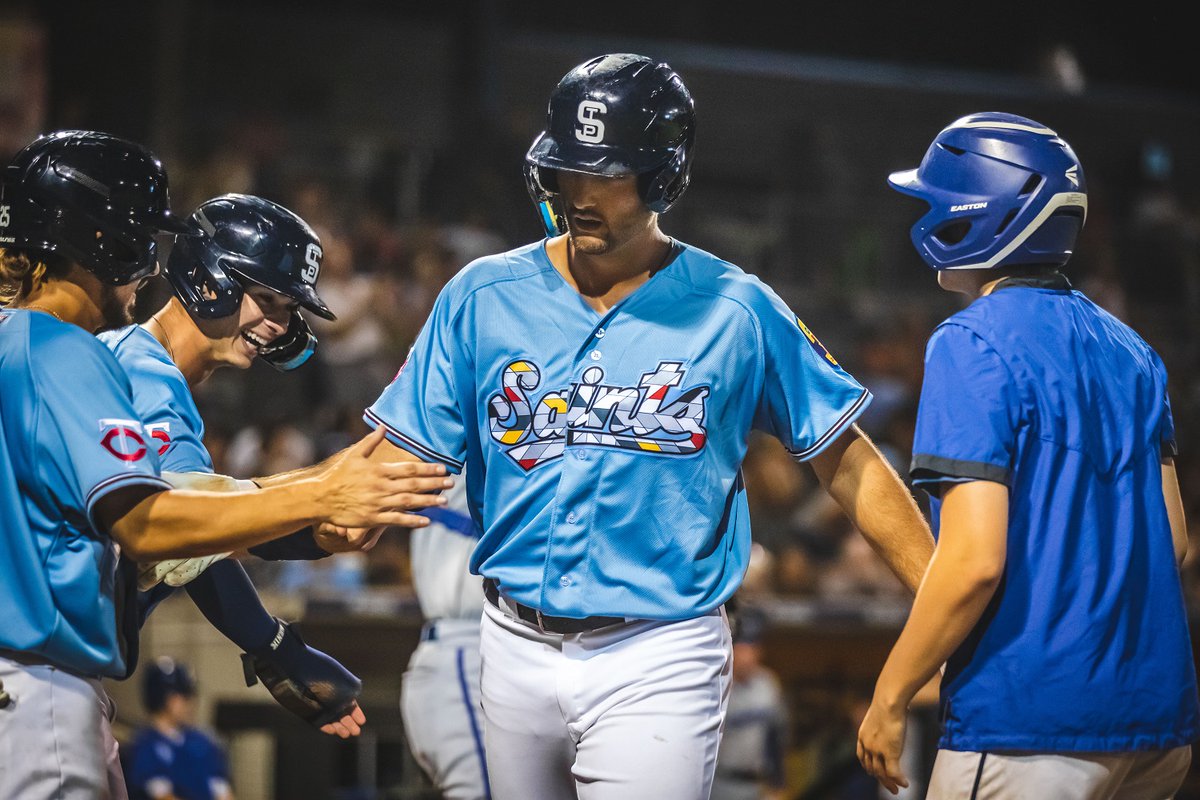 Image courtesy of Rob Thompson, St. Paul Saints
TRANSACTIONS
RHP Brad Peacock re-signed with Twins, assigned to St.Paul Saints
Twins selected the contract of OF Billy Hamilton
Fort Myers activated SS Daniel Ozoria 
RHP Bailey Ober began a rehab assignment for Fort Myers
Wichita released LHP Ryan Horstman
LHP Michael Boyle assigned to Wichita Wind Surge from Fort Myers Mighty Mussels.
SAINTS SENTINEL
Saints 18, Storm Chasers 6
Box Score
It seems as though Matt Wallner has figured it out. The Forest Lake native hit a majestic three-run homer (off a lefty) as part of a huge night. Wallner also doubled twice and tripled, continuing his torrid 10-game stretch and completing the cycle. 
Nash Knight and Jermaine Palacios each homered in the win. Wallner, Knight, Palacios, Chris Williams, and Cole Sturgeon all notched multi-hit games. It was an awesome night for the Saints' offense. 
Randy Dobnak walked four in 1 1/3 innings of relief but he allowed only one run. Dobnak's sinker was sitting at 93-94 and his command returned toward the end of the outing. Evan Sisk continued his dominant season with a strikeout in less than an inning of work. 
WIND SURGE WISDOM 
Wind Surge 12, Cardinals 8
Box Score
The Wind Surge scored early and often in a high-powered victory over the Springfield Cardinals. Aaron Sabato smashed a three-run homer in the top of the first, his fifth as a member of the Surge. Edouard Julien added his own three-run shot in the fifth, opening up an 8-1 lead. Yunior Severino got in on the power surge in the seventh with a solo blast. 
The Cardinals, led by top prospect Jordan Walker, came storming back but it wasn't enough. Sabato had a three-hit night, Austin Martin had a three-hit night, and Julien added to his ridiculous line with an outstanding evening. 
Will Holland and DaShawn Keirsey each had two hits with the Surge tallying 17 total. The Wind Surge are 69-53, the best record in the Texas League. 
KERNELS NUGGETS
Kernels 2, Dragons 6
Box Score
It was a rare tough night for David Festa and the Kernels. They couldn't get the offense going, scoring just two runs on a solo homer from Brooks Lee and an RBI groundout from Pat Winkel. Even with the four earned runs, Festa's ERA sits at a sterling 2.59. 
Lee's homer was his third as a Kernel. The first-round pick has adjusted wonderfully to pro-ball and continues to impress with his swing. Jake Rucker added two hits, bringing his season average up to .287. 
The Kernels are 69-54 after dropping their fifth straight game. 
MUSSEL MATTERS
Mussels 7, Marauders 8
Box Score
It was a crushing night for the Mussels. Leading 7-6 going in the bottom of the ninth, the Marauders hit a walk-off two-run homer to pull within a tie for first place in the FSL West. Ouch!
Bailey Ober made his first rehab start for the Mussels, pitching three innings and throwing 42 pitches. Ober walked none and struck out three while giving up one run on a solo homer. It was a solid return to the mound for the Twins' 2021 breakout rookie. 
The Mussels had a great offensive night despite the loss, scoring seven runs on nine hits and six walks. Noah Miller drew three more free passes and now boasts a .345 on-base percentage. Kala'i Rosario belted his 12th homer of the year while Noah Cardenas, Tanner Schobel, and Rubel Cespedes also notched multi-hit games. 
TWINS MINOR LEAGUE PLAYERS OF THE DAY
Hitter - Matt Wallner (5-for-6, 2 2B, 3B, HR, 6 RBI)
Pitcher - Hunter McMahon (2 IP, H, 0 R, 0 BB, 3 K)
PROSPECT SUMMARY
#2 Brooks Lee (Cedar Rapids) - 1-for-4, HR
#4 Austin Martin (Wichita) - 3-for-6, 2 R, RBI
#7 Noah Miller (Fort Myers) - 1-for-2, 3 BB, 4 R
#9 Matt Wallner (St.Paul)  - 5-for-6, 2 2B, 3B, HR, 6 RBI
#13 David Festa (Cedar Rapids) - 5 IP, 5 H, 4 R/ER, 2 BB, 4 K
#14 Edouard Julien (Wichita) - 3-for-4, HR, 3 RBI, 3 R
#16 Ronny Henriquez (St.Paul) - 4 IP, 7 H, 4 R/ER, 2 BB, 3 K
#18 Tanner Schobel (Fort Myers) - 2-for-4, R, RBI
#19 Alerick Soularie (Cedar Rapids) - 0-for-3, BB
#20 Kala'i Rosario (Fort Myers) - 2-for-4, HR
FRIDAY'S PROBABLE STARTERS
Saints - Simeon Woods Richardson
Surge - Aaron Rozek
Kernels - Travis Adams
Mussels - TBD
QUESTIONS OR COMMENTS? LEAVE THEM BELOW!