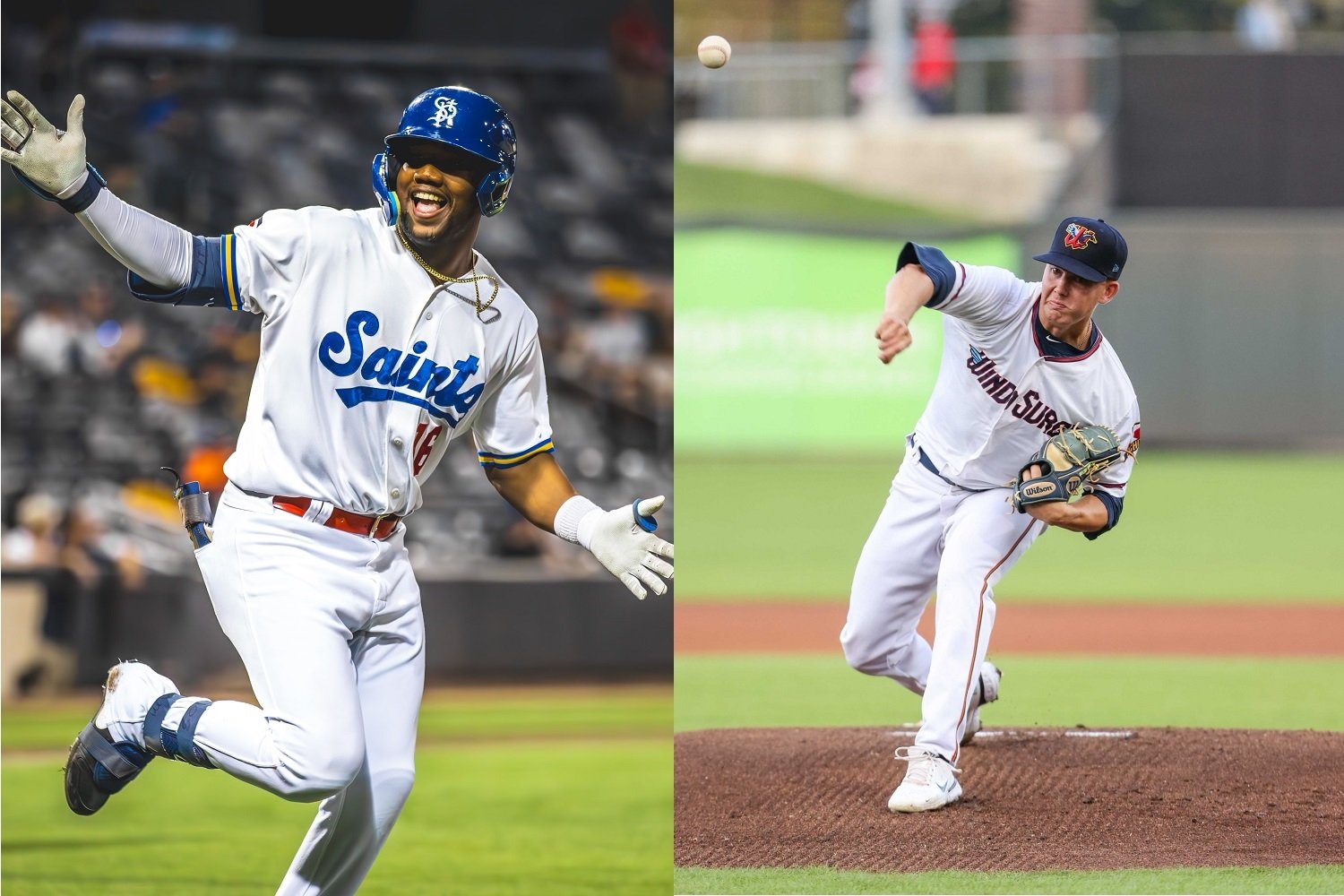 Image courtesy of Rob Thompson (photos of Yunior Severino), Ed Bailey (photo of Pierson Ohl)
Seemingly every day, Yunior Severino has continued to mash and hit home run after home run. Find out below how impressive his current streak is, and how unique his season has been in Twins minor-league history. And while it may not be as historically significant, you'll want to see the run that Wind Surge starter Pierson Ohl is on too. The Saints got a nice start from a prospect who appears to have turned around his season. The Wind Surge played another one-run game. And, it was a travel day for the Kernels as they head back home hoping to keep their season alive on Thursday night. All that and much more in Wednesday's Minor League Report. 
Here are the records of the Twins and their active affiliates through games on Wednesday.
Minnesota Twins: 76-70
St. Paul Saints: 80-59
Wichita Wind Surge: 62-71 
Cedar Rapids Kernels: 82-50 regular season (0-1 in playoffs) 
Let's get to the report. As always, please feel free to discuss and ask questions. 
TRANSACTIONS
Before the games on Sunday, the Twins activated Jorge Polanco from the Bereavement List. To make room, OF Gilberto Celestino was optioned having not played during his short stint with the big club. . 
SAINTS SENTINEL
St. Paul 2, Louisville 3 (10 innings)
Box Score
Simeon Woods Richardson started on Wednesday afternoon for the Saints in Des Moines. He gave up one run on three hits over five innings. He walked three and struck out five batters. His ERA this season is now down to 4.92. Now, that may not sound great, but when the calendar turned to July, he was 0-5 with an ERA of 7.47 over 11 starts and 47 innings. However, since then, He is 6-1 with an ERA of 2.95 over 12 games (10 starts) and 61 innings. It has been gradual, but it's great to see that improvement. 
Andrew Bechtold came on in relief for the sixth inning. He gave up three runs on three hits and a walk in 2/3 of an inning. However, both outs he recorded were on strikeouts. He has made 18 appearances out of the bullpen since trying to take up pitching on the fly. Blessed with a big arm that is capable of hitting the upper-90s with a fastball, it is worth a shot, and it will be interesting to see if he's shown enough potential to invest another season in that transition. Bechtold can be a free agent at season's end. If that happens, it will be interesting to see how he is utilized moving forward. So, it's important to take his numbers - which haven't been good - into proper perspective, understanding he hasn't pitched since high school (10 years ago) and he's doing it in Triple-A against a lot of veteran players. In 16 innings, he has an ERA of 11.81 and a WHIP at 2.63. He has 14 strikes, but 21 walks, in those 16 innings. But he is 2-1 if you're interested in Win-Loss record for relievers.
Michael Boyle came on and faced four batters. He got all four of them out, two on strikeouts. Jordan Balazovic gave up a hit and struck out one batter in a scoreless inning. 
The Saints took a 1-0 lead in the top of the first when Michael Helman scored on a Wild Pitch. 
The Saints took a 2-1 lead in the top of the fifth when Hernan Perez hit his 10th home run of the season. 
The Saints cut their deficit to 4-3 in the top of the seventh inning when Yunior Severino hit his 10th Saints homer and his 34th homer overall. He has homered in three straight games and in five of the past seven games. Only seven players in Twins minor-league history (62 seasons) have hit more home runs in a season than Severino. And he's got nine games remaining to move up the lists. 
WIND SURGE WISDOM
Wichita 1, Midland 2
Box Score
Pierson Ohl continues to roll. The right-hander from Grand Canyon tossed 5 1/3 innings of scoreless ball in this game. He gave up three hits, walked one and struck out five batters. He also hit two batters. Early in June, Ohl was promoted to Wichita. In his first three Double-A starts, he went 0-2 with an ERA of 6.61 and opponents hit .297 against him. Since then, he has gone 7-1 with a 1.78 ERA in 13 games (11 starts). His WHIP has been 0.89, and opponents have hit just .198 off of him. He's got 62 strikeouts and just 12 walks in 70 2/3 innings. 
Isaac Mattson got out of the sixth inning and then gave up a single run in the seventh inning on a solo homer. Sean Mooney came into a 1-1 tie in the top of the eighth inning. He recorded one out and gave up only an unearned run on two walks. Miguel Rodriguez came into the game with the bases loaded and one out. He got the final two outs of the eighth inning and allowed just one inherited runner to score. He then pitched a scoreless ninth inning. He had three strikeouts. 
The Surge did score the first run of the game in the second inning. Ben Ross drove in Alex Isola with a single. 
That was about it for the offense. They had just six hits, and Alex Isola went 3-for-4 in the game and is now hitting .280 on the season.  
KERNELS NUGGETS
Cedar Rapids vs. Peoria 
The Kernels have their backs to the wall in Round 1 of the Midwest League playoffs. Fortunately, the team will find their backs on the walls at their home stadium in Cedar Rapids. And, if they find a way to win Game 2, then Game 3 will be at home as well. 
They are sending righty Cory Lewis to the mound on Thursday night. He's arguably been the best pitcher in the Twins organization this season. 
TWINS DAILY MINOR LEAGUE PLAYERS OF THE DAY
Hitter of the Day – Yunior Severino (St. Paul) - 2-for-4, HR(10/34), R, RBI, K 
Pitcher of the Day – Pierson Ohl (Wichita) - 5.1 IP, 3 H, 0 ER, BB, 5 K, 83 pitches, 53 strikes (63.9%)
PROSPECT SUMMARY
Check out the Prospect Tracker for much more on the new Twins Top 20 prospects after seeing how they did on Wednesday. 

#1 - Brooks Lee (St. Paul) - 0-for-4
#7 - Austin Martin (St. Paul) - 0-for-3, BB, 2 K
#8 - Tanner Schobel (Wichita) - 0-for-4
#14 - Yunior Severino (St. Paul) - 2-for-4, HR(10/34), R, RBI, 1 K
#15 - Simeon Woods Richardson (St. Paul) - 5.0 IP, 3 H, 1 R, 3 BB, 5 K, 84 pitches, 53 strikes (63.1%)
#16 - Jordan Balazovic (St. Paul) - 1.0 IP, 1 H, 0 R, 0 BB, 1 K, 16 pitches, 11 strikes (68.8%)
THURSDAY'S SCHEDULE AND PITCHING PROBABLES
St. Paul @ Iowa (12:08 PM CST) - RHP Randy Dobnak (5-8, 5.10 ERA) 
Midland @ Wichita (7:05 PM CST) - RHP Travis Adams (4-10, 5.55 ERA)
Playoffs: Game 2: Peoria @ Cedar Rapids (6:35 PM CST) - Cory Lewis (9-4, 2.49 ERA) 
Please feel free to ask questions and discuss Wednesday's games or any other Twins minor league topics!