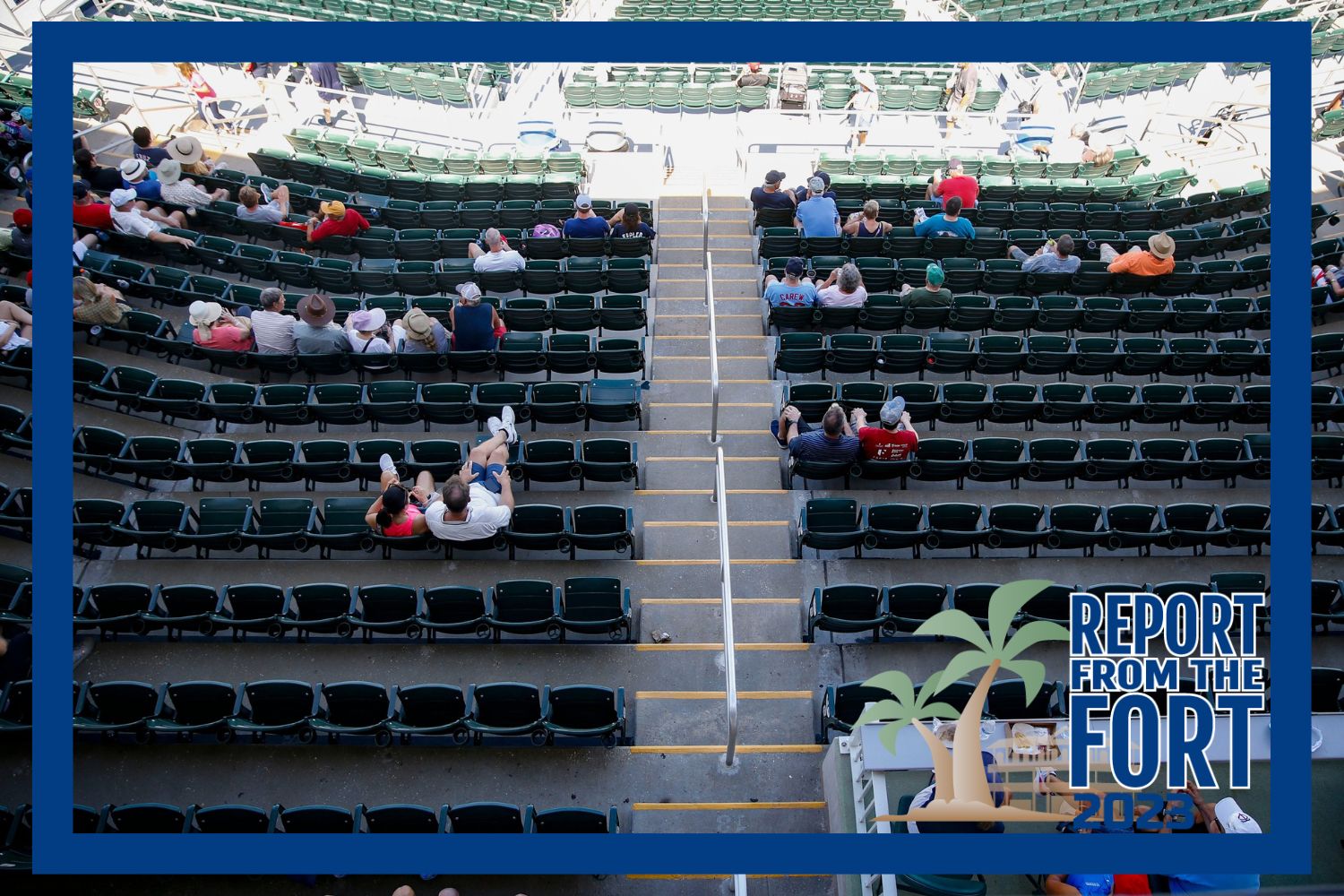 Image courtesy of Jonah Hinebaugh/Naples Daily News / USA TODAY NETWORK
An Unusual In-Game Return
The Minnesota Twins beat the Red Sox 4-3 in a sold-out Hammond Stadium on Saturday afternoon. The return of Boston left-hander Chris Sale from a wrist injury partially explains the attendance. He looked solid versus a predominantly right-handed Twins' lineup, striking out five in three innings.
The Twins countered with Tyler Mahle on the hill, and his start didn't go as well, though defensive miscues and infield hits also hurt him. He was replaced on the mound in the second inning after only recording one out but returned in the top of the third inning to pitch a scoreless frame. 
That is something we are seeing almost regularly in spring training this year: pitchers being pulled in the middle of an outing only to return the next inning. The thought process is that the team doesn't want to endanger the pitcher by overextending how many pitches he throws in one inning, but they want him to return to reach his pitch count and stay on track for his Opening Day workload. 
Roster Moves Made, but More on the Horizon?
The Twins made two roster moves on Saturday. First, they optioned pitcher Matt Canterino to AA-Wichita. Canterino is recovering from Tommy John surgery and likely won't be activated until mid-August, so it was just a paper move. Canterino is Twins Daily's #15 prospect. 
They also optioned Twins Daily's #6 prospect, pitcher Simeon Woods Richardson, to Triple-A St. Paul. Woods Richardson is one of the earliest healthy players to be optioned, but the move is likely not based on his performance. 
We're at the point of spring training where starting pitchers' pitch counts make it difficult for two starting pitchers to get enough work in the same game. Woods Richardson has been piggy-backing - pitching a couple of innings after the starter - with veterans likely to be in the Twins' starting rotation. As starters work on going four or more innings, it's difficult for Woods Richardson to get his work in. After all, he must also be ready for a starter's workload for the St. Paul Saints.
You're right if you think there are usually more roster moves before this point in spring training camp. Derek Falvey talked before the game about how they're keeping guys in major-league camp as they monitor some returns from injury and deal with so many players playing in the WBC games. The Twins also have split-squad games scheduled for Tuesday. I expect we'll see some roster moves shortly after that.
Mostly Good News on Injuries
We received some updates on players returning from injuries, most of it good. 
We haven't seen Jorge Polanco or Byron Buxton in a game yet, and no return date has yet been revealed. But per Derek Falvey, both are on schedule to return, and the target return date is before Opening Day. 
Also, two players who developed issues during camp are making progress. Nick Gordon, who suffered a high ankle sprain last week, has been cleared for betting and fielding without limitations. Jose Miranda, who had a sore shoulder, has resumed throwing. He also has no hitting or fielding limitations, but does with throwing until his shoulder gets stronger. 
The news is not as good on Alex Kirilloff, though it's also not clear if it's very bad. He is "a little behind our schedule" in part because he has held back from some live batting practice sessions. It is not clear if he is still on track to be recovered by Opening Day.
Presumably, the leading candidates to replace Kirilloff on the roster would be Trevor Larnach or Matt Wallner. Both have been starting regularly in road games over the last week.