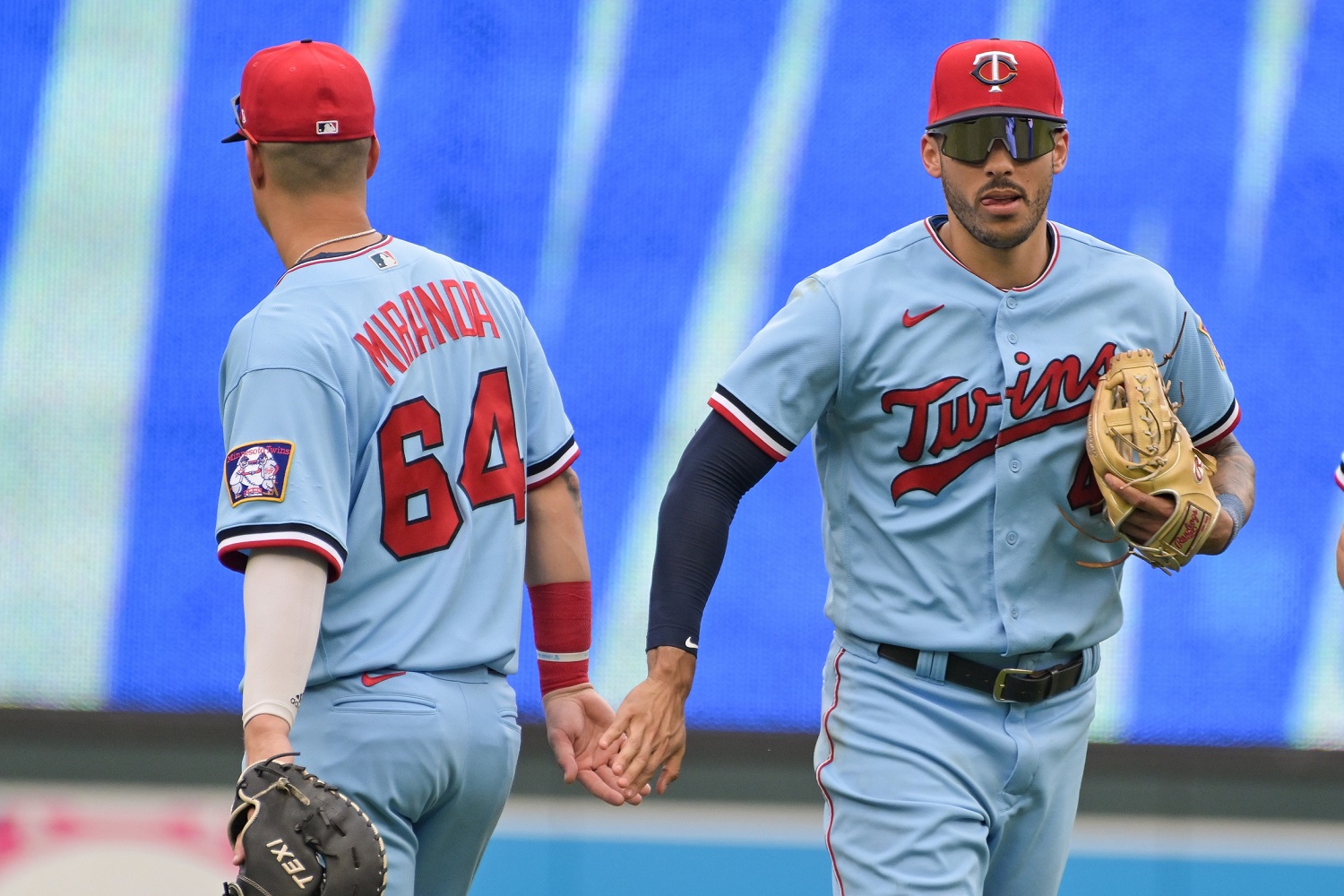 Image courtesy of Jeffrey Becker-USA TODAY Sports
Last season, the lockout forced MLB to allow teams to begin the year with 28-man rosters. The lockout forced a shortened spring training, and baseball was worried about an increased chance of player injuries. For 2023, teams must narrow their final roster to 26 players. Players listed below with the ** are on the bubble for the final roster spots. 
Catchers (2): Christian Vazquez, Ryan Jeffers
Minnesota's catching duo has been set since the club signed Vazquez to a multi-year deal. It was clear from the onset of the off-season that the Twins targeted Vazquez and paid a premium to sign him. The Twins have six catchers among their non-roster invitees to spring training, including veterans Tony Wolters, Grayson Greiner, and Chance Sisco. Teams rarely rely on just two catchers for an entire season, so the Twins will likely need help from these veterans to play at some point during the 2023 campaign. 
Infielders (5): Carlos Correa, Kyle Farmer, Alex Kirilloff**, Jose Miranda, Jorge Polanco 
Adding Correa to this group pushed Farmer to a utility role, which might be a better fit for his skill set. Miranda is getting the full-time job at third base after the team traded Gio Urshela earlier this winter. Polanco figures to get most of the playing time at second base, but it will be interesting to see if he feels any pressure from the team's top prospects. Kirilloff will get time at first base, but the team might have another option (see below) if the team wants him to get regular rest at the season's start. Top prospects like Royce Lewis, Brooks Lee, Edouard Julien, and Austin Martin can add depth to this group in the second half. 
Outfielders (6): Byron Buxton, Gilberto Celestino**, Joey Gallo, Nick Gordon**, Max Kepler, Michael A. Taylor
By adding Taylor, the Twins have three former Gold Glove winners in the outfield and another Gold Glove finalist. Minnesota's outfield defense has the potential to be one of baseball's best, but all four players can't fit in the outfield at the same time. Gallo has logged over 746 innings at first base, so the team might be comfortable moving him to the infield so Kirilloff can slowly work his way back. Gilberto Celestino can start the year at Triple-A, a level where he has played fewer than 25 games. Nick Gordon is out of minor-league options, so the Twins will keep him based on his breakout performance in 2022. Trevor Larnach and Matt Wallner add depth to the organization's outfield, but they will have to power their way from St. Paul to Minneapolis.  
Rotation (5): Sonny Gray, Pablo Lopez, Tyler Mahle, Kenta Maeda, Joe Ryan
Some Twins fans were disappointed the Twins traded Arraez, but Lopez lengthened the Twins' starting rotation. Depth was needed because there are injury concerns surrounding numerous players in the rotation. Since the last projection, Bailey Ober got bumped to Triple-A because of the Lopez addition. Other young pitchers like Louie Varland, Simeon Woods Richardson, and Jordan Balazovic will be waiting for an opportunity. It is one of the deepest rotations the Twins have had in recent memory, and the club will have to rely on that depth if/when the injury bug strikes again. 
Bullpen (8): Jhoan Duran, Jorge Lopez, Griffin Jax, Caleb Thielbar, Emilio Pagan, Jorge Alcala**, Jovani Moran**, Trevor Megill**
Minnesota has done little to address the bullpen this winter, but that has been a common theme for a front office that relies on veterans and internal options. Since Twins Daily's initial roster projection, all of the above names have stayed the same. Duran and Lopez should get the bulk of the high-leverage opportunities. Jax and Thielbar will combine to be a bridge to the late-inning arms. Pagan is a wild card, but the Twins are hoping for a better performance from a player with good stuff. ZiPS projects feel like the Twins' bullpen is top-heavy, which makes sense considering the recent track record of players expected to be on the roster. Minnesota will have some decisions at the bullpen's backend with other 40-man roster options like Ronny Henriquez, Cole Sands, and Josh Winder.   

How do you feel about the team's depth at multiple positions? What changes will happen to the team's roster before Opening Day? Leave a COMMENT and start the discussion.