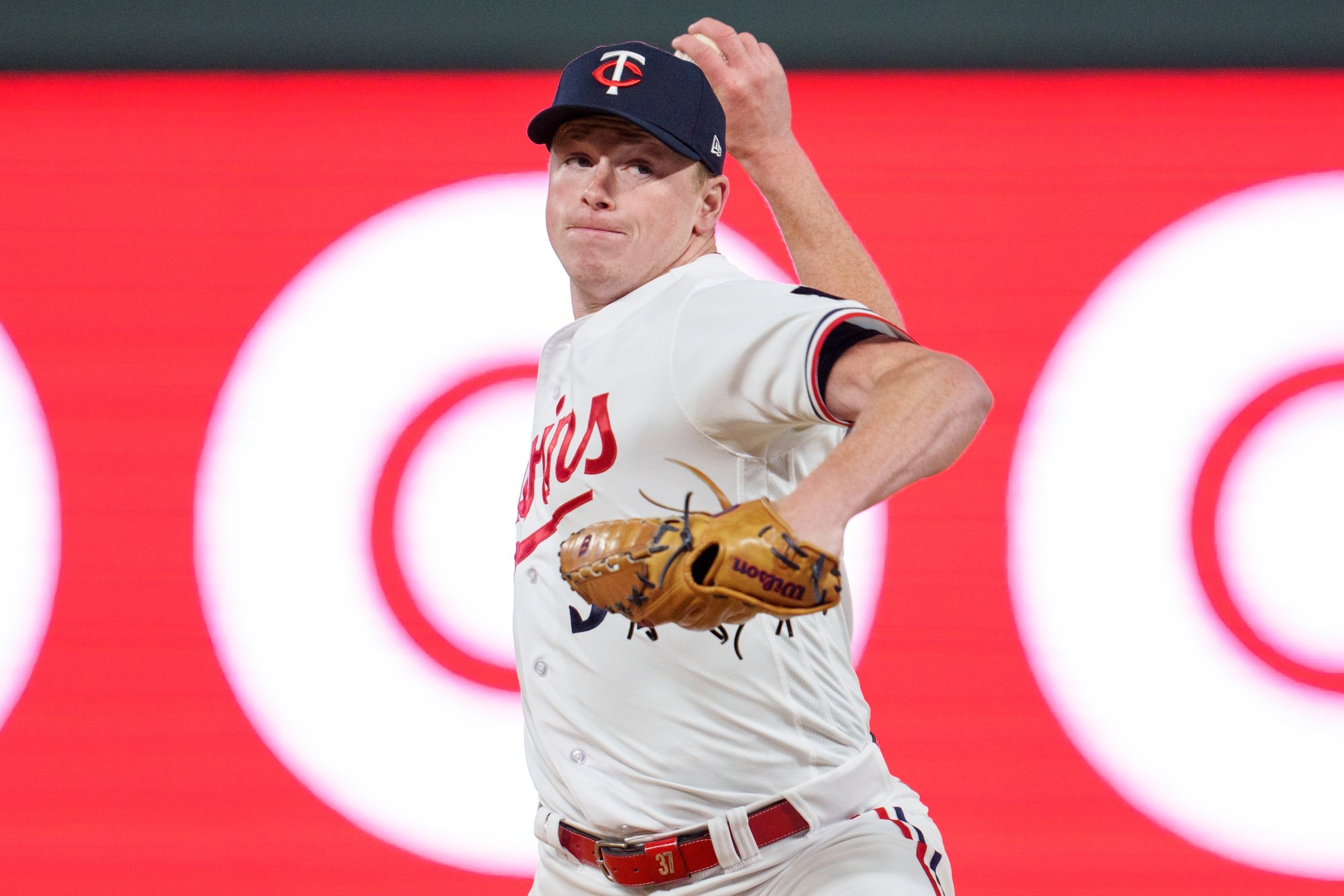 Image courtesy of © Matt Blewett
Something's different about Louie Varland since he returned to the big leagues last week. 
He has the same Minnesota charm that made him a fan-favorite upon his debut near the end of last season. He's still showing a knack for giving up the long ball. And he's still showcasing a starter's pitch repertoire.
But suddenly, the 25-year-old rookie is displaying the confidence and enthusiasm of a seasoned veteran now that he's coming in out of the bullpen. It's not to say he lacked that fire as a starter, but the energy has evolved with his new role. And now he's riding that momentum into a significant role on a likely postseason-bound roster. Though we're still looking at a small sample of work when lauding his performance as a reliever, Varland has been electric, and it's that type of electricity that can make all the difference for a team when they enter the postseason. 
Aside from the confidence and energy that Varland has displayed in his handful of games out of the 'pen, his raw stuff is also playing up. His fastball has always been his bread and butter. It was his only pitch when he started playing college ball for Concordia University in St. Paul. And now that he doesn't have to worry about conserving his energy for a starter's in-game workload, the former Golden Bear can truly let it fly, knowing his outing will be short. 
So far, his velocity on his four-seam fastball has seen a significant jump in relief, just as planned. He averaged a respectable 94.9 MPH on his heater as a starting pitcher, but that figure has jumped to 97.2 MPH since rejoining the club in this new role. He also topped out at 100.2 MPH in one of his last tune-ups with Triple-A St. Paul. That's exactly what the team's top brass wanted when they started mapping out Varland's usage a few weeks ago.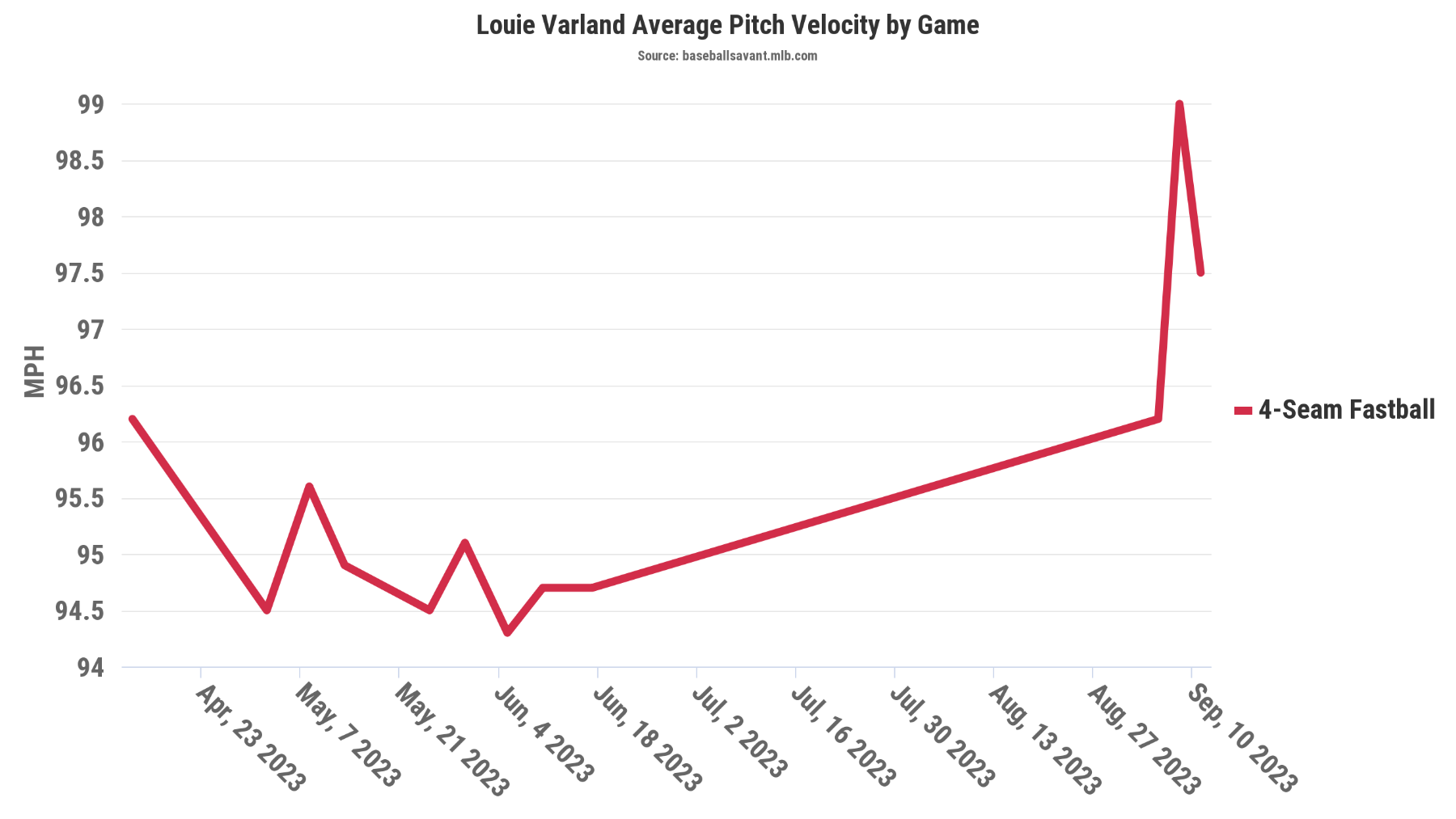 But as compelling as that added fastball velocity is to Twins' fans, it isn't enough to get by against playoff-caliber teams. It's undoubtedly an excellent place to start, but at least one more plus-offering is crucial to sustained success at the game's highest level. 
We've seen opponents going up and hacking early in the count, knowing that Varland will highlight that heater and pound the strike zone early on. So when the opponents recognized this, they would sit on his good-not-great 94.9 MPH fastball, which led to more hard-hit balls and more home runs (2.31 HR/9). 
Hitters have swung at 57% of his pitches since making his relief debut last week, which is the seventh-highest in MLB in that span, according to Inside Edge. That makes his secondary offerings all the more critical. 
The good news is that his cutter has emerged as that complimentary weapon. That pitch has also seen a velocity increase out of the bullpen, averaging 91.7 MPH with more spin than he saw when used as a starting pitcher. That's led to more swing-and-misses and limited damage when it gets hit (.182 slugging percentage allowed, .174 expected slugging). While the fastball has been Varland's marquee offering early in at-bats, the cutter has become his dagger. This can be seen in its increased usage as Varland's "put away" pitch, otherwise known as his selection, when the count gets to two strikes. 
When done well, this combination can be a genuinely dominant pairing for a reliever. It's the one-two punch that shines in postseason play when punchouts and weakly hit balls are at a premium. But the pitcher must have the confidence, poise, and electricity Varland has shown as a reliever so far to execute it in any given at-bat. Beyond that, it takes a multi-inning capability to transform a relief arm into a unique and highly desirable asset. 
Adding a healthy and thriving Varland couldn't be a better time for an inconsistent bullpen. Griffin Jax has provided a mostly great season but has been leaking oil since August. His usage will have to come down, and someone will need to fill in when he's unavailable. If Varland can pass some of those high-leverage tests between now and the start of the postseason, it could feed the positive momentum he's currently riding into October. 
What do you think? Where would you put Varland in the current bullpen hierarchy? Do you trust the early results? Let us know what you think in the comment section below.