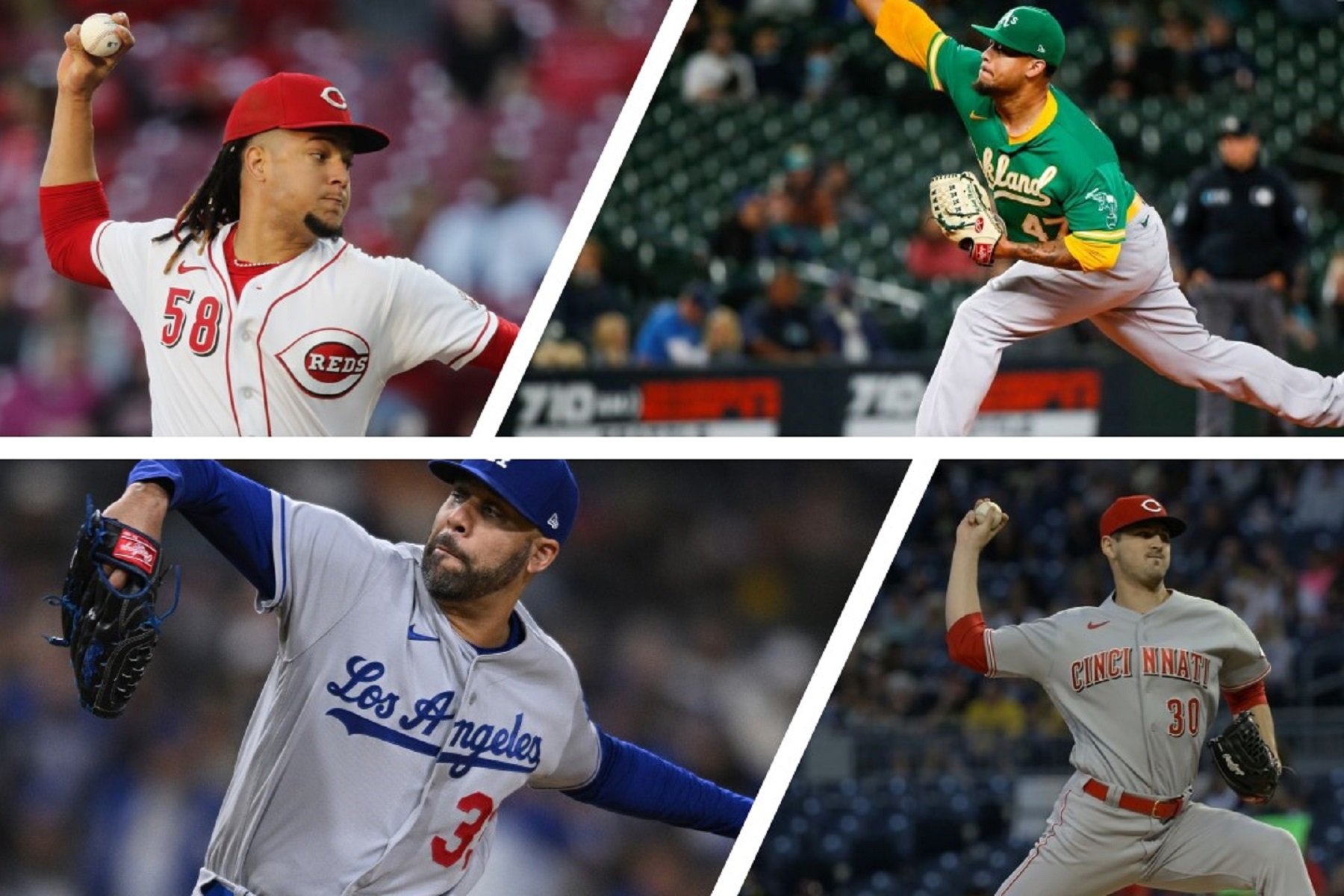 Image courtesy of David Kohl (Castillo), Joe Nicholson (Montas), Charles LeClaire (Mahle), Orlando Ramirez (Price)-USA TODAY Sports
Earlier this week, Peter Gammons checked in on starting pitchers from multiple non-contending teams, and these teams are open for business if the right offer is on the table. Some of these players will take quite the package to acquire, so let's analyze the players available for trade. 

RHP Luis Castillo
Free Agent: Following the 2023 Season
Minnesota traded for one of Cincinnati's starting pitchers this winter, but it would take more than one prospect to acquire Castillo. He is under team control through next season, but he has a small body of work in 2022. He didn't make his season debut until May 10 after dealing with shoulder soreness during spring training. Teams interested in trading for Castillo will want a good look at his medicals before dealing away multiple top prospects to acquire him. It seems more likely for him to be dealt at the deadline if he can prove he is healthy over the next three months. 

RHP Tyler Mahle
Free Agent: Following the 2023 Season
Mahle is another Reds pitcher with a chance to be dealt, but he is a name that hasn't been frequently mentioned in trade talks. Like Castillo, he is under team control through the end of next season. In 2022, Mahle has a 6.46 ERA with a 1.57 WHIP and 32 strikeouts in 30 2/3 innings. From 2020-21, he posted a 128 ERA+ while posting a 10.7 K/9. Some of his Statcast numbers point to him turning it around as his Chase Rate and Barrel% are in the 68th percentile or higher. Teams trading for Mahle are hoping to get the version of Mahle from the previous two seasons instead of the one so far in 2022. 

LHP David Price
Free Agent: Following the 2022 Season
Gammons mentioned the Dodgers are willing to trade Price so he can start for another club. He has been limited to one start and five appearances this season because he tested positive for COVID-19. Last season, Price made 39 appearances, but only 11 were in a starting role. Can a team still utilize him as a starter, or is the 36-year-old only a bullpen option? He is also making $32 million this season, but the Red Sox are on the hook for half of that total. Maybe he has something left in the tank that can help a contending team, but he hasn't made 30 starts or more since the 2018 season. 

RHP Frankie Montas
Free Agent: Following the 2023 Season
Where's Frankie? Well, he's still waiting for a team to rescue him from Oakland's pitching staff. Gammons heard the Athletics are waiting until closer to the deadline to deal Montas because they feel like it will result in a bidding war. Last season, he finished in the top-10 for the AL Cy Young, and he is off to a strong start so far in 2022. Minnesota had conversations with multiple teams this offseason about starting pitching, so the Twins and A's have likely discussed Montas. Out of the players on this list, he is performing well, which likely means it will take a decent trade package to acquire him. 

Do the Twins need to trade for one of these players? Which player stands out to you? Leave a COMMENT and start the discussion.