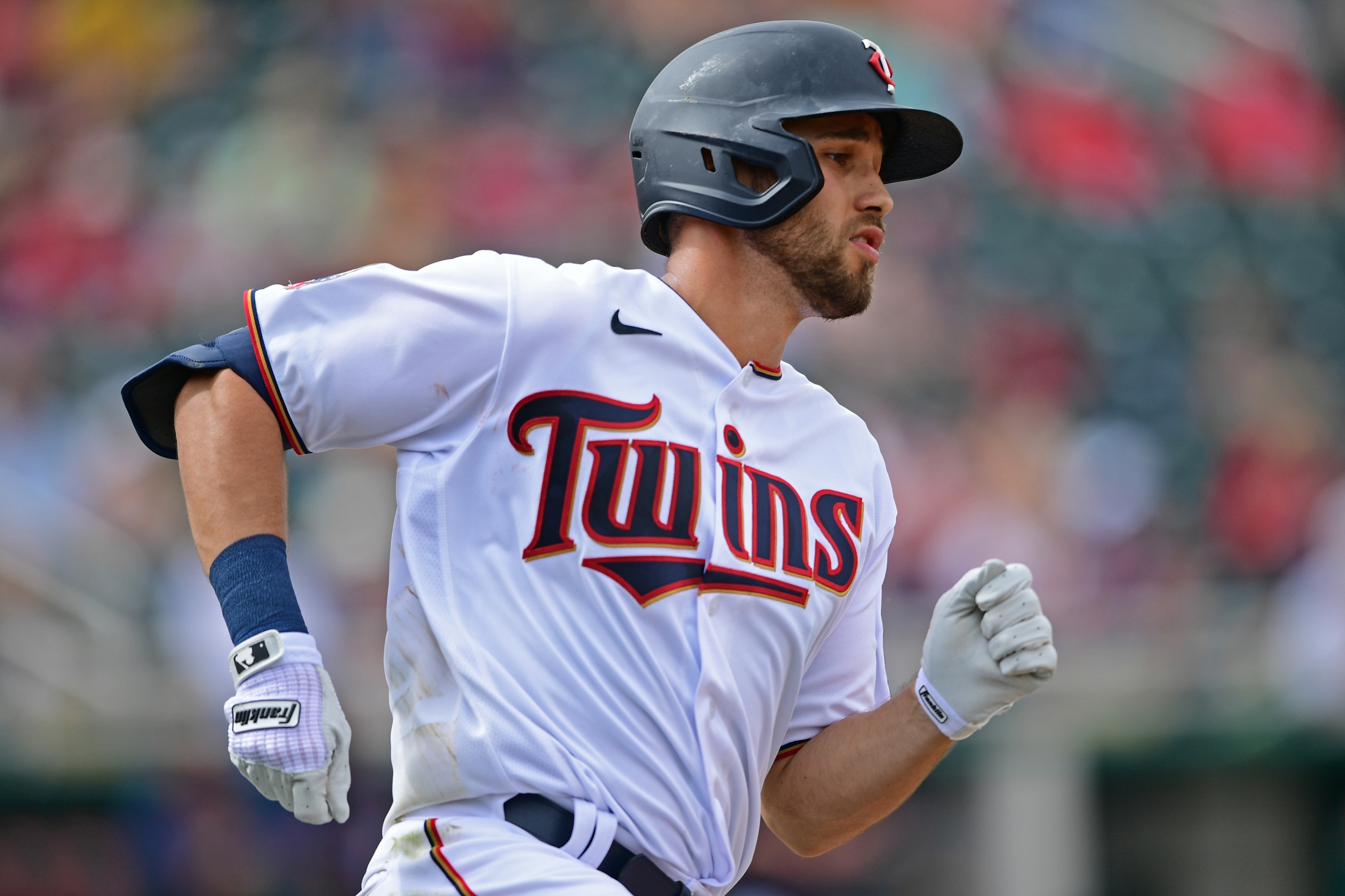 Image courtesy of David Dermer-USA TODAY Sports
First, you can get up to speed on the 'why and how' behind these rankings by reading Monday's introductory post. If you're already hip, proceed to find my choices (and reasoning) for the 1st-through-5th most valuable player assets currently under Minnesota's control as 2021 gets underway.
5: Royce Lewis, SS
2020 Ranking: 5
After landing atop our 2019 rankings, Lewis followed with an uneven campaign that caused him to slide to No. 5 last year. Since then, not much has changed. He spent his 2020 season at the alternate site, giving him little opportunity to counteract the narrative of a '19 season that saw him post a .661 OPS and ugly 123-to-38 K/BB ratio between two levels while his clunky swing mechanics drew heat from analysts.
Although the former No. 1 overall pick's true ceiling is in question, there's little doubt he will be an impact player in the big leagues, whether as an infielder or out in center as Byron Buxton's eventual successor. He's not the premier asset he once was, but Lewis holds steady in these rankings until further notice.
4: José Berríos, RHP
2020 Ranking: 3
As I mentioned in the intro post for this series, Berríos is a model of consistency: unlike so many others, he hasn't faltered in these rankings due to performance or injury. He has stayed remarkably steady and durable as a fixture atop the Twins rotation and roster.
But, he also hasn't quite taken the step forward necessary to elevate. Berríos remains a "borderline ace" – not quite meeting the standard against which he is constantly measured, but always coming close. His most recent season was technically a downturn, but one that's easily attributed to disruption for a creature of routine. His numbers in the second half (and playoffs) were excellent.
The only thing bumping Berríos from his customary top-three perch – albeit ever so slightly – is the looming specter of free agency, now only two years away. The righty is poised to hit the open market following the 2022 season, at age 28. That's good news for him but bad news for the Twins if they can't find a way to extend him. Locking Berríos up is an utmost priority; by this time next year, the front office's leverage will be mostly gone.
3: Max Kepler, RF
2020 Ranking: 2
Kepler definitely took a step back following his breakout 2019 campaign, but it wasn't as alarming a drop-off as it might seem on the surface. Yes, his OPS dropped by almost 100 points, but his peripherals and underlying metrics were steady. He remains a high-quality overall piece: a strong defensive outfielder who's capable in center, and an outstanding hitter combining patience, power and speed.
There were some familiar warts marring Kepler's performance in 2020, however. Once again his production was stifled by a brutally low BABIP (.236), and he fell back into a pit of utter ineptitude against left-handed pitching (.128/.208/.170). These developments cast doubt on the superstar potential Kepler seemed to scratch in the prior season, but nevertheless, he was an above-average hitter and critical cornerstone for the first-place Twins.
Most importantly, he's under control for the next three years at a total of $21.75 million, with an ultra-reasonable team option for $10 million in 2024. At this point Kepler is probably Minnesota's sturdiest building block.
2: Alex Kirilloff, RF
2020 Ranking: 9
While most prospects were essentially out of sight and out of mind in 2020, Kirilloff is a bit of an exception. His work at the alternate in St. Paul garnered a noticeable and consistent buzz, even with a lack of official games being played. This culminated with the Twins making a very bold move at season's end, calling Kirilloff up to make his major-league debut in a postseason elimination game.
Despite the extraordinary circumstances, Kirilloff handled the challenge in stride, showing no signs of shrinking in the moment. As a former first-round pick who's slashed .317/.365/.498 in the minors, conquered Double-A, and now made a heck of first impression in the majors, Kirilloff has made a convincing case that he's ready to step in as an above-average MLB corner outfielder right now, with very plausible All-Star potential.
The Twins will probably wait until at least late May to call him up for good, buying an extra year of control in 2027, but it's clear they are lining Kirilloff up to roam the outfield for many years to come.
1: Kenta Maeda, RHP
2020 Ranking: NR
The Twins took a big gamble last February, trading their No. 4 ranked asset in Brusdar Graterol to Los Angeles in efforts to bolster the rotation. When you're giving up such an immensely valuable asset, you'd better get something awfully good in return. Turns out, the front office did just fine.
One of the biggest appeals in acquiring Maeda was his incredibly team-friendly contract – he's guaranteed only $3.125 million in each of the next three seasons, with the rest of his money tied into incentives. This means very little outright risk for a whole lot of upside, which we saw on full display in his first season as a Twin. In a career year, Maeda emerged as a true ace and finished as the Cy Young runner-up.
It's hard to overstate just how impactful his addition to this organization is. Maeda is everything the Twins needed, and has quickly separated himself as their most prized asset.
THE TOP 20 TWINS ASSETS OF 2021
20. Keoni Cavaco, SS
19. Brent Rooker, OF/1B
18. Josh Donaldson, 3B
17. Taylor Rogers, LHP
16. Jorge Alcala, RHP
15. Miguel Sanó, 1B
14. Tyler Duffey, RHP
13. Jordan Balazovic, RHP
12. Jhoan Duran, RHP
11. Luis Arráez, 2B
10. Trevor Larnach, OF
9. Byron Buxton, CF
8. Mitch Garver, C
7. Ryan Jeffers, C
6. Jorge Polanco, SS
5. Royce Lewis, SS
4. José Berríos, RHP
3. Max Kepler, RF
2. Alex Kirilloff, RF
1. Kenta Maeda, RHP
Now that we've got the full list rolled out, I'd love to hear your thoughts. Any outrageous omissions? Who's too high? Who's too low? Where would Nelson Cruz fit in (if at all) were he to sign, say, a one-year $10 million deal?
As a final note, I've gotta give some props to the three commenters who tried their hand at predicting the rankings back on Monday, especially Seansy who correctly guessed 17 out of the 20 names and had SIX in the exact right placements (Maeda #1, Polanco #6, Jeffers #7, Larnach #10, Duffey #14, Sanó #15)! Super close on the most of the rest too, very nicely done.
Very nice work also by Shs_2 who also got 17 names right (3 correct placements) and whosafraidofluigirussolo who had 18 of the names (2 correct placements).
MORE FROM TWINS DAILY
— Latest Twins coverage from our writers
— Recent Twins discussion in our forums
— Follow Twins Daily via Twitter, Facebook or email