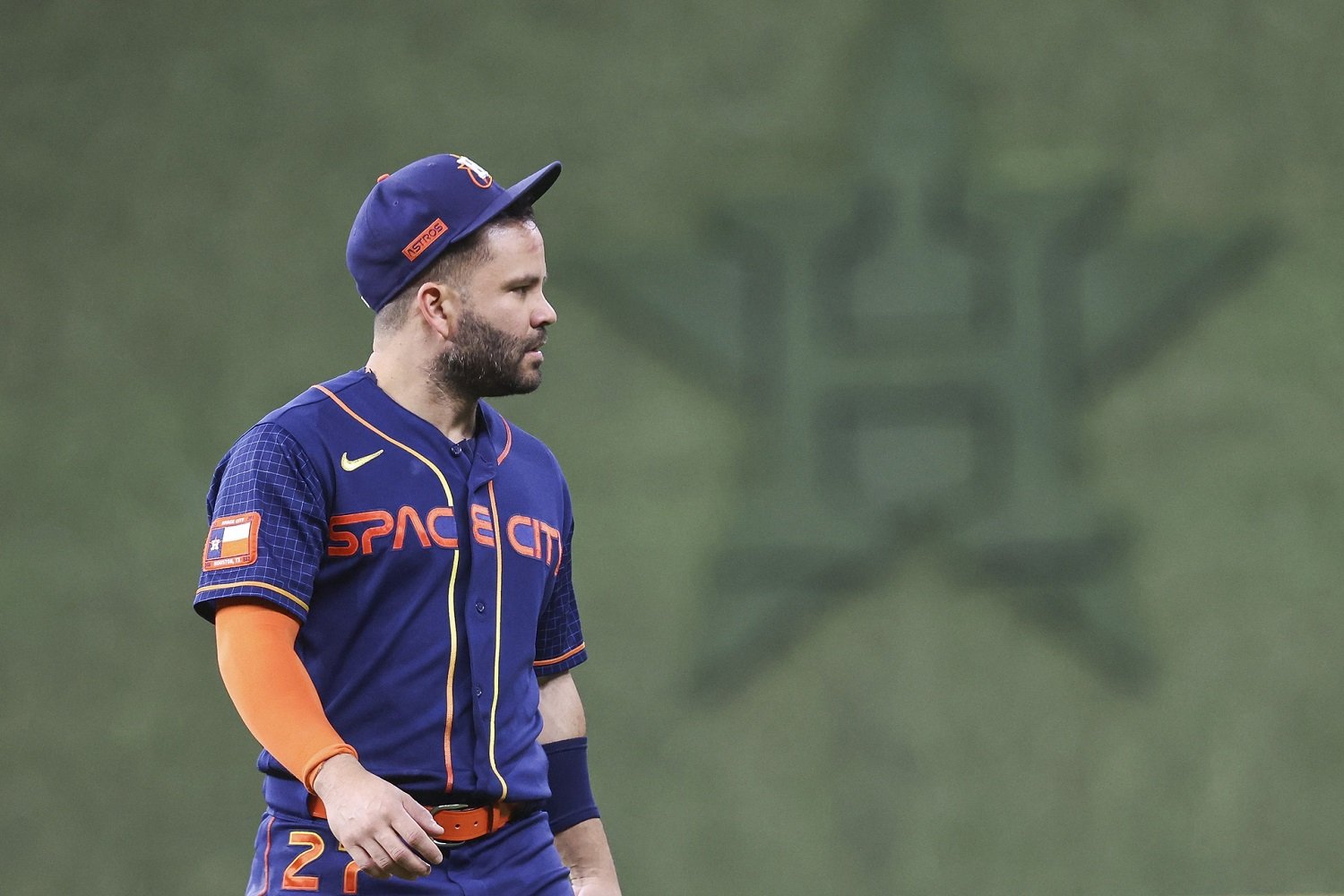 Image courtesy of Troy Taormina-USA TODAY Sports
Since the Astros exited what was, at the time, the most extreme tank and rebuild ever, they've been the class of the American League. They started winning in 2015, but in 2017, they took the leap to being an elite team and haven't looked back. They won the World Series in 2017* and 2022 and have made the ALCS every year - including in 2019 and 2021, when they advanced to the World Series and lost. 
Losing in the Wild Card round is hard to envision, but this team may be different. Are they different enough for the Twins to win their first playoff series since 2004 and end this absurd run of postseason success?
What's the Same?
Core of Elite Hitters
While they are in their second season without Carlos Correa, the Astros have retained their other core elite position players. Jose Altuve, Alex Bregman, Kyle Tucker, and Yordan Alvarez comprise the elite core. Altuve and Alvarez have missed significant time but have been their usual outstanding selves when healthy. This group has historically performed in the postseason, and each player has been a critical cog in the dynasty.
Alvarez is one of the best hitters in baseball. He destroys righties and lefties and doesn't really have a zone where he struggles. He's posted an absurd .422 wOBA this season, underperforming an even crazier .437 xwOBA. He hits the ball hard, controls the strike zone, and strikes out at a reasonable rate. The top of this lineup is daunting, and where one big hit can change a game in the postseason, it's reasonable to see them coming through and extending the Twins' postseason losing streak. 
What's Different?
Lineup Length
One of the significant differences between this team and past Astros teams is reduced lineup length. They've had six players (who've played at least 90 games) perform below average offensively with a wRC+ of less than 100. Those six players are Martin Maldonado, José Abreu, Jeremy Peña, Corey Julks, Jake Meyers, and Mauricio Dubón. 
They can play Yainer Diaz at catcher over Maldonado, but Dusty Baker hasn't done that much this season, and the pitchers prefer Maldonado. They are stuck with Abreu and Peña in the lineup. Julks and Meyers can be replaced by Michael Brantley and Chas McCormick respectively, but Brantley has missed most of the season due to injury and has not been his usual self since returning and is 36 years old. After having a stretch as one of the elite centerfielders in baseball, McCormick missed time with an injury and seems to have somewhat fallen out of favor with Baker - drawing criticism from some fans and media. 
The Astros lineup isn't as strong as in years past from top to bottom, but they can still put a formidable lineup out there. Despite the lack of length, the Astros rank 5th in baseball in wRC+ this season, a few spots ahead of the Twins, who sit in 9th. Whether they play McCormick and Diaz or stick with Meyers and Maldonado will dictate how much pressure they can apply to Twins' pitchers from the top to the bottom of their lineup.
Mediocre Pitching
The most shocking development in Houston is a pitching staff that has taken a big step back. Their staff ranks 9th in ERA but 16th in fWAR, and 18th in FIP. Their starters have been mediocre, and their bullpen has, too. 
They brought Justin Verlander back to shore up their playoff rotation, but he's far from Cy Young form. Hector Neris and Bryan Abreu have been stellar in the bullpen, but former Twin Ryan Pressley hasn't been elite in closing games. Abreu has been stellar, but he gave up a 10th-inning home run to Ryan Jeffers in Houston in May. 
Where the Astros pitching should scare Twins fans is game one. Their best pitcher is Framber Valdez, who's left-handed. The Twins' struggles against lefties are well-documented. Valdez starting will likely prevent some of the Twins' best players - Matt Wallner, Edouard Julien, and Alex Kirilloff - from starting in game one, which is disappointing.
While Valdez is a terrible matchup for the Twins, the Astros staff isn't star-studded and dominant like in years past. The Astros ranked first in 2022 in FIP, so the drop to the middle of the pack is surprising. They removed Justin Verlander in the offseason (and then regained him at the trade deadline), but this steep dropoff was still unexpected. The Astros' pitching isn't atrocious, but the Twins should be confident in their ability to hit them.
While the Astros have apparent weaknesses, their top-end talent is still far better than most teams in the league. That core group of superstars is also why they sit atop the AL West, holding a 1.5-game lead. If they hold on, Twins fans won't need to have nightmares of a Yordan Alvarez missile soaring onto the plaza at Target Field until the ALDS. Surely, worrying about a second-round matchup with Houston would be a fabulous problem to have for Twins fans, and a matchup against the Astros wouldn't be as intimidating as it once was.