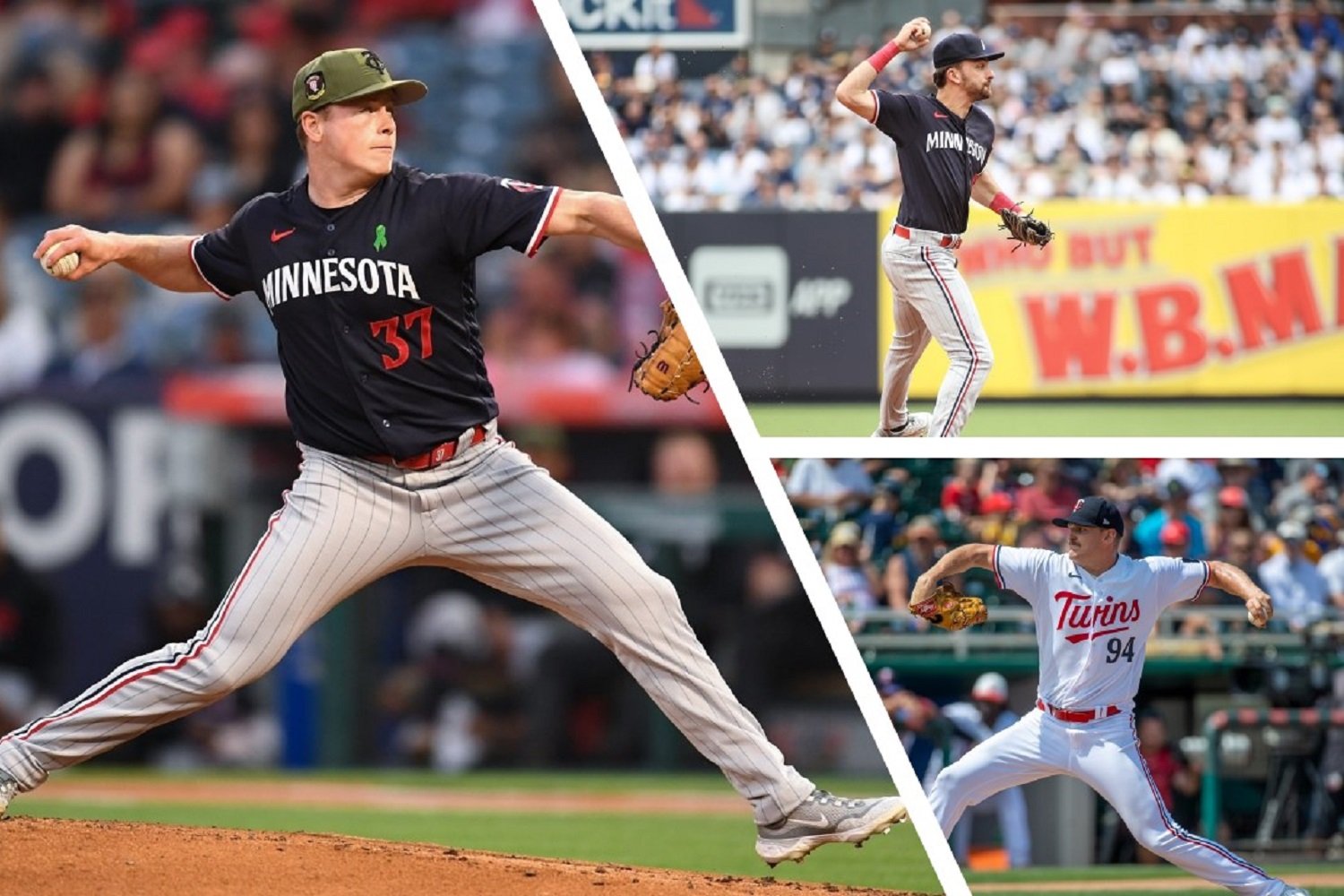 Image courtesy of William Parmeter (Headrick), Jonathan Hui-USA TODAY Sports (Varland), Wendell Cruz-USA TODAY Sports (Julien)
Major League Baseball's 2023 Draft is scheduled to start on July 9, 2023. Each team prepares for the draft with a specific plan, and sometimes those plans play out better than others. To prepare fans for the upcoming draft, this series will examine recent Twins drafts and how those players have performed so far in their professional careers.
First Round: Keoni Cavaco, Matt Wallner
Minnesota sat in an interesting spot for the 2019 MLB Draft with the 13th overall pick. Teams and evaluators viewed Cavaco as a prospect with some steam entering the draft despite not being asked to participate in some of the high school national showcases. Since signing, the Twins have consistently moved Cavaco up the ladder, but he has struggled to find consistency at the plate. In over 200 career games, he has a .610 OPS while never having more than 34 extra-base hits in a season. His pick might have been a stretch at the time, and it looks even worse when considering who was taken shortly after him. 
After the Twins pick, the next high school player taken was Corbin Carroll by the Diamondbacks, with the 16th overall selection. He dominated the minor leagues on his way to being ranked as one of baseball's top prospects. Carroll has been worth over 2.5 WAR in his big-league career and isn't the only player the Twins passed over. Three other players taken after Cavaco in the first round have accumulated at least 1.0 WAR, including George Kirby (3.1 WAR), Anthony Volpe (1.1 WAR), and Drey Jameson (1.6 WAR).
Minnesota may have redeemed themselves with a solid pick at the end of the first round. With the 39th overall pick, the Twins took Matt Wallner from the University of Southern Mississippi. Wallner, a Forest Lake native, has seen limited big-league action because of the left-handed sluggers ahead of him on the team's depth chart. He is the team's reigning Minor League Player of the Year after hitting .277/.412/.542 (.953) with 32 doubles, four triples, and 27 home runs in 128 games. On Twins prospect lists, he is the highest-rated player from this draft class, and there are higher expectations for him now than when the organization drafted him. 
Second Round: Matt Canterino
The Twins took Canterino with the 54th overall pick from Rice University. He's shown flashes of being a dominant pitcher in the minor leagues with a 13.8 K/9, but he's been limited to 85 professional innings. Many pitchers from Rice have dealt with arm injuries after being drafted, and Canterino fits into this group. He underwent Tommy John surgery in August 2022, which might sideline him until 2024. It will be interesting to see if the Twins bring him back as a starting pitcher or if they switch him to a bullpen role when he returns from the injury. 
Other MLB Contributors
Spencer Steer and Casey Legumina have made big-league debuts, but not with the Twins. Steer has played the 2023 season as the Reds starting first (and sometimes third) baseman after being included in last season's trade for Tyler Mahle. After a slow start, he has a 104 OPS+ and 19 extra-base hits in 45 games. The Twins traded Legumina to the Reds for Kyle Farmer heading into the 2023 season. As a reliever, he has made eight appearances (10 1/3 innings) and has a 4.35 ERA with a 1.65 WHIP and a 9-to-5 strikeout-to-walk ratio. They are both earlier in their careers, so it will be interesting to see what they can do in the future. 
Impacts have been felt on Minnesota's 2023 roster by multiple other players taken in the 2019 draft. Louie Varland (15th round) and Edouard Julien (18th round) were two of the team's highest-rated prospects entering the season. Varland is the organization's two-time Minor League Pitcher of the Year and has jumped into the Twins' rotation with the repertoire to be a big-league-caliber pitcher. Julien had a breakout season at Double-A in 2022 while hitting .300/.441/.490 (.931) with 39 extra-base hits in 113 games. He continued his success in last year's AFL and this spring's WBC for Team Canada. Both players are entrenched in the team's long-term plans. 
Besides Varland and Julien, Brent Headrick is another player playing an essential role for the Twins. He was the team's ninth-round pick from Illinois State University. He has stepped into a vital bullpen role for the Twins and been forced into a late-inning role. Many relievers are previously failed starters, and Headrick can provide value as a bullpen option. 
OTHERS REMAINING IN THE ORGANIZATION
Seth Gray (4th round): He posted a .726 OPS at High-A and Double-A last season. In 2023, he's primarily been used at first base for Wichita. 
Will Holland (5th): Holland combined for 28 extra-base hits and 32 steals during the 2022 season. His OPS has dropped over 150 points early this season, but he's 10-for-12 in steal attempts. 
Anthony Prato (7th): He hit .285/.383/.444 (.827) in 132 games between Cedar Rapids and Wichita last season. In 2023, he's been limited to one extra-base hit in his first 30 games. 
Sean Mooney (12th): Currently, Mooney is on the 60-day IL with right shoulder fatigue. He made 18 appearances (12 starts) in 2022 for Cedar Rapids with a 3.30 ERA and a 1.25 WHIP.
Cody Laweryson (14th): He's pitching out of the bullpen in St. Paul this season. In his first 13 appearances, he's posted a 2.53 ERA with a 10.1 K/9. He has a chance to make his big-league debut this season. 

Owen Griffith (20th): Griffith is currently on the 60-day IL and hasn't pitched a professional inning since 2021. 

Matthew Swain (23rd): He's averaged over 35 relief appearances over the last two seasons for Low-A and High-A. In 2023, he's posted a 1.80 ERA in Cedar Rapids, where he is almost two years older than the average age of the competition. 
Alex Isola (29th): Isola has developed into a decent prospect while playing catcher and first base. He posted an .848 OPS in 2022 at Double-A, and the Twins sent him to the AFL. He's continued to have an OPS above .800 during the 2023 season with Wichita. 
Kyle Schmidt (33rd): He's been injured to start the 2023 season but just returned from the development list to the Kernels roster. Schmidt played at three different levels in 2022 and posted a .576 OPS. 
OTHER POSTS IN THE SERIES
-2018 Draft Retrospective
-2017 Draft Retrospective
-2016 Draft Retrospective

What are your impressions of the 2019 draft class? Will Cavaco make an impact at the big-league level? Leave a COMMENT and start the discussion.