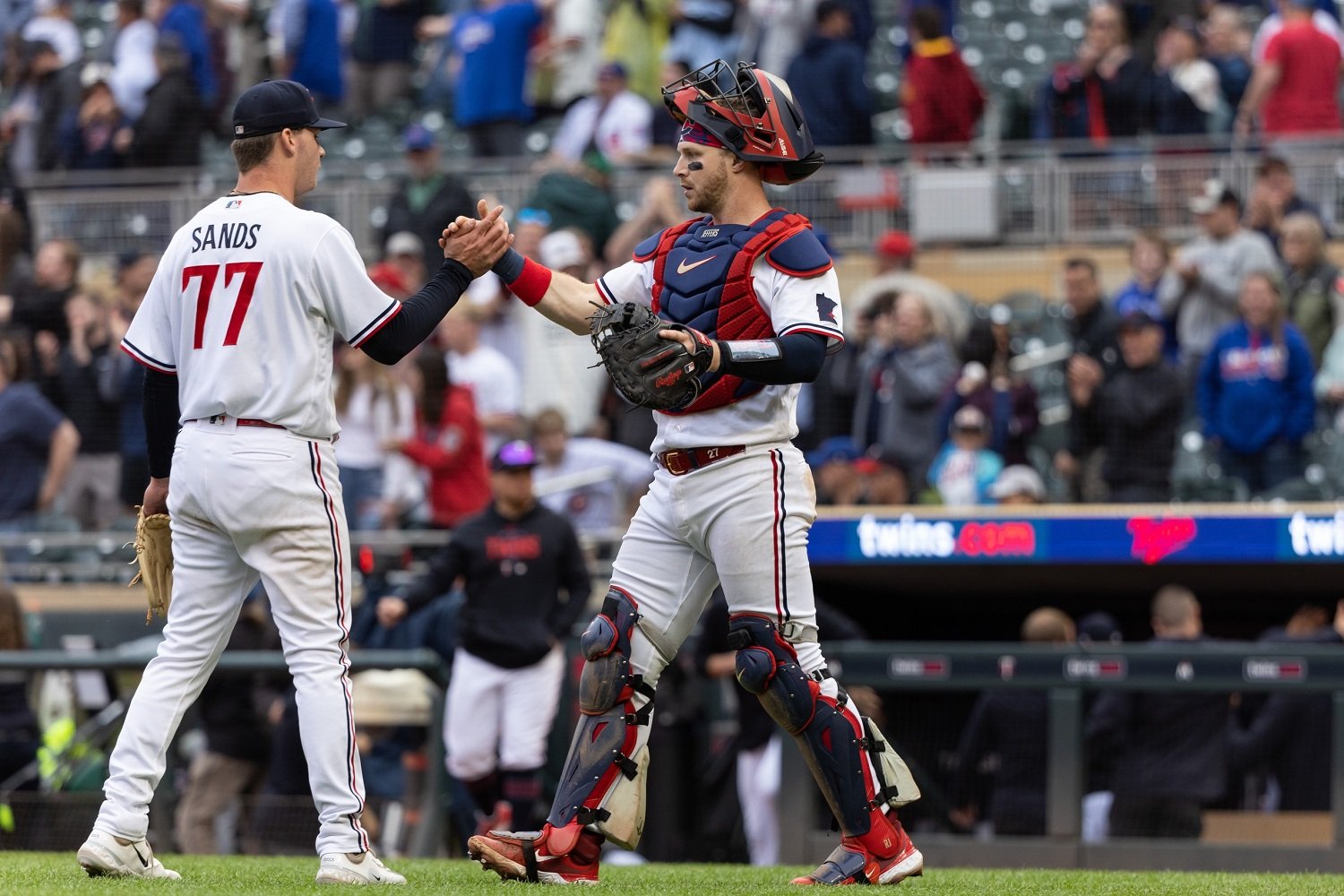 Image courtesy of Jordan Johnson-USA TODAY Sports
Major League Baseball's 2023 Draft is scheduled to start on July 9, 2023. Each team prepares for the draft with a specific plan, and sometimes those plans play out better than others. To prepare fans for the upcoming draft, this series will examine recent Twins drafts and how those players have performed so far in their professional careers.
---
First Round: Trevor Larnach
The Twins drafted Larnach with the 20th overall pick after a strong college season where he helped Oregon State win the College World Series. Three players taken behind Larnach (2.0 WAR) have accumulated more WAR so far in their MLB careers, including Nico Hoerner (8.1 WAR), Shane McClanahan (7.4 WAR), and Jake McCarthy (2.6 WAR). Larnach quickly impacted the Twins organization by winning the organization's Minor League Player of the Year award in his first full season. His most significant issue at the big-league level has been making consistent contact with offspeed and breaking pitches. He's part of the team's young core, and the Twins hope he can be a number-five hitter in the lineup for most of the next decade. 
Second Round: Ryan Jeffers
Some were surprised the Twins drafted Jeffers this high because he was seen as a bat-first catcher with little defensive value. His outlook has changed significantly since signing with the Twins. He is a tremendous pitch framer and has improved his throwing arm this season. Jeffers has accumulated more WAR than any other second-round pick from the 2018 MLB Draft. Over the last two seasons, he struggled to find his swing with an 84 OPS+. His 2023 campaign started strongly with a 126 OPS+, ranking sixth in WAR among AL catchers.    
Minnesota lost their third-round pick in 2018 after signing Josh Donaldson. He had declined a qualifying offer by the Atlanta Braves, so draft pick compensation was tied to his signing. It is likely one of the reasons the Twins were able to sign him because some other teams would have had to forfeit a higher draft pick. His free-agent market didn't meet his expectations, and the Twins had to pivot from their plans to sign a free-agent starting pitcher. 
Other MLB Contributors: Cole Sands, Josh Winder
The Twins took Sands with their fifth-round pick, and Winder was selected in the seventh round. Both players were starting pitchers throughout their minor-league careers but have shifted to a long-relief at the big-league level. Sands has posted a 2.96 ERA with a 1.40 WHIP in 11 relief appearances over the last two seasons. Winder made 15 appearances (11 starts) for the Twins in 2022, so he has less experience in a relief role. He dealt with a shoulder injury during spring training, and the team hopes a bullpen role will help him to stay healthy and improve his performance. 
Other Notable Picks: Michael Helman, Kody Funderburk, DaShawn Keirsey, Chris Williams
Helman was taken in the 11th round and reached Triple-A last season. He's posted a .763 OPS with the Saints while playing multiple infield and outfield positions. Last season, he accumulated 20 home runs and 40 stolen bases between Double- and Triple-A. His best chance at a role with the Twins is being a super utility player, but he is currently on the IL with a dislocated left shoulder. 
Minnesota took Funderburk in the 15th round, and he's developed into an intriguing left-handed reliever. He has a chance to be the next Caleb Thielbar, especially if he can continue to post a strikeout rate above 13 K/9. He's given up too many hits in the upper minors, but he has been able to avoid home runs. The Twins will likely need bullpen replacements later in the season, and Funderburk is a prime candidate to add relief depth. 
Keirsey, a fourth-round pick, has played the last two seasons at Double-A. In 2022, he hit .271/.329/.395 (.724) with 36 extra-base hits and 42 steals in 121 games. He has ten extra-base hits in his first 31 games in 2023 while going 16-for-19 in stolen base attempts. His defense is strong in center field, so he could fill a backup outfielder role at the big-league level. 
Also in the Organization
Regi Grace: He shifted to a relief role last season and is currently pitching for Cedar Rapids. His K/9 rate has been higher than 11.0 over the last two seasons. 
Charles Mack: Mack is in his second season with Cedar Rapids, being used as one of the team's primary catchers. Last season, he had 15 extra-base hits in 57 games. 
Willie Joe Garry: Over the last two seasons, the organization has used him at all three outfield positions, with most of his defensive innings coming in center field. He has a career .625 OPS across five professional seasons. 
Andrew Cabezas: After the pandemic, Cabezas shifted to a relief role. In 2022, he posted a 3.31 ERA with a 1.04 WHIP at High- and Double-A. 
Austin Schulfer: Last year, he pitched in relief for the organization's two highest affiliates, striking out nearly ten batters per nine with a 1.04 WHIP. He's in the Saints bullpen this year and has a sub-3.00 ERA to begin the year. 
Zach Neff: He is currently on the 60-day IL and hasn't pitched in the organization since 2021. 
Denny Bentley: In 2022, he posted a 3.56 ERA with 1.37 WHIP and 11.8 K/8. The Twins sent Bentley to the AFL last season to build off a strong 2022 campaign. He has yet to pitch in 2023. 
OTHER POSTS IN THE SERIES
What are your impressions of the 2018 draft class? Who will have the most significant impact on the Twins? Leave a COMMENT and start the discussion.