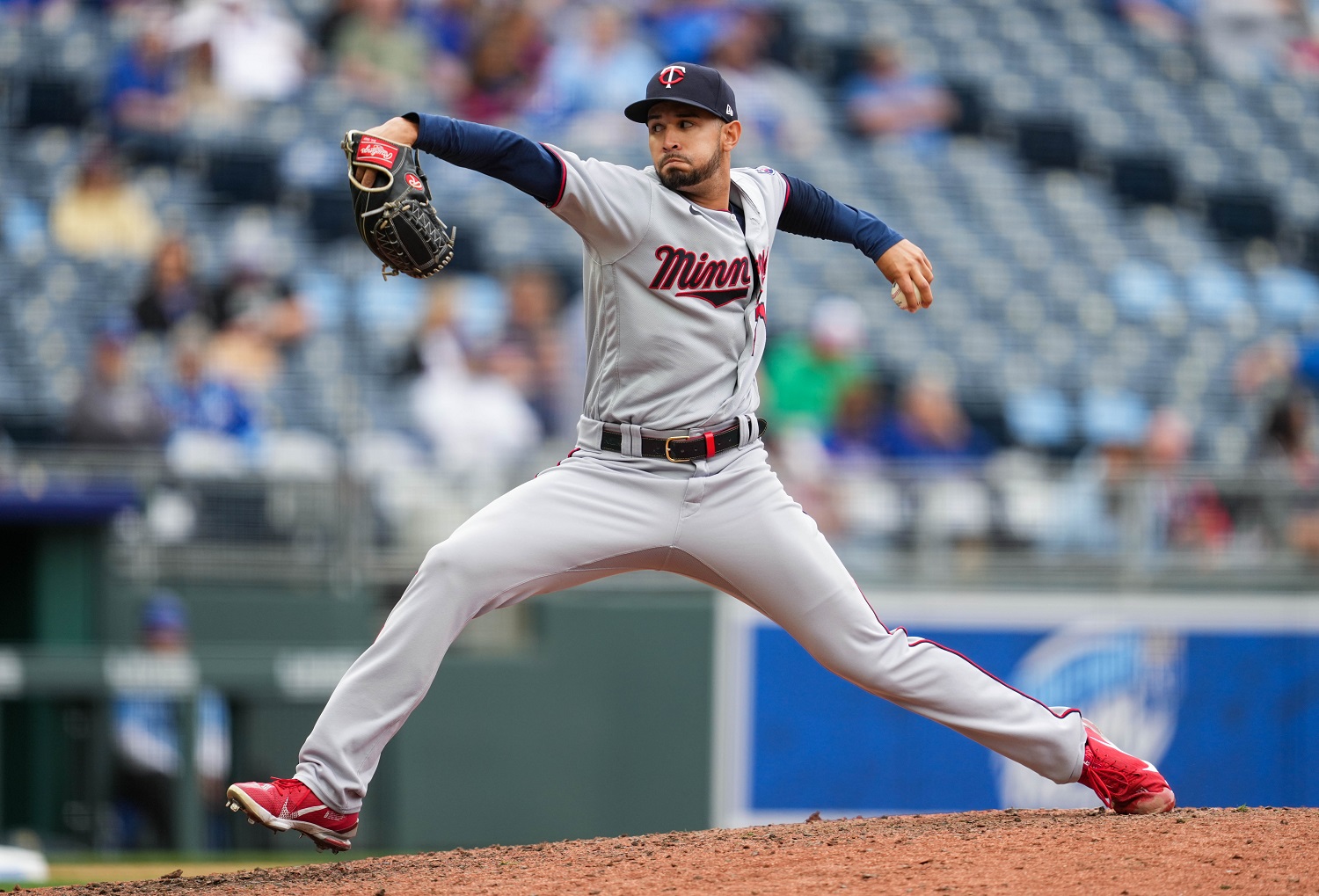 Image courtesy of Jay Biggerstaff-USA TODAY Sports
Rocco Baldelli left spring training last year thinking Taylor Rogers would be his "closer." Last March, he was likely assuming that Jhoan Duran would be a starter in St. Paul. Neither of those things proved to be true, and the bullpen was in flux for most of the season.
Emilio Pagan was a source of consternation. Duran emerged as a superstar. Caleb Thielbar stayed consistently effective. Griffin Jax looked the part of a late-inning reliever in his first season in the bullpen. Many arms were sent to the mound, but one that continued to go up and down was lefty Jovani Moran.
If you guessed that he threw 40 2/3 innings in the big leagues in 2022, I'd question your honesty. Moran was moved between teams seven different times. Splitting time almost evenly, Moran appeared in 20 games for the Saints and threw 31 times for the Twins.
What should also jump off the page is genuinely how good Moran was.
Last season the Twins southpaw posted a 2.21 ERA and had an even better 1.78 FIP. His expected ERA was nearly even at 2.28, and his xFIP was still solid at 2.88. Those numbers were consistent at Target Field and on the road. For a guy who has consistently issued too many free passes, he does an incredible amount exceptionally well.
While he may walk too many, he does a nice job of limiting hard contact. Moran has not given up a home run in nearly 50 major-league innings. He's only allowed 34 hits in that same period. Sure, he racks up strikeouts in droves, but equally important, his barrel rate is below 6%.
Moran is not cut from the same cloth as Duran or a prototypical flamethrower. His average fastball velocity last year was just over 93 mph. With that, he got batters to chase nearly one-third of the time, has an incredible 16% whiff rate, and gives up contact only 64% of the time across the board. It's truly impressive how good the 25-year-old Puerto Rican was for the Twins, especially considering his 2022 ERA with the Saints was 6.00.
Building depth around the diamond was a goal for the Twins' front office in the offseason. That also rings true in the bullpen. For Moran, he could certainly be the odd man out. It remains to be seen if the Twins will carry three lefties. Moran still has two minor-league options, and although Thielbar is a lock, Danny Coulombe could also be added to the 40-man and 26-man rosters. If Moran starts at Triple-A, that level of talent on the farm is something to be excited about.
No matter what role Moran fills for the team, he has now shown an ability to perform at a very high level. This isn't just an arm that loads the bases and dances out of trouble. We have now seen the Twins develop a strikeout pitcher that misses bats and doesn't allow situations to get him burned.
A season ago, Griffin Jax was coming off an ERA north of 6.00 and having been a failed starter (over his 14 career starts). He now looks the part of a bullpen stalwart. Moran has already begun the transformation; another step forward in 2023 could make him scary.