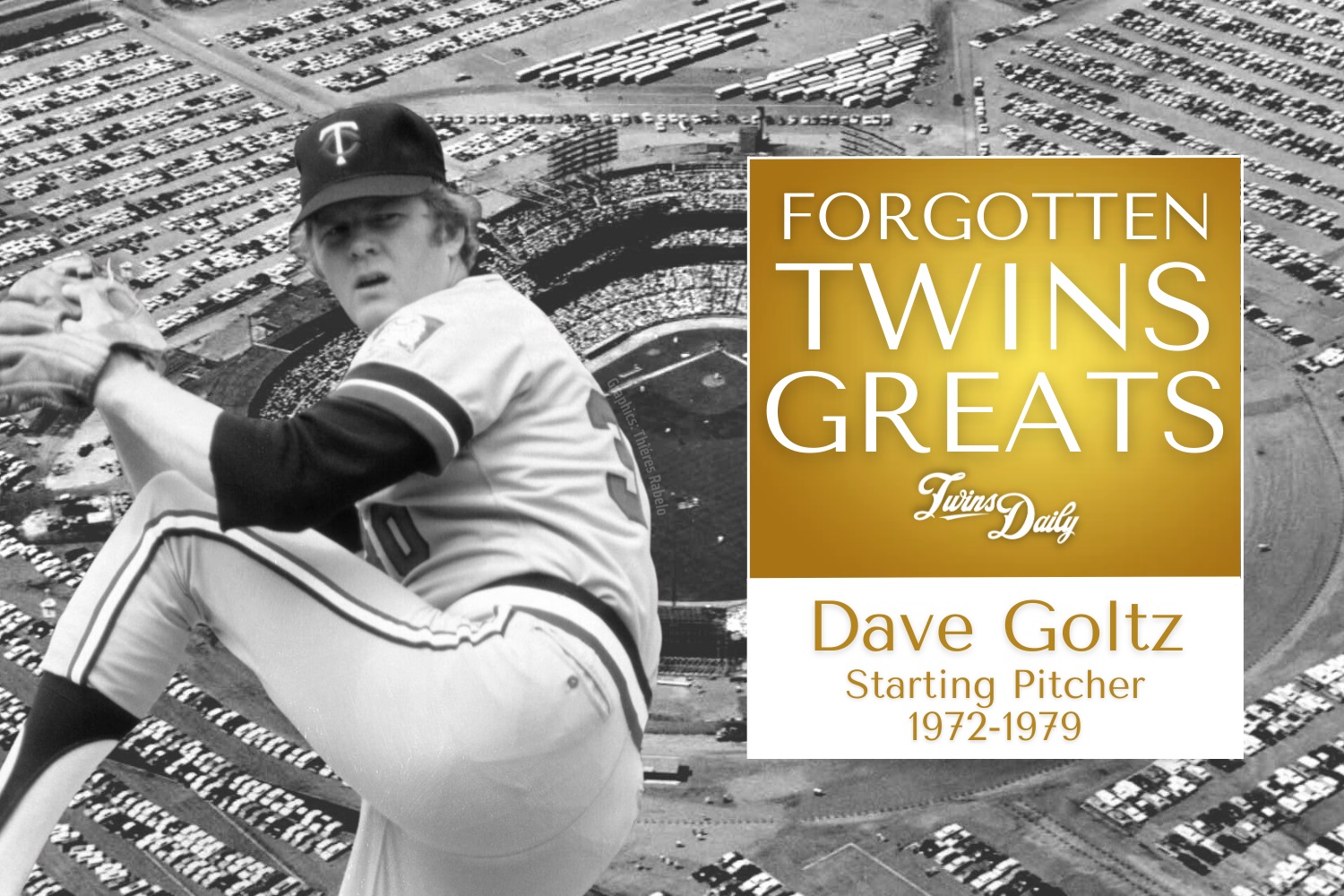 Image courtesy of Thiéres Rabelo (Graphic)
One of the greatest Minnesota-born pitchers, Dave Goltz could not have chosen a more inconspicuous start to his life. Born in Pelican Rapids on June 23rd, 1949, Goltz entered the world as the child of a produce marketer (his father) and a produce-business bookkeeper (his mother) (Temanson). He moved to Rothsay as a young boy.
A multi-sport athlete in high school, Goltz's 6'4" frame stood out among the regulars. His dominant performance in football, basketball, track, and baseball—the only four sports offered by Rothsay High School—spread his name across the state as a high school legend, perhaps a new athlete capable of great things (Temanson). Goltz eventually narrowed his focus to baseball, fueled by the interest sparked in him by his former teacher, Ken Reitan, who started a little league team when Goltz was young (Sorum).
A fresh-faced 5th-round pick in the newly-minted June MLB draft (the first was in 1965; Goltz was drafted in 1967), Goltz headed to the GCL to start his professional career. His first two seasons were great successes. He led the GCL in ERA in 1967, then led the Northern League in strikeouts in 1968 (B/R bullpen).
Set to lead a league in another pitching stat in 1969, conflict in Vietnam intruded on Goltz's budding pitching career. Despite new President Richard Nixon beginning the slow, messy process of withdrawal, Uncle Sam called Goltz to service. He worked as a helicopter mechanic in the Army Reserve and missed the 1969 baseball season (Temanson). One of 54 former ballplayers who served in the Vietnam War, Goltz never left the states during his active duty (Baseball Almanac) (twinstrivia).
Returning to baseball, Goltz spent two more seasons in the minors—one in Tacoma, Washington as roommates with Tom Kelly—before finally joining the Twins in 1972 (twinstrivia). In the middle of the season, Jim Kaat broke a bone in his wrist sliding into second base, and Minnesota "needed to fill the roster with pitchers," necessitating a promotion for Goltz (Sorum). 
 Two years removed from an ALCS appearance, this was not a legendary period for Twins baseball. A few remnants of the 1960s glory days remained—names like Kaat, Rod Carew, Cesar Tovar, Tony Oliva, and Harmon Killebrew—but this was a roster in turmoil. Bert Blyleven, 21 and one year away from a legendary pitching season, led a group of players whose ceiling was an 85-win season in 1976.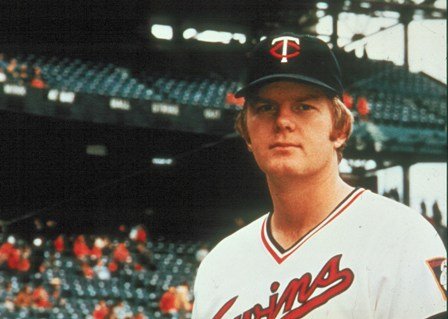 Always one to pitch deep into ballgames, Goltz collected 83 complete games in his MLB career (image courtesy of twinstrivia.com)
But this was still 1972 and there was baseball to be played. Goltz debuted against the Yankees on July 18th, pitching 3 2/3  scoreless frames in relief of starter Ray Corbin in a 6-0 loss. Thurman Munson—who should be in the Hall of Fame—homered and doubled. Goltz's first win came in his first start—a six-inning, two-earned-run performance in the opening game of a doubleheader against the Milwaukee Brewers. The Twins used Goltz mainly as a starter the rest of the season, allowing him to soak up innings as the team struggled to stay afloat. 
As fun as 1972 was, 1973 proved disappointing, a lesson for Goltz to learn as he grew as a player. The 5.25 ERA, 106 1/3  inning slog cursed him to the minors to start 1974, but Minnesota quickly recalled the starter, and he tossed 174 1/3  frames with a finer 3.25 ERA in 1974.
Thus began Goltz's odd streak of consistency. The good: he gobbled nearly 700 innings between 1974 and 1976 with ERAs of 3.25, 3.67, and 3.36, respectively. The bad: Goltz could not escape his record—a stat as crucial to a starter as any—which somehow tagged him as a .500 pitcher each year. He went 10-10, 14-14, and 14-14, respectively, over the same period. Minnesota's offense remained well over the league average each season; Goltz simply felt the run-support curse that occasionally dogs even the best pitchers in baseball.
Goltz's 1977 was legendary. In an unparalleled 39 start, 303-inning performance, Goltz accrued 19 complete games, won 20 games, and finished sixth in the AL Cy Young voting. He only finished third in MLB in innings pitched—this was the 70s, after all—but he led the AL in both starts and wins, something that a Twin didn't do again until Johan Santana in 2006. No Twin has touched 300 innings since. Parsing through the best Twins pitching seasons by fWAR, you'll find a few Hall of Famers—Bert Blyleven and Jim Kaat—a few Cy Young Winners—Johan Santana, Jim Perry, Frank Viola, and Dean Chance—Camilo Pascual's excellent 1962 and Phil Hughes' historic 2014, and sitting as the 16th best individual pitching season in Twins history is Goltz's 1977 effort. In other words, he was pretty good that year. He was so good that he nearly tossed a no-hitter on August 23rd against Boston, only allowing a bloop hit to Jim Rice that barely sailed over a leaping Roy Smalley.
Goltz's 1978 season was even better by ERA. His 2.49 mark served as his career low, but a few ailments, including a burned hand suffered while grilling and a rib fracture earned during a scuffle against the Angels on April 22nd, cut his innings; he totaled "just" 220 1/3  of them that year (Temanson) (Gleeman, 175).
The Twins gave Goltz the opening day nod in 1979, marking the third season in which he pitched the first game. Baseball forces worked against him that year; after five straight seasons with an ERA under 4.00, Goltz's earned runs shot up, and he ended the year with a 4.16 ERA, the worst since his sophomore slump in 1973. His league-leading 282 hits allowed appear to be the culprit.
But times were changing. The landmark 1972 Supreme Court decision Flood v. Kuhn effectively killed the reserve clause, allowing players to sign with whatever team they chose. Catfish Hunter's five-year, $3.35 contract before the 1975 season set the standard. Free agency started to develop even more following the 1976 Collective Bargaining Agreement. With years under his belt, Goltz earned the chance to capitalize on his worth. 
After his disappointing 1979 season, Goltz filed for free agency. The Twins in this era were stingy, to be kind. Owner Calvin Griffith ran potential stars Lyman Bostick and Larry Hisle out of town with his tight pockets and traded 1977 AL MVP Rod Carew for similar reasons. Although, Griffith's infamous racist comments in Waseca in 1978 also fueled that move. Goltz claims Howard Fox, Minnesota's Vice President, was the man he had financial issues with, but he nonetheless chose to dabble in the open waters (Temanson).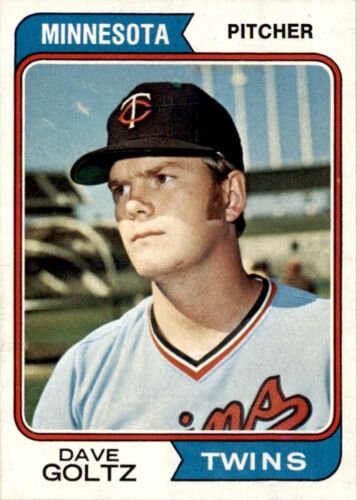 Perhaps not the proudest accomplishment, Goltz owns the record for most runs allowed in a saved game after allowing eight runs against the Cleveland Guardians on June 6, 1973.
Four teams, led by the trio of Southern California franchises and Milwaukee, vied for Goltz. The starter preferred the Brewers with their energetic hitters and gritty style of play, but kept his heart open to the Dodgers, Angels, and Padres (twinstrivia). When the Dodgers offered an eye-popping six-year $3 million contract, Goltz's agent sealed the deal, and the Minnesota boy officially headed west to join a growing powerhouse.
The 1980s Dodgers, under manager Tommy Lasorda, were a legendary bunch. Fresh off NL pennant victories in 1977 and 1978, the team enjoyed a host of elite players: hitters like Ron Cey, Pedro Guerrero, Steve Garvey, and Dusty Baker supplied the pop while veteran Don Sutton handed the torch off to youngsters Bob Welch, Fernando Valenzuela, and Orel Hershiser. L.A.  won two titles in the 1980s while finishing above .500 in six seasons. 
Goltz's time as a Dodger was not happy. He started his career in L.A. with back-to-back shutouts but fell out of the rotation in 1981, and the team cut him just a few months into the 1982 season. Still, after tossing 3 1/3  innings in the 1981 World Series, Goltz aided in a championship victory, earning a ring in the process. 
Goltz remained in California, joining the Angels in 1982. Back under the watch of manager Gene Mauch, Goltz joined an eventual playoff team led by Carew, Reggie Jackson, the eternally-underrated Bobby Grich, Fred Lynn, and Don Baylor. Luis Tiant and Tommy John served as the (very) veteran depth arms. Goltz earned one more chance at postseason success, a relief appearance in Game 4 of the ALCS against the Milwaukee Brewers. However, Harvey's Wall-Bangers didn't spare Goltz as, after jumping on Tommy John, Milwaukee pegged Goltz for three runs on their way to a World Series appearance. 
Goltz tossed a few innings for the Angels in 1983, but his playing career ended quickly and quietly.
Never a strikeout artist—he "relied more on ground balls" than strikeouts—Goltz could be easy to miss and simple to paint broadly (Gleeman, 175). Sometimes mentioned as one of the original free agent "busts," Goltz was not merely a decent pitcher on an elite Dodger team, but instead, a starter who endured massive workloads in his prime, only finally wobbling once he reached the wrong side of 30. Of all the pitchers Gene Mauch oversaw—an impressive list that includes Nolan Ryan, Frank Tanana, and Jim Bunning, among others—he claims Goltz to be the best he ever managed (Temanson). 
A master of the sinker—one that would "rise" and another that would "sink" into a right-hander—Goltz earned his outs with movement (Sorum). When paired with a knuckle curve that he could throw three different ways, Goltz could gobble innings with the best of them (twinstrivia). His 1,248 innings thrown between 1975 and 1979 are the 11th-highest of all pitchers. Stars like Nolan Ryan, Luis Tiant, Don Sutton, and Jerry Koosman (another Minnesota-born Vietnam veteran) rank below Goltz's total in that streak. 
Minnesota's leaderboards bear Goltz's greatness. He accrued the fifth-most fWAR of all Twins starters, the sixth-most innings, and has the 11th-lowest ERA of all qualified starters. His numbers compare favorably to Frank Viola—a Twin legend cherished and remembered by fans into the present.
Goltz left baseball to join Midwest Insurance in Fergus Falls, Minnesota, where, as of 2010, he still entered the office consistently (Sorum). Occasionally making his way to various Twins events, Goltz prefers to avoid the city and its traffic, instead choosing to live in sparse parts of the state.
Aaron Gleeman placed Goltz 30 in his Big 50 book, an appreciation of the men and moments that define the Minnesota Twins.
--------------------------------------------------------------------------------------
Twinsdaily's formatting doesn't allow for footnotes, my preferred style of citation, so I used the Author/Date system in the text with my bibliography here. Sources are listed alphabetically, not necessarily by use.
Temanson, Lee, "https://sabr.org/bioproj/person/Dave-Goltz/," SABR, 2009.
Sorum, Scott, "Dave Goltz: Former Minnesota Twins pitcher calls this area 'Home'," https://www.wahpetondailynews.com/, 2010.
https://www.baseball-reference.com/bullpen/Dave_Goltz
https://www.baseball-almanac.com/players/player.php?p=goltzda01
twinstrivia.com, "Dave Goltz interview," 2011.
Gleeman, Aaron, "The Big 50: The Men and Moments That Made the Minnesota Twins," Triumph Books, 2018